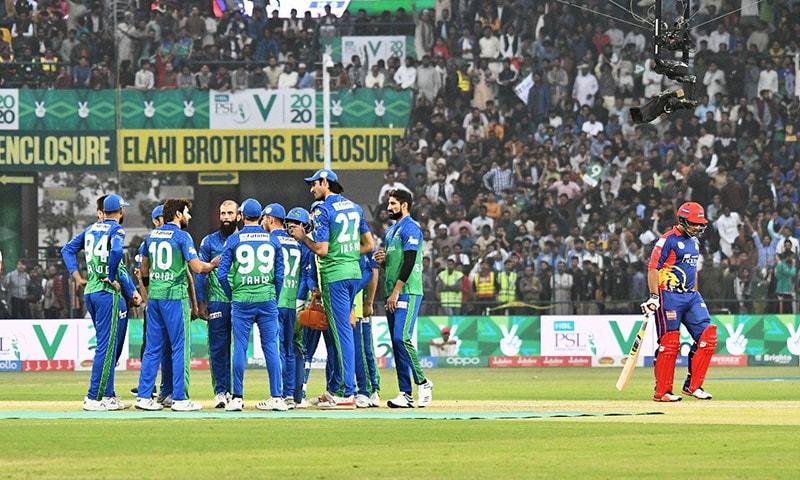 KARACHI: The fifth edition of the Pakistan Super League (PSL) ended prematurely just when chart leaders Multan Sultans along with Karachi Kings, Lahore Qalandars and Peshawar Zalmi were gearing up for the semi-finals.
Though the Pakistan Cricket Board (PCB) has stated that the three matches will be rescheduled, no exact dates have been given for that. However, if the champion is to be determined from the PSL matches that were held, it is a task for the Pakistan Cricket Board to look into.
There are some polite suggestions that the table-toppers Multan Sultans should be crowned winners. Star all-rounder of Multan Sultans, Shahid Khan Afridi had also expressed an opinion (in a lighter tone) that the team with the most number of points should be declared the winner of PSL5. However, the franchise co-owner, Ali Khan Tareen has different ideas.
"The PSL5 ended amidst confusion and coronavirus threat and I think the PCB was very sensible in dealing with it all and did a great job," said Ali.
"We (Multan Sultans) have already achieved everything we wanted in the tournament. I am not at all bothered about getting the trophy or not," said Ali while talking to this correspondent.
"The first day the coaches met the players, the message was simple; that by the end of the tournament our goal is to improve each and every player in the squad and help them make a case for the national team," said Ali.
"I feel two, three of our players have made a strong case and that's where I feel we achieved success as a unit."
Multan Sultans emerged as a top outfit in this season with a methodical approach, calculated moves and fine combination to outsmart the oppositions.
Tareen revealed they had three analysts to plug strategical gaps prior to every game. "We had three analysts, including two foreigners and a local person. We heavily relied on data to make the best possible decision for every scenario. Of course adjustments during the live game were also important from the coaching staff which they did accordingly to yield the desired outcome," Ali disclosed.
He was of the view that all foreign players and staff members returned with fond memories and "can't wait to come back to Pakistan".
Published in Dawn, March 20th, 2020