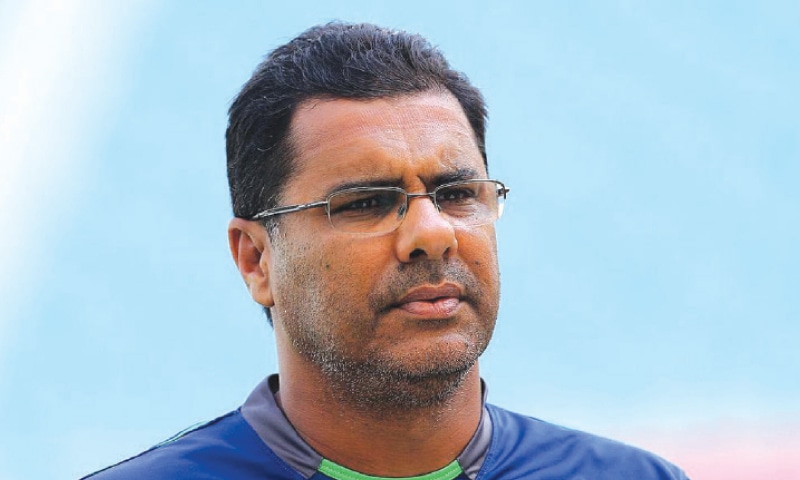 KARACHI: Current national team's bowling coach Waqar Younis has described the HBL Pakistan Super League 2020 as a resounding success despite the pandemic outbreak of novel coronavirus (COVID-19), which forced rescheduling of the event and holding back-end matches behind closed doors.
Waqar, who is part of the commentary panel for PSL V, formed a deadly fast-bowling partnership with fellow legend Wasim Akram during the 1990s and also went on to captain Pakistan. In an exclusive interview with Dawn late on Sunday night, he made candid observations on the overall staging of the franchised-based league on home soil.
"Although it's unfortunate that coronavirus has disrupted everything around the world, and in our case, it has hit at the wrong time during the back-end part of the PSL, I think there is a lot to cheer about because there are a plenty of positives," Waqar said on sidelines of the last league-round fixture between Karachi Kings and Quetta Gladiators here at the National Stadium.
"But overall if I've to sum up the whole, I feel the entire PSL has been a big, big success. I think everyone who has been part of it and around it -- the crowd, groundstaff, the PCB hierarchy, every single individual including the security people [Army, Rangers and Police], all of them, even our Prime Minister Imran Khan -- deserved a big round of applause because as we all know the prime minister had said last year it is going to be held in Pakistan this year and it has happened with lots of success. I'm really, really happy."
When queried whether the PCB should have gone ahead with the last week of PSL matches considering there is a worldwide shutdown of almost all sporting events, Waqar responded: "Look things of course are not very good across the world and that probably a lot of overseas cricketers have left Pakistan and rightly so, because one shouldn't even ask them to stay here.
"But I still feel things are not as bad here compared to other parts of the world, and that's why I feel it was possible for us to play out the rest of the matches. Having to stage these matches behind closed doors doesn't sound good or look great viewing on television. Having said that I believe it is cricket and there is lot at stake for the teams. Now is the stage where all of us are trying to wrap it up with just the semi-finals and final to come, instead of sticking with original plans of playing the qualifier, the [two] eliminators and [then] the final.
"On the other hand the situation is very sad with the crowds being shunned away. But what one can do because measures put in place are for their [crowd's] own safety. What we all are battling at the moment is a natural disaster, it a huge setback not just for Pakistan but for the entire world as all sporting activities are at a standstill. It is lockup time with everybody staying home.
"As I said before the PSL coming to Pakistan has been simply wonderful because it has been organised very well. We have seen how this brand can become. I'm sure next year or the year after that, PSL will grow bigger and bigger. And although they were complaints from scheduling point of view for some of the teams because personally I didn't see the schedule for PSL V first hand.
"But I'm optimistic that things would get better next time because I have heard Quetta Gladiators were hard done by the schedule [in terms of travelling and less time to recuperate and practise]. I'm sure the PCB people look into the matter when the next PSL is held and give every team fair chance."
Waqar paid glowing tribute to the crowds who thronged the stadia during 26 of the 30 matches until the decision was taken to hold the remainder of the competition behind closed doors.
"From my point of view I really enjoyed the PSL and honestly speaking, I wasn't expecting it [the [PSL] to become as big as it came about. What thrilled me most was the response of the crowds in Karachi, Rawalpindi, Multan and Lahore. They were very passionate and enthusiastic. I mean they were just amazing crowds, who enlivened the PSL atmosphere.
"But when I saw the social media with everybody is sad because isn't the same. This is something which needs to be understood by all because precautionary measures were absolutely necessary in the prevailing circumstances."
The former Pakistan great was impressed by the group of Pakistani fast bowlers and a couple of young batsmen he saw during the course of PSL V and picked his standout performers.
"It was a big learning curve for many of our players and for someone like me who's come teaching cricket and coaching, I have been every excited being a fast bowler in my playing days to see some of them 'growing up' in this PSL. Especially guys like [Mohammad] Hasnain, Naseem Shah, Shaheen Shah [Afridi] and Haris Rauf as well as Wahab [Riaz] has bowled well and [Mohammad] Amir has bounced back impressively.
"All of them have done really well and if you ask the overseas who have been here, they appreciate the high standard [of bowling] and respected the faster bowlers.
"Moreover, I have seen this young guy Haider Ali from Peshawar Zalmi. He looks really good as an upcoming batsman, and I was impressed by Khushdil Shah as well since he played several sparkling innings for Multan Sultans. And then there is Rohail [Nazir]. He is quite promising as a wicket-keeper/batsman. Among others Sharjeel [Khan] has looked good too but he needs to work on his fitness. Hopefully in the years ahead with more PSL competitions we'll find more new talent."
Asked to comment how beneficial this PSL has been in terms of Pakistan's preparations for this year's ICC Twenty20 World Cup, scheduled to be held in Australia during October-November, Waqar observed it is a bit early.
"At the moment we are not thinking that far or on those lines as how we would develop our team. But I think the selectors will be obviously looking at some of the young players. I'm sure Misbah-ul-Haq [Pakistan's chief selector-cum-head coach] will keep an eye on them when the time comes to pick that [T20 World Cup] squad," Waqar stated.
"But as far as I am concerned it's early days because the World Cup is still far off. And being the bowling coach, Misbah and I have [developed] good understanding over the past six months we've been together."
Published in Dawn, March 17th, 2020