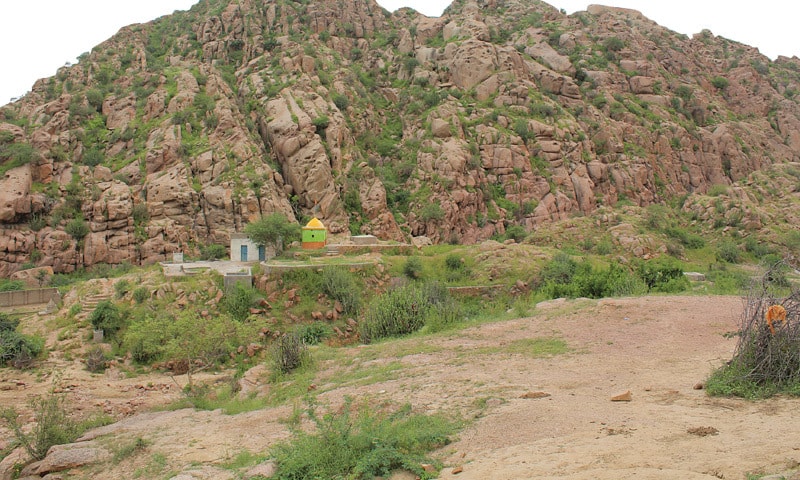 For most of us, Thar conjures up the image of an infertile desert area. But it is steeped in culture and has a rich heritage that can inspire anyone keen to see the soulful beauty of life in the desert.
The Karoonjhar mountains of Nagarparkar are among the many sites of interest here. People come from across the country to behold the magnificent mountain range, particularly after rainfall when a good downpour has turned the dry desert green. Located in Tharparkar, Sindh, the Karoonjhar mountain rises to a height of 305 metres, on the northern edge of the Rann of Kutch, and runs approximately 19 kilometres in length.
The whole of Karoonjhar is comprised of granite stone but, after the rains, the newly grown grass and foliage turn it into a different sight altogether. For the locals of Nagarparkar, Karoonjhar is not just a stone monolith, for them it is a national heritage. But it is its very stone that has become a prized commodity; its excavation has sparked a reaction among the locals who hold the mountain close to their heart.
Zulfiqar Ali Khoso is a native of Nagarparkar; he is a young social activist, who launched a campaign against stone cutting in Karoonjhar. In mid-November 2019, the hashtag '#SaveKaroonjhar' trended on twitter. The campaign was launched by the Karoonjhar Youth Forum. From Nagarparkar to Hyderabad, members of the civil society held protests against the excavations.
"Karoonjhar is not a granite stone for us but our heritage and part of our culture," Khoso tells Eos. "Therefore, stone-cutting by illegal means is death for this beautiful hill. This is a tourist spot and people come here from all over the country. The natives earn their bread and butter from Karoonjhar, by selling different herbs, shrubs and other plants [that grow on the mountainside]," he says.
The people of Thar revere the Karoonjhar range as sacred and culturally important. But it is under threat from granite excavators
The mountain does not only provide sustenance to locals but is also a source of spiritual salvation. Karoonjhar which goes towards Jaipur, India, is home to numerous temples because, centuries ago, it was once a bastion of Jainism. Researcher Mashkoor Phulkaro, in his book Sarasvati Tahzeeb ain Achhro Thar, writes that there are 109 hills comprising the Karoonjhar range and at least just as many (108) holy sites. This means it would be hard to step anywhere in this region without finding a holy place.
Most Sindhi researchers claim that, after the Himalayas, it is the oldest mountain range. It is also believed that Karoonjhar granite was formed when lava erupted from the sea, many centuries ago, during a great tsunami that occurred in the sea.
History of Temples
From Nagarparkar city, a cemented road leads up to the Karoonjhar range, where Saar Daro, a holy place for Hindus, is situated. Hindu devotees come here to pay homage to their gods. There is also a Shiva Temple nearby. There is a common holy water pond in which people take dips to wash away their sins.
"This is sacred and pure water for us," says a devotee, talking to Eos. "Karoonjhar is a most significant worship place for every Hindu. If anyone harms it, one day the mountain itself will take its revenge."
Jainism was once a widespread faith in Thar. Until 1226, the desert of Thar was a huge sea. The desert was a sea port and a business hub for Jains who comprised the business class. Parinagar was the main port for shipping. It is believed that an earthquake completely changed the geography of Parinagar; it was turned into a desert. The Jains, unable to do trade, left this land and migrated to Indian areas such as Kutch and Bhuj.
Before migration to India, Jains built their places of worship at Karoonjhar Mountain, Parinagar and Nagarpakar. Now only four Jain temples remain, of which only two are in good condition, one in Veerawah and another in Nagarparkar. In 1971, the last Jain family left this land and migrated to India.
Legend and literature are mixed to chronicle the forgotten past of Karoonjhar. The great Sindhi short story writer Ali Baba wrote Karoonjhar jo Qaidi (The Prisoner of Karoonjhar) based on the freedom fighter and martyr Rooplo Kolhi's struggle against the British Army. Sindhis regard him as a hero. Such heroic stories also forge a more sentimental association with the mountain among the locals.
Then there are many Sindhi and Gujrati poets who reference the mountain in their verses. "Myths and lores of Sadwant and Sharanga, Hothlal Pari (nature's fairy), Odho Jam (Sindhi lore) and Bherio Garori (wolf's ring) are associated with this range," writes Professor Amar Leghari, in an article titled "Karoonjhar: Exploring Karoonjhar."
"The mountain range has several places of historical importance, such as Bhodeser Talau, Alakh Wao (the hidden well), Anchlechure, Sardaro, Gao Mukhi, Punraj Gadr, Nani, Chandan Gadr, Bhaun Jo bheesro, Jharno and Bhaunro."
Deforestation and ecology
Shaikh Ayaz, the great Sindhi poet, described Thar as an open museum of nature, as it is rich in minerals — coal being one of the main minerals found in abundance here. With the operation of coal projects, many Tharis were displaced and their villages demolished. The course of development changed Thar's geography as well as its demography. Today, it has a good road network and women can be seen driving tankers carrying coal and other supply material to coal mines. Coal companies are generating electricity from coal-powered plants. But some locals consider this development to be a threat to natural life. The minerals buried in Thar's land must not be excavated at any cost, they say.
Karoonjhar has its own unique world, full of colour, and its own ecosystem. In rainy days, some springs and waterfalls bring water in small streams. People store water to feed their animals and water the fields. During the monsoon, they store water in tanks which are made in different areas. Newer solar-powered reverse osmosis (RO) plants have also facilitated Tharis.
Leghari writes that, "Karoonjhar has great economic significance for the local people of Nagarparkar; it is rich in deposits and medicinal plants. These plants include okra and wild onion. This mountain is economically so significant that there is a local saying, 'Karoonjhar yields a hundred kilos of gold regularly.'"
Environmentalist and former programme coordinator at WWF-Pakistan, Nasir Panhwar says, "The Karoonjhar hills have lost their beauty over the years." A news report in Dawn, from March 2016, cites the reason as deforestation: "Once covered with dense vegetation, of mainly gugraal [a local shurb]," it says, quoting an NGO official.
Panhwar further explains the impact of deforestation on the flora and fauna in the area: "Deforestation of the Karoonjhar hills, which surround Nagarparkar town of Tharparkar district, threatened the very existence of critically endangered vultures. Nagarparkar is the only place in Pakistan where critically endangered long-billed vultures are found. The place is also home to the white-backed vulture, which has been declared endangered by the International Union of Conservation of Nature [IUCN]." 
"Deforestation is taking place in Karoonjhar hills mainly due to the collection of gugraal wood, which is exported for its medicinal properties. This activity has not only deprived a large area of the precious flora but has affected the habitat of vultures. A chemical is used to speed up the process of resin secretion from the plant. As the plant loses its resin, it dries up and dies," he explains.
Special Assistant for Human Rights to the Chief Minister, Veerji Kohli, gives assurances that the Sindh governemnt has taken notice of the environmental degradation of this historical site. "We are trying to declare it [Karoonjhar] a National Heritage and park. The work is in progress," he says. "According to the Sindh Land Revenue Act, only Karhoonjhar of Nagarparkar is declared in 20 sq km but, technically, that is wrong because it has so many other small hills." According to Kohli, the Sindh government is working on declaring this complete range as the Karoonjhar range. "The PPP and the Sindh government will never compromise on Karoonjhar and we will take every legal effort to save Karoonjhar," he adds.
Coal mining and stone Cutting
Shortage of water is the main problem in Thar. Even today, the indigenous population use water from wells; it is quite hard for them to store rain water. In 2017, Karitas Dam was built to provide water to the people of Nagarparkar. In the monsoon season, rainwater flows down the Karoonjhar Mountain into more than 20 streams.
People had initially welcomed new development in Thar but today they are wary of the lessons taught by history. The first contract of cutting the stone was issued during the Zia regime. In 2008, after Pervez Musharraf's departure from power, the ruling Pakistan Peoples Party (PPP) government issued a 20-year lease to a private company. The company is still operating here.
"According to the Sindh Concession Granite Order 2007 that lease was cancelled by the Sindh government," says Kohli.
The Sindh Concession (Granite) Order 2007, mentions the "Restriction on Grant of Exploration Licenses or Mining lease: No Exploration Licences or Mining lease whatsoever shall be granted in the Karoonjhar range mountains of Nagarparkar [sic]."
But in 2011, a notification was issued by the government of Sindh, on behalf of the Director General Mines and Mineral Development, which states: "with the approval of the Competent Authority, the Mining lease over an area of 659 acres, viz 25 percent, out of the already granted area of granite, comprising 2,636 acres, is hereby granted to M/s Kohinoor Marble Industries (Pvt) Ltd.," until 2030.
"In 2012, Justice Jawwad S. Khawaja gave directions to the DC Tharparkar that the cutting of stone must be restrained," points out Kohli. "Recently, in Khariyo village, some local people started cutting stones for dam construction — these stones are separate from the mountain range."
After last year's campaign, a division bench of Sindh High Court Hyderabad stayed the excavation of stone from Karoonjhar mountain, issuing notices to the federal secretary of natural resources, the secretary of forest and wildlife, the Frontier Works Organisation (FWO), the secretary of mines and minerals and different marble companies. The court passed the order on a petition filed by Advocate Ghulam Mustafa Hingorjo, a resident of Tharparkar.
"Our government declared Mohenjodaro a national heritage and takes every measure to save it and other archaeological sites, then why is Karoonjhar being ignored?" asks Haji Kumbher, who has been doing research work on Karoonjhar for years. He proposes that the government establish a museum at Parinagar, the old city of Jains, and in it house all the monuments and archaeological items found from Karoonjhar range, such as engraved stones and statues.
"Cutting or excavation of the mountain is unbearable because this is a sacred site for all of us," Khumber says. "These companies are getting remuneration and budget for dam construction from the government. Why are they killing Karoonjhar?"
In the name of development, cutting Karoonjhar is like killing the goose that lays the golden eggs. People of Nagarparkar are demanding, at every forum, for this mountain to be declared a national heritage. It's time to save our ancient archeological sites and invite the world to explore these awe-inspiring places.
"Our forefathers and today's young generation have the same attachment with Karoonjhar, so it needs great attention," stresses Khoso. "Otherwise, this will be a great loss of our heritage."
The writer is a Sindhi fiction writer, blogger and journalist working in a daily Sindhi-language newspaper
Published in Dawn, EOS, January 26th, 2020