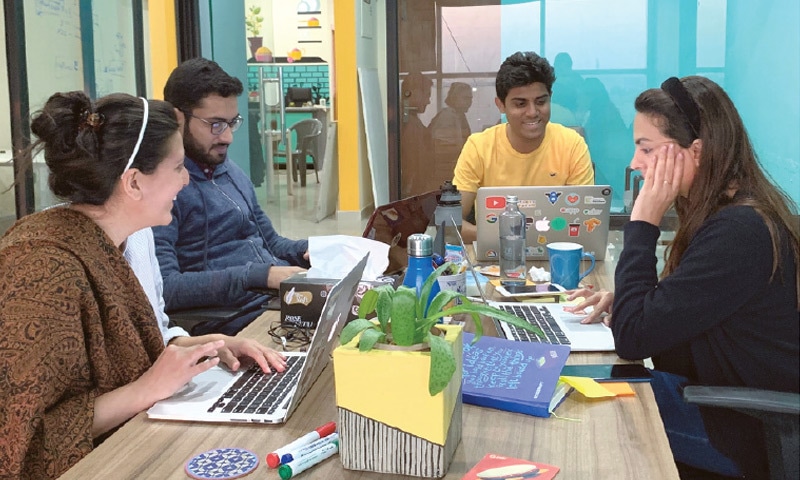 Are you tired of missing your savings targets thanks to all the useless impulse purchases? Would you be interested in finally getting that gaming computer or be done with the pending home flooring?
Bring in Oraan and you might be able to realise those plans. It's a Karachi-based fintech that digitises the customary committees and lets you save for shorter duration. Sure, it's not the iconic "21 din, paisa double" but let's make do with whatever we have.
How does it work? Download the app, sign up, and choose from one of the services. If you want to start a committee, add an 'OC' (Oraan Committee), give it a name, enter the total amount, the starting month and the duration you want it for plus the due date for payments and create the committee. The system will automatically give the corresponding monthly installment and you can add more members to match the total amount. You can also build a calendar for the same, with month- and member-wise payouts.
Now what if you don't have enough members for a committee? No worries, the startup still has you covered. Go to their website -- not yet live on the app, fill in the form with your preferences such as monthly contribution plan or the payout date, so Oraan team can get in touch and match you to the right OC. These are managed by a commissioner, who has the chance to make an extra buck on the side, in addition to getting an earlier disbursement date.
Payments are mostly done through interbank transfers but the startup is trying to integrate with more channels, including digitals wallets.
In case you aren't interested in participating in committees, there is also a feature that simply lets you keep track of your saving goals. Be it a car purchase, an education fund, retirement plan or anything for that matter: just choose the option and set a timeline, which you can then just record each time there is an inflow.
The startup was launched in May last year by Halima Iqbal - a former investment banker and fintech professional, and Farwa Tapal, who comes from a design background. The duo is joined by Eric Bhatti — looking after the technology — and Taha Imam — overseeing finance — as ­co-founders.
They have already raised a seed round, plus a grant — both undisclosed — with plans to go for the Series A by third quarter this year. And what about their revenue stream? Oraan has a co-selling model where it earns a certain percentage on any leads generated for partner institutions such as MCB Arif Habib.
Basically OC manager (called commissioner) is in charge of the inflows and outflows and can serve as the salesperson for savings plans of third party organisations, earning a cut for both himself and the startup.
Though committees are undoubtedly an extremely popular means of savings among at least the country's lower and middle class population, it's probably not the best mode. With no regards for inflation (which clocked in at 12.63 per cent last month), this 'instrument' doesn't make the best sense from a financial point of view since savings lose value over time, compared to other plans like mutual funds which give a guaranteed return when invested in for a few years.
So rather than moving away from this practice towards more sophisticated plans, why invest your energies in digitising the same? "A major part of what we do is educating of our members about economic concepts and have an online community along with a financial literacy section on the app for the same," says CEO Halima.
"Also, this is why have kept Oraan committees at 10 months, because anything longer would be too prone to inflation while a shorter period would require too hefty a contribution per month," she adds.
"Committees are already too prevalent in our culture so we wanted to offer something people are already comfortable with, but in a more sophisticated manner. Once a certain trust is developed, we try to move them to better instruments (all Shariah-compliant) through our partner organisations like MCB Arif Habib," the chief continues.
What about the industry landscape? While there is not a complete overlap, another local startup addresses part of what Oraan is offering. Hysab Kytab — a budgeting app —already lets you track your expenses and manage savings. Meanwhile, Tez Financial — a Karachi-based fintech that disburses nano loans — has plans of entering into the committee business but so far has stuck to its core. Needless to say, Halima doesn't exactly see much competition in this space.
Despite the recent regulatory interventions, financial inclusion still has a long way to go. How can Oraan and other startups address this gap?
"There is still a massive need to humanise financial transactions that are very alien to users and create more awareness, which is why inclusion is so low," she says.
What to do then? "Make the design more accessible so the user experience improves, focus on education and listen to what the user wants.
The writer is member of staff:
m.mutaherkhan@gmail.com
Twitter: @MutaherKhan
Published in Dawn, January 12th, 2020
Now you can follow Dawn Business on Twitter, LinkedIn, Instagram and Facebook for insights on business, finance and tech from Pakistan and across the world.