Thousands of people, many waving Pakistani and Kashmiri flags, protested outside the Indian High Commission in London on Thursday in support of the disputed Himalayan region of Kashmir.
India's decision to revoke special status for the portion of Kashmir it occupies, along with a communications blackout and curbs on movement, caused fury in Pakistan, which cut trade and transport links and expelled India's envoy in retaliation.
Indian Prime Minister Narendra Modi delivered an Independence Day speech on Thursday that spotlighted his decision to remove the special rights of Kashmir among the bold moves of his second term.
India's day of independence is being observed as Black Day in Pakistan to protest the ongoing brutalities and human rights abuses in Indian-occupied Kashmir.
In London, protesters carried banners reading "Kashmir is Burning", "Free Kashmir" and "Modi: Make Tea Not War", according to a Reuters reporter.
Ahead of the scheduled time for 1pm (UK time), hundreds had already gathered on the right side of the building. Pro-Pakistan activists from London made speeches calling out Indian aggression and demanding freedom for Kashmir.
Activists and speakers from local Kashmir councils also spoke out, demanding that India end the occupation of Kashmir. Furthermore, a sizeable number of Sikh supporters holding Khalistan banners lent their support to Pakistan.
Police were keeping a small counter-demonstration apart from the main protest as on the other side, Indian supporters chanted pro-India slogans.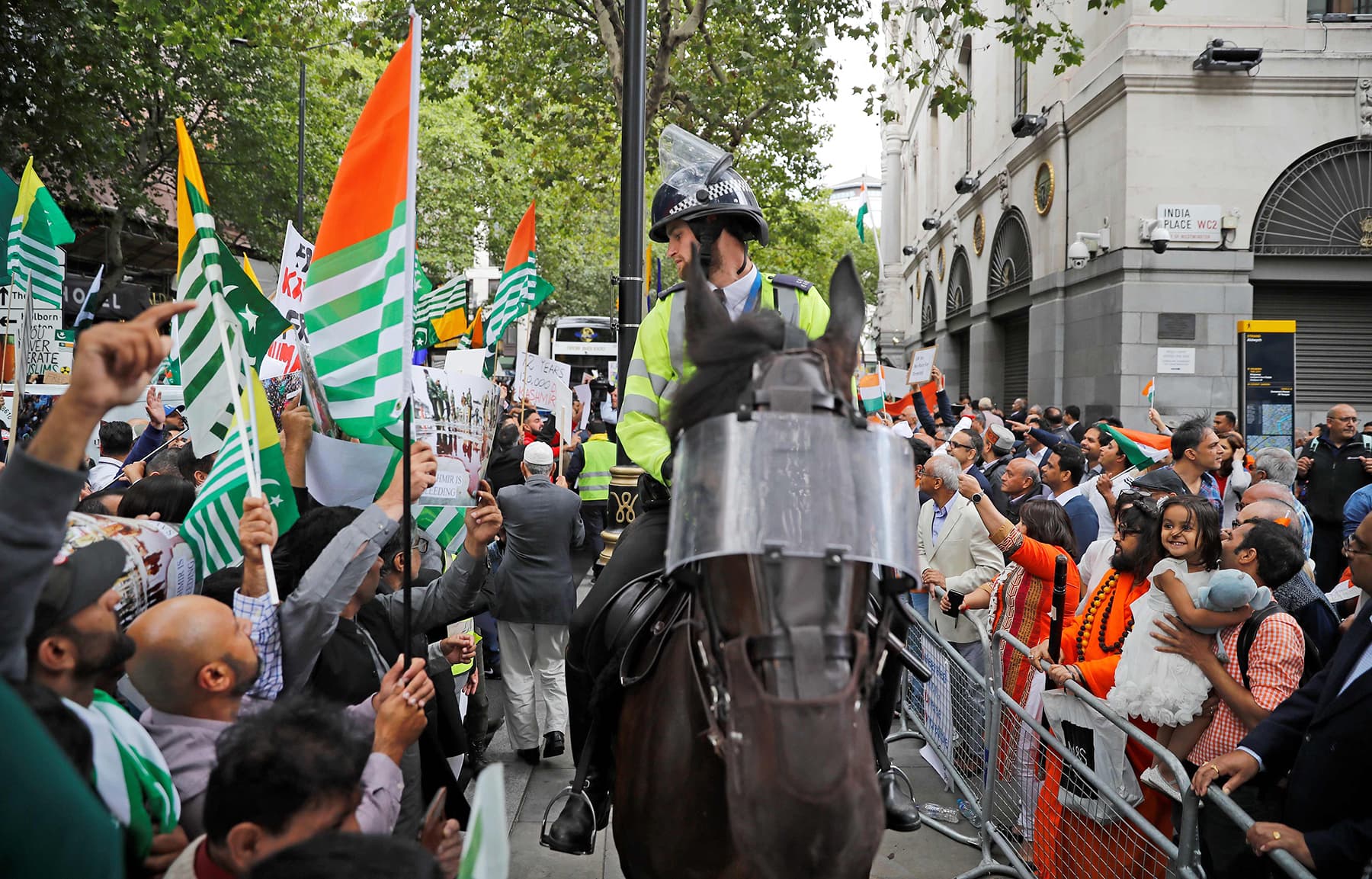 Former British MP George Galloway took the podium to speak on the occasion.
"Modi has taken the world to the brink of war — nuclear war — and as a result risked the safety and security of people all over the world," he said.
Many of the London protesters had come to the capital from other English cities on specially chartered buses.
"We want to show our solidarity with our Kashmiri brothers," said Amin Tahir, a British pensioner of Kashmiri origin who came from Birmingham on one of the coaches.
"Since 1947 Kashmir has been struggling to be free from India. Now Modi has changed the law by force to stop Kashmir's autonomy," he said.
Special Assistant to the Prime Minister on Overseas Pakistanis Sayed Zulfi Bukhari, who had been actively calling on people to participate in the protest, also addressed the charged crowd.
Upon arrival, he spoke to Dawn about the large turnout, calling it "record breaking".
"I think it's a record breaking turnout. I think it shows the resolve of the people of Kashmir, and others, that are against oppression, against tyranny. I think its really important that these kinds of voices keep being raised in the international community.
"It's sad that a lot of the world, a lot of the places are quiet. But, as long as people keep raising their voices as they are today, Kashmir will never be a dead issue. It will always be something that's alive," he said.
Meanwhile, Pakistan cricket's most-recognisable cheerleader, Chaudhry Abdul Jalil, was seen among those protesting most fervently.
"Chacha cricket, with a lot of sorrow, has to say this: Chacha cricket loves the whole world and the whole world loves Chacha cricket but today I want to say that a day will come when the entire world will hate Modi the way I hate him for how he has brought 15 million people to the brink of war," he said.
"War is not a good thing, but if it were to break out, the onus will be on the UNO (United Nations Organisation) whose resolution is not being implemented," he added.
Although the protest was largely peaceful, Metropolitan police told Dawn that one person had been injured and four had been arrested. The arrests were made "for possession of an offensive weapon, obstruction of police and a public order offence", they said.
The identities of those arrested were not available till the filing of this report.