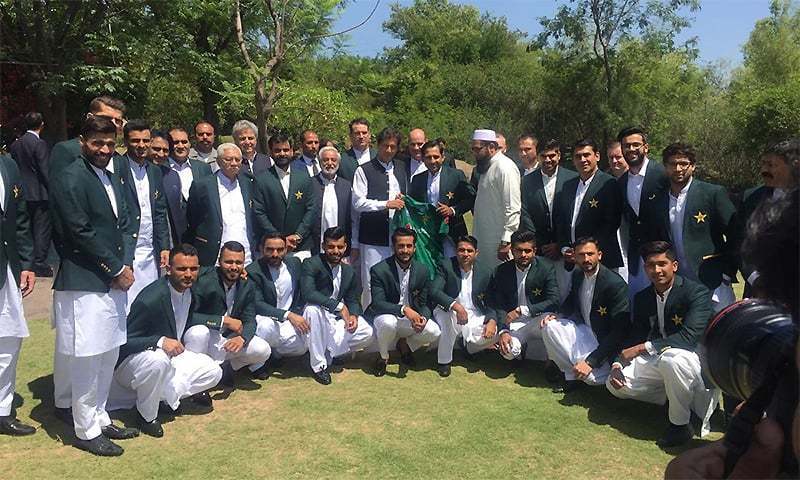 KARACHI: Pakistan skipper Sarfraz Ahmed believes he won't be under any pressure while batting up the order in the World Cup and his team is fully capable of posting 300-350 with regular frequency in the mega event that commences in England from May 30.
The ICC Champions Trophy winning captain was speaking to Dawn over the phone in an exclusive interview on Monday.
When asked whether wicket-keeper-batsman Mohammad Rizwan, after scoring two fine centuries against Australia in the UAE at an impressive strike rate of over 90, put him under any sort of pressure during the final team selection, Sarfraz said: "First of all, there is no pressure on me. Call it Rizwan's bad luck if you wish, that I am the captain of the team and a wicket-keeper too. Obviously, it was a very difficult decision for us to drop someone who has been in such a terrific batting form," said Sarfraz. "I do feel bad for him. But, we had to choose four players for the middle-order. So, we went ahead with Babar Azam, Haris Sohail, Shoaib Malik and Mohammad Hafeez. Unfortunately, Rizwan couldn't make the cut.
"But, it's a good thing that our bench strength is solid enough to have players like Rizwan waiting in the wings. God forbid, if an injury occurs to someone on the tour, we know we have him in the back up," he said.
Does the absence of a pinch hitter down the order bother him? "No," came the reply from the captain.
"The team is fully capable of scoring 300-350 runs while setting up a target or chasing. We have some very good players in the middle and lower order," said Sarfraz. "Imad has been in superb batting form for the last 2-3 months. He has batted brilliantly of late. We have Shoaib Malik who can be very handy. Then we have Faheem Ashraf as well who can hit the ball far. We have worked very hard with him in the camp. So, I am very hopeful that quick scoring down the order won't be an issue."
Pakistan will be playing their first two games against West Indies and England in Nottingham where the recent scores were in excess of 400. It is, coincidentally, the same ground where England smashed Australia all around the park last year and went on to record the highest ever ODI total of 481. However, that doesn't stop Sarfraz from believing that his team can chase or defend any . "I have full confidence in the abilities of my players. I know they will give their best," he said.
Defending Malik's selection despite his woeful batting record in England, Sarfraz said that the team is not thinking about batting averages currently. "Our focus is entirely on the World Cup at the moment. [Shoaib] Malik is our most seasoned campaigner. We will try to make the most of the combined experience of Shoaib Bhai and Hafeez Bhai. They are the backbone of our team and they themselves realise the importance of performing in such big tournaments. We need them because the pressure of playing in World Cups is completely different from featuring in a regular game."
Comment: The questionable case of Malik's selection
Sarfraz also made it clear that Hafeez will bat at No. 4. "Hafeez Bhai has been batting at No. 4 for the last one and a half year or so. His slot is set and he will be seen batting at the same position.
"If you look at our squad, only four players have competed in a World Cup before. The rest of them are relatively new and have never played a single World Cup game, although 11 of them featured in the Champions Trophy played two years ago at the same venues," he observed.
Commenting on Shadab Khan's illness, Sarfraz said that he is very hopeful that the young all-rounder will be part of the final squad for the World Cup. "It is very unfortunate what happened to Shadab but I am very optimistic that he will play for Pakistan in the World Cup."
As for Yasir Shah's selection despite his not-too-impressive form in recent games, the skipper said: "We tried Yasir against Australia because we wanted to see whether we could play with the attacking approach of two spinners in the World Cup. Yasir was always our backup wrist spin bowling option because if the ball does grip in England, he will be a handful for the opposition.
"We could have opted for Mohammad Nawaz but we wanted a bit of variety in our bowling department and already have Imad Wasim as a left-arm spin option."
Read: 'Kaptaan' Khan gives cricket team pre-World Cup pep talk
Sarfraz also hinted at the possibility of playing young pacers Mohammad Hasnain and Shaheen Shah Afridi together in the playing XI during the upcoming matches. "As you know, we will be playing 11 games before the World Cup so the idea is to rotate our six fast bowling options so that by the time the World Cup starts, all our pacers are fresh and in rhythm."
Sarfraz also pinned high hopes on the experienced Junaid Khan in the matches in England. "He [Junaid] knows how to bowl in the middle and death overs. If you look at his record in England, it's exceptional. He has performed well in the past in the Champions Trophy and has bowled impressivele in county cricket as well."
And how did he evaluate Mohammad Amir's chances of making the final World Cup squad?
"It is unfortunate that Amir, despite bowling well, has not been getting as many wickets as he would have liked, but he will have the opportunity to prove himself in the series against England and he has looked very keen in the practice matches and drills in the training camp too," said Sarfraz. "He can make a case for selection if he does well against England."
Published in Dawn, April 24th, 2019