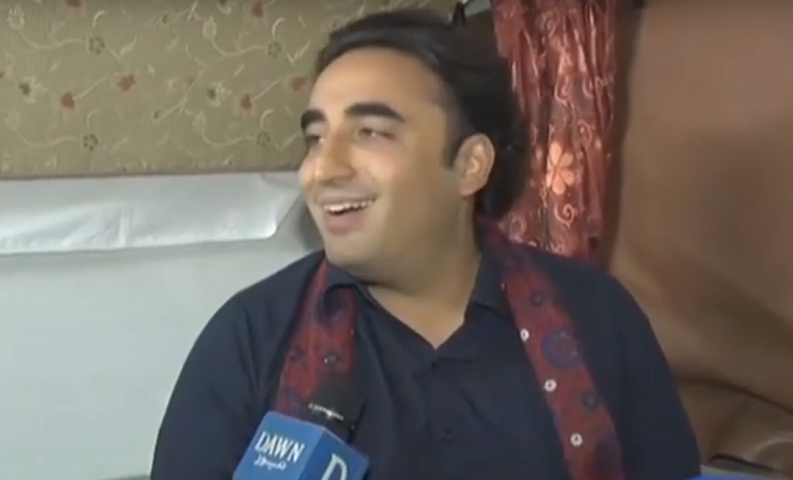 PPP Chairman Bilawal Bhutto Zardari, while talking to DawnNewsTV on Tuesday evening, insisted that his stance against proscribed organisations has been consistent from the day he joined politics, and asked: "how is calling for action against banned outfits and for the restoration of peace playing into any other country's narrative?"
Speaking to our correspondent during a stopover in his 'Caravan-i-Bhutto' train journey to Larkana, Bilawal made the statement while addressing the accusation that he was playing into the 'Indian narrative' even as the situation between the two countries remains tense.
"Proscribed organisations have been involved in the killing of countless women and children in the country," he said. "They were even involved in the killing of Shaheed Benazir Bhutto. I have asked for action against them repeatedly since I came into politics."
Bilawal had initially said that Pakistan Tehreek-i-Insaf (PTI) government was victimising opposition parties but not taking action against banned organisations, which was against the spirit of the National Action Plan (NAP) to counter terrorism. He had later accused three government ministers of being involved with extremist outfits.
The criticism came as the state started speeding up progress on cases against the PPP's senior leaders for their alleged involvement in a multi-billion rupee fake bank accounts scandal. The fake accounts were used to launder money for senior PPP leaders, including Bilawal's father Asif Ali Zardari and aunt Faryal Talpur, the Federal Investigation Agency believes.
State Minister for Parliamentary Affairs Ali Mohammad Khan had urged Bilawal to provide proof, if he has any, against the ministers he accused of facilitating banned organisations.
"Levelling allegations without proof is an unreasonable act," Khan said. "Evidence should be presented so that the prime minister can take action."
The state minister, however, had agreed with Bilawal that if any minister "is in contact with any banned outfit, they should be sacked".
"[But] I do not know which ministers he is referring to," he had added.
The debate on action against proscribed organisations came roughly a week after the government took 44 under-observation members of proscribed organisations, including Mufti Abdul Raoof and Hamad Azhar (no relation to the Minister of State for Revenue) — the brother and son of Jaish-e-Mohammad (JeM) leader Masood Azhar, respectively — in "preventive detention" for investigation.
Not a train march
Distancing himself from the term 'train march', the PPP chairman said that he was simply travelling from Karachi to Larkana by train because the Sukkur airspace is shut down.
"Anyone can go and check that the Sukkur airspace is shut down, I had to get to Larkana by April 4, just like we do every year, and I only had the option of going there by road or by train. I chose to travel by train.
"This is not a long march, when we do give a call for our workers to organise a long march, the government will know what 'protest' looks like," he said.
"When a government is held together with [the difference of] six seats, there is always an insecurity that it feels. That is exactly what we are witnessing with this government," Bilawal said while commenting on Minister of Information Fawad Chaudhry's use of the term abu bachao march ('save the father march') to describe the PPP leader's journey.
PPP Sindh president Nisar Khuhro has termed Caravan-i-Bhutto a part of the PPP's attempts at launching a mass contact campaign with a power show on Zulfiqar Ali Bhutto's death anniversary.
In Larkana, a public meeting awaits Bilawal in Garhi Khuda Bakhsh, where all arrangements have been made to facilitate participants. Bilawal and party co-chairman Asif Ali Zardari, along with other central and provincial leaders, will address the gathering.