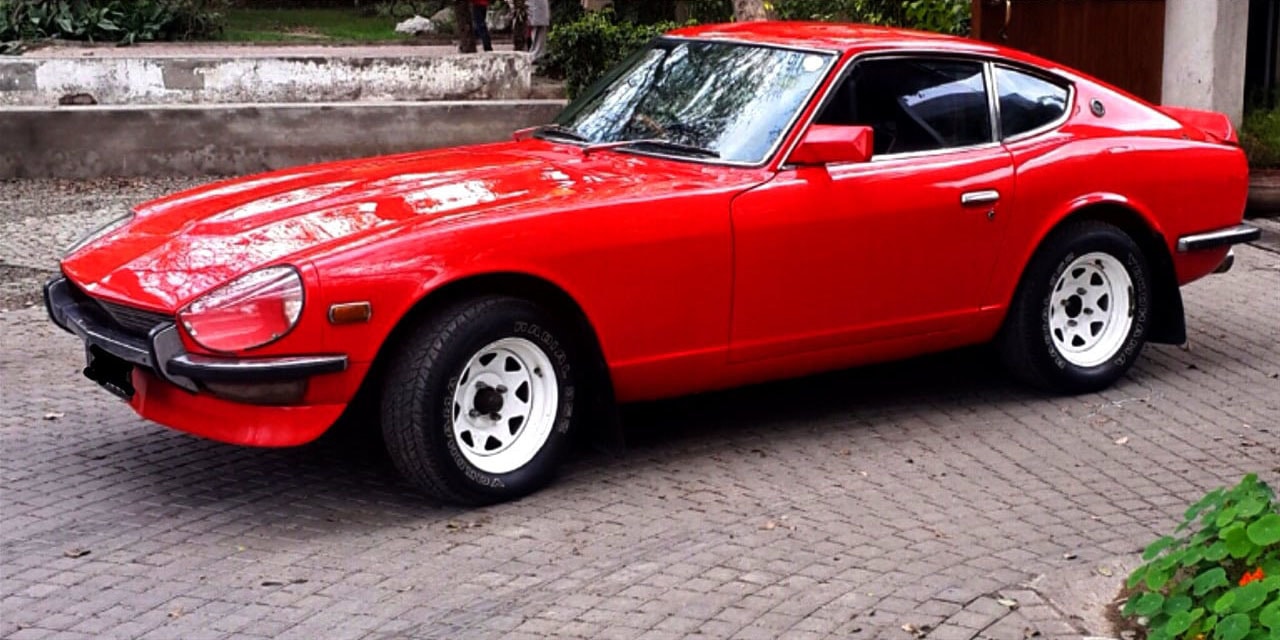 Over the last 30-odd years, I have had the privilege, pleasure and pain of collecting, owning and restoring old cars. All of them continue to reside with me in various locations. They torture me. They delight me. I hope I never have a strong enough reason to part with even one of them.
The first is a 1973 Datsun 240Z.
I saw it on Mall Road in Lahore in 1974 at age 17. As I stared at it, I fell off the bicycle I was riding because a tree got in the way.
I could not believe my eyes. This car was already an icon because of its success in the East African Safari races and in Datsun showrooms across the West, especially in the United States.
As I picked myself up off the ground, and the samurai-red Datsun disappeared into the distance, cuts on my knees and the twisted front wheel of the borrowed pushbike were forgotten. I was dumbstruck.
Little did I know that just 11 years later, I would have my name on its registration book. It went up for sale. I paid every penny I had for it.
It has been in my care ever since. In the 32 years between then and now, it has gone from being a daily driver and witness to all the cherished moments in my life, to now leading a pampered existence.
I brought my wife home for the very first time after our wedding in this car. All three of my daughters were brought home from the hospital in it too.
It has been driven far and wide, including all around Gilgit-Baltistan and as far as Sost. It will always be the car I have owned the longest and probably driven the most.
Every time I take it out for a little drive, it turns into an overenthusiastic blast that I should be ashamed of now but, somehow, the stupid grin on my face as I floor the throttle, the way the nose lifts, puts any thoughts of shame to, well, shame.
With a zero to 60 miles per hour time of eight seconds (longer for an automatic like this one) from its somewhat humble 150 horses, it is no tire-shredder by today's standards.
I have grown old with my 1973 Datsun 240Z and I really enjoy its road behaviour: the way it grips around corners, the snarl from the engine and, most of all, the driving position and the view down the long bonnet with the power bulge in the centre.
The comfort level is akin to putting on an old shoe.
It was to be another eight years before I was to acquire a companion for her: a 1974 Buick Electra Limited. A four-door pillarless, hardtop sedan, it is an ex-Foreign Office protocol car and one of a mix of about a dozen Electras and LeSabres especially acquired for the Islamic Summit held in Lahore in 1974.
It is history on wheels.
The car is an all-original vehicle and has the 455 cubic inch (7.4 litres) V8 engine, with the four-barrel Quadrajet carburetor mated to the three-speed TH400 automatic transmission, as per factory specs. The interior is still the original blue crushed velour and the roof is black vinyl.
I found it in 1993, when it was lying unattended and uncared for in a workshop in Royal Park. It took me a while to trace the then owner who was a film producer in Peshawar. I made a modest offer and brought her home.
It needed what ultimately turned out to be an overhaul of both the engine and the transmission, alongside a general clean up.
Luckily, it had not been tampered with, having covered only about 53,000 miles — most of which must have been in an official capacity. Despite the years, that seems to be quite a lot for a protocol vehicle.
The car would create a stir wherever I would take it. Its sheer size and the somewhat menacing stance because of its vast dark-coloured body panels, coupled with the burble of the V8, added to its dominating presence.
I used it on and off until around 2006, after which I put it up on bricks and under cover. Other cars were taking up my time and preference.
Until now.
Old and classic cars are increasingly gaining recognition in Pakistan and are entering a bit of a renaissance phase as enthusiasts become more aware.
It was not until I saw some of the prices being demanded, and being paid, for cars of much lower quality, pedigree or originality, that I felt it was high time to give some attention to this behemoth.
Although it sat in my garage quite unobtrusively, it was never something you could ignore. I started on the recommissioning about eight months ago. The work needed is significant.
As an enthusiast, it is a source of great satisfaction to see these remnants of the 20th century, symbols of a bygone era, being appreciated and valued for what they are. This car is almost vulgar in its opulence; the sheer bulk of it serves to remind us just how resources were wasted in those days.
To me, the commercial value is of interest only to the extent that it serves as a means of gauging how much these cars are sought after.
I would never be interested in selling but it is nice to see objects of desire also being a sound investment.
The life of a petrolhead is difficult to understand. My DNA is part human, part car.
When asked about the purpose of my addiction of restoring vintage cars — as if I need one — it is normally easier for me to say: if you need me to tell you, you will never be able to understand.
The truth is that after all these years of trying to explain and invariably failing to impress, I just do not have the patience anymore.
I get infuriated when I see that glazed look of disinterest if I ever make the mistake of taking these questions as seriously as I do their answers.
But every now and then, you detect a genuine enthusiast within the first few sentences of a conversation, any conversation. It is like the camaraderie found amidst drug addicts, smokers and communists.
And really, are we that far behind?
---
Are you passionate about restoring heritage and art? Share your insights with us at blog@dawn.com