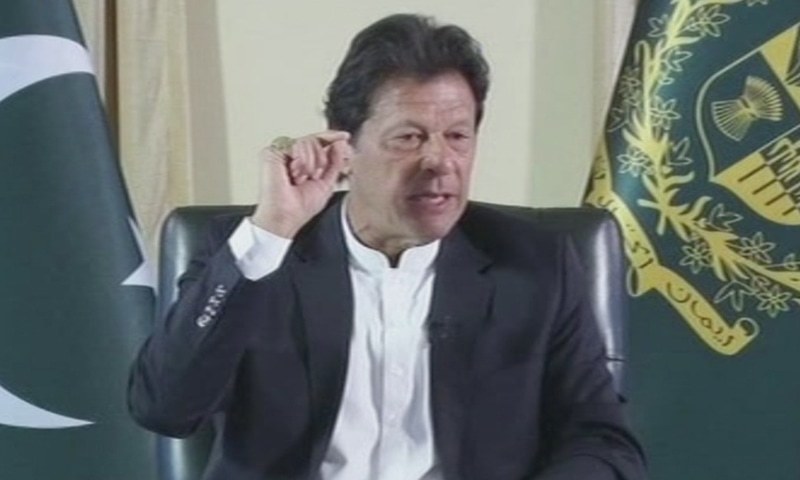 Prime Minister Imran Khan has shed light on various subjects of national importance including the state of the economy, civil-military relations and governance issues in a wide-ranging interview broadcast on TV on Monday.
In the pre-recorded interview, Khan answered questions by a panel of journalists representing various media organisations.
Rupee devaluation
The prime minister said he had found out about last week's plunge in the value of rupee after watching the news. He said the decision to decrease the value of the currency against the US dollar was taken by the State Bank.
"Please remember, we are trying to autonomise institutions," he said. "We have made SBP autonomous, they took the decision because they deem it fit."
He said the previous PML-N government had left a trade deficit of $19 billion, which increased from a previous deficit of $2.5 billion.
"The PML-N govt had spent $7 billion to [artificially] maintain the value of the rupee," he said.
Khan acknowledged that such a sharp drop in the value of the rupee creates "uncertainty", but stressed that he had not been aware of the decision to decrease the currency's value.
"I have conveyed a message to the SBP to keep us in the loop so we can give our input," the prime minister said, adding that he would have preferred if the devaluation took place a bit later.
"The [rupee] adjustment is a temporary phenomenon," he assured. "We are facing a foreign exchange crisis. Our [macroeconomic] indicators are now headed in the right direction, we will not face the issue in the future."
Khan said bringing in foreign investment will be crucial in raising the dollar reserves of the country. He quoted the Chinese ambassador as saying that China is entering investment contracts with Pakistan for the first time.
"China created export zones, with foreign investment and local labour. We want to replicate the same model."
Khan said all ministers have reported their achievements to him and that he will review their performance during the ongoing week. "We might change some ministers," he cautioned.
The prime minister said the country is currently facing crises on multiple fronts and "every single institution" is running in losses.
"As per the Singapore model, we will incorporate these institutions into holding companies," he said. "Our performance in the given scenario is exemplary. You will see stability in the coming days."
When asked about the issues facing the business community, Khan said Pakistan is lagging behind when it comes to 'ease of doing business'.
"We are trying to create a [positive] environment. We are establishing an office entitled 'ease of doing business' to provide a one-window solution to investors and to resolve their issues," he said. "Though it is a slow process, we are trying our best to ensure ease of doing business."
He said the government will provide incentives to the industry.
'Army totally standing by PTI manifesto'
Answering a question regarding his government's relationship with the military, Khan said the Pakistan Army "is currently totally standing by PTI's manifesto".
"We have no problems at the present," he said, adding that his government also hasn't faced issues of "civil-military discord" as seen during past governments.
He said leaders around the world seek the opinion of their military establishment "since they are equipped with the means to brief us on security issues".
He said Army Chief Gen Qamar Javed Bajwa is standing steadfastly by the democratic government, and both are on the "same page". "There is not a single decision that was not taken by me, and there is not a single decision behind which the Pakistan Army does not stand."
Asked about his government's efforts to address the missing persons' issue, the prime minister said a meeting had been scheduled between him and Balochistan National Party (BNP-M) president Sardar Akhtar Mengal. However, Mengal could not make it to the meeting due to some reason, he said.
"I have full assurance from Gen Bajwa that they want to help in resolving the missing persons' issue," Khan said.
'Regret' over CJP's remarks
Speaking about a case of alleged abuse of power by federal minister Azam Swati, Khan said he does not interfere in the matters of institutions to protect anyone.
"We will obey the court orders. Azam Swati will resign if found guilty," he said.
He was also asked about the role allegedly played by Punjab Chief Minister Usman Buzdar in the transfer of former Pakpattan district police office Rizwan Gondal. "What is wrong if the chief executive of a province calls a police officer to inquire about the alleged abuse suffered by somebody's daughter, who happens to be the daughter of Bushra begum, at the hands of police?" Khan questioned in response.
Khan expressed "regret" over remarks by Chief Justice Mian Saqib Nisar in which the top judge pointed to alleged nepotism on Khan's part in the appointment of Zulfi Bukhari's as the Special Assistant to the Prime Minister on Overseas Pakistanis and Human Resource Development.
Early election in Punjab?
Answering a question regarding his promise of creating a new province in south Punjab, Prime Minister Khan said it was a gradual process and that in the first phase, his government is administratively facilitating people of the southern region of Punjab.
Journalist Hamid Mir pointed out that if a South Punjab province is formed, the PTI risked losing its government in central Punjab, where it does not have a majority.
At this, Khan responded by suggesting that such a situation would perhaps arise by the time the next general elections are scheduled to be held. However, after interjection by some journalists, he said: "No no, it is possible that election happens even before [the scheduled time, in the two Punjab provinces]."
"You know a captain can change his strategy at any time," he added in a lighter vein.
'Old-minded bureaucrats'
Prime Minister Khan said the nation would have to decide whether "it wants to let corruption prevail".
He cited the example of China in ridding itself of corruption. "China is sailing past the US in economy, they have convicted 400 ministers during the past five years," he noted.
Khan said the major hurdle in his government's anti-corruption plans are some "old-minded bureaucrats" who are "trying to sabotage [our efforts] and creating an impression that the government will not be able to continue".
"We have recovered land worth trillions of rupees," he said. "Mafias are behind real encroachments. We have asked the authorities not to target poor people but the mafias."
"FBR, FIA and the anti-corruption [department] are working under the government. We have signed agreements on data sharing of each others' citizens with 26 countries."
Sharing an "interesting aspect" of the drive, Khan said the UAE and Saudi Arabia had refused to share the data of Pakistani iqama holders saying it was equivalent to sharing their citizenship information. "Now, you'll know why iqamas were sought secretly," he remarked.
In a reference to his political opponents, he said people had laundered money out of the country but they weren't caught because they held UAE iqamas.
Accountability not 'revenge tactics'
Addressing the ruling Pakistan Tehreek-i-Insaf's (PTI) differences with the opposition parties regarding the appointment of the chairman of the Public Accounts Committee (PAC), Khan said the PML-N wanted Shahbaz Sharif to head the committee, even though he is currently in a NAB jail and facing cases regarding 56 public sector companies.
"Will it not be a joke of our democracy if a person comes from the jail to chair the [PAC]?"
He said the opposition has boycotted all standing committees over the issue of PAC chairmanship. "They are trying to pressurise us into saying, 'We support democracy, let's work together' and giving them an NRO [National Reconciliation Ordinance]," Khan added.
The premier said the opposition parties "term accountability as revenge tactics", but that none of the corruption cases against opposition members was instated by his government.
'What's wrong in taking U-turns?'
Khan once again defended his inclination towards reversing his own decisions, saying: "People always blame me for taking U-turns, I have never denied that and I don't think of it as a bad thing. What's wrong in changing the strategy to achieve your goals?"
"My goal is across-the-board accountability and I'm willing to shake hands with anyone who won't object to that," he said.
Khan said he decided to travel abroad only when he knew the visit would be beneficial for Pakistan's economy. "Right now everyone abroad is aware that our economy is destroyed. So, my focus is on fixing that before touring abroad."
'Very nice' letter from Trump
Prime Minister Khan informed journalists he had received a "very nice" letter from US President Donald Trump seeking Pakistan's assistance in bringing about a negotiated end to the Afghan war.
Asked what his way forward would be, the premier said, "We will try our best to have the Afghan Taliban sit with the Americans for a dialogue."