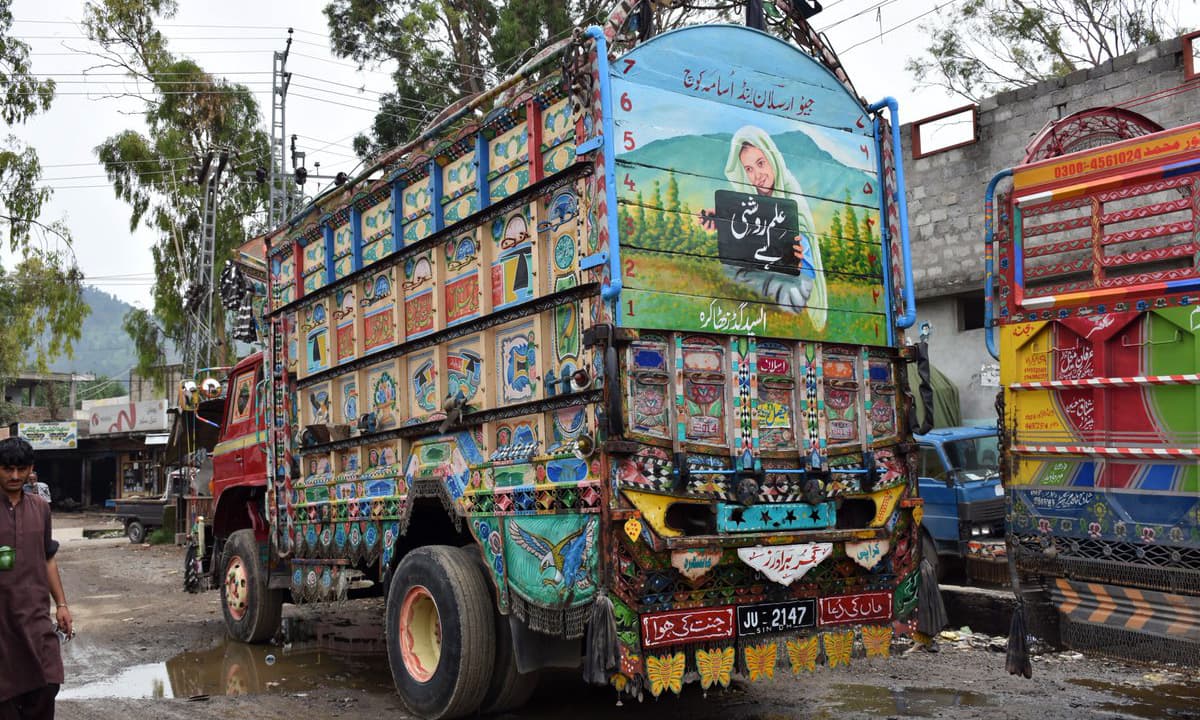 Rights activist and documentary filmmaker Samar Minallah is rallying truck drivers to help spread awareness about girls' education across the country, including remote areas, through their unique art.
Trucks usually bear paintings of actresses and gun-toting men, however, with the cooperation of painters and drivers, the vehicles can be painted to promote awareness.
Minallah believes truck art has the potential to effectively spread awareness in rural areas, where early marriages and customs like Swara are common and people resist the idea of education for girls.
With this idea in mind, she approached the Asian Development Bank (ADB) and Unesco. Both organisations agreed to fund the awareness campaign and signed MoUs with Minallah and Hayat Khan, the owner of a truck workshop, the activist told APP.
Also read: Reclaiming Karachi's public spaces through art
Hayat said he informs every truck driver who comes to his workshop, about the campaign. Painters are compelled to follow the drivers' directions while painting their trucks. Hayat says that since the beginning of the campaign artists try to convince truck owners to participate in spreading awareness.
"Truck art is our profession and after launching of this project, we are now painting pictures that have a public message," says Hayat.
Haji Khan is one such driver who agreed to a painter's proposition that a picture bearing a social message would benefit people. His truck now bears the painting of a minor girl, who is smiling and is holding books. Captions like "send your daughters to school" and "education is the basic right of a girl", accompany the painting. Earlier, his vehicle bore a painting of an actress.
Minallah claims that the feedback to the campaign has been positive and truck drivers are showing interest in art that promotes girls' education and awareness about unhealthy practices like early marriages, bribery etc.
She says that in order to ensure that the campaign reaches remote cities like Kohistan and other far-flung areas in KP, workshops in Mansehra had also been included in the project. To spread awareness in Punjab, workshops in Multan had been taken on board.
Hayat is hopeful that the initiative will succeed as trucks travel to areas that might not be accessible to non-governmental organisations or charities.
"Once a truck starts plying from Peshawar, it stops in Karachi while passing through different cities and villages," he says.
"So our effort will bear fruitful results in educating people. The day is not far when girls in Pakistan will get their due rights in education, inheritance and jobs."