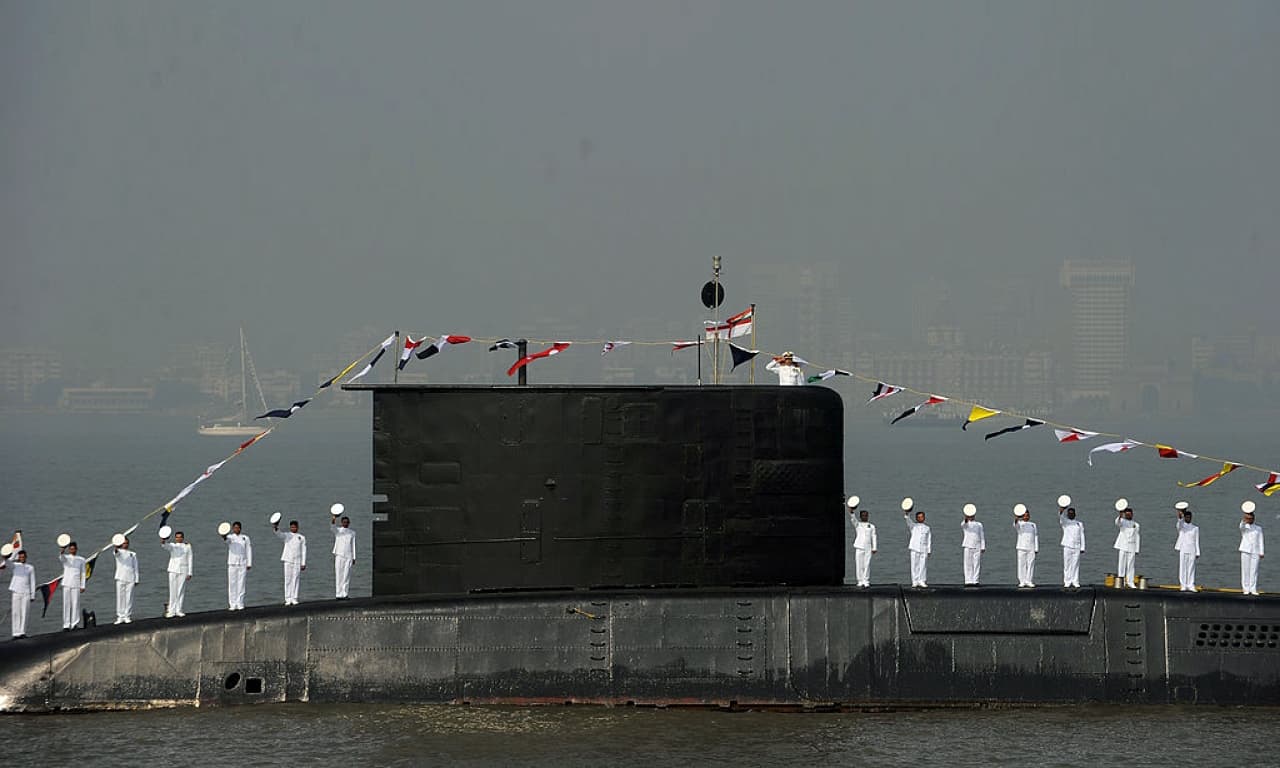 Pakistan has taken notice of a first "deterrence patrol" of an Indian nuclear submarine and subsequent "self-congratulatory messages in India", Foreign Office Spokesperson Dr Mohammad Faisal said during his weekly briefing in Islamabad on Thursday.
"The development marks the first actual deployment of ready-to-fire nuclear warheads in South Asia which is a matter of concern not only for the Indian Ocean littoral states but also for the international community at large," Radio Pakistan quoted Dr Faisal as saying.
Earlier this week, New Delhi had said that its first domestically built nuclear-powered submarine had recently completed a "deterrence patrol", giving it the capability to fire nuclear weapons from land, air, and sea in the event of any "misadventure" by enemies.
With nuclear-armed China to its north and nuclear-armed Pakistan to its west — both of which India has fought wars with — India's nationalist prime minister, Narendra Modi, said the INS Arihant was a "fitting response to those who indulge in nuclear blackmail".
"The bellicose language employed by the top Indian leadership highlights the threats to strategic stability in South Asia and raises questions about responsible nuclear stewardship in India," the Foreign Office spokesperson said on Thursday.
Dr Faisal said the increased frequency of missile tests by India, aggressive posturing and deployment of nuclear weapons calls for an assessment of the non-proliferation benefits resulting from Indian membership of the Missile Technology Control Regime.
"Pakistan is committed to the objective of strategic stability in South Asia and believes that the only way forward for both countries is to agree on measures for nuclear and missile restraint," he said.
"At the same time no one should be in doubt about Pakistan's resolve and capabilities to meet the challenges posed by the latest developments both in the nuclear and conventional realms in South Asia," the spokesperson asserted.
To a question, Dr Faisal also expressed concern over continuing atrocities by Indian forces in occupied Kashmir.
"The world community should step forward to stop India from using lethal weapons, pellet guns and brute force against innocent civilians in the held valley," he said.
The spokesperson pointed out that after the United Nations Human Rights Office's report on the matter, the United Kingdom's parliamentary body's report has also pinpointed the grave human rights situation in occupied Kashmir "where a number of marked and unmarked graves are being found as a result of the ongoing Indian brutalities".
Nuclear submarine
Modi said a successful month-long patrol by the submarine, Arihant, commissioned in 2016, had completed India's goal of having the capacity to deliver nuclear warheads with aircraft, missiles and submarines, 20 years after conducting its first nuclear tests.
INS Arihant, which according to NDTV can target China, had been thirty years in the making and can "now be considered a fully functional underwater ballistic missile delivery platform".
"In an era such as this, a credible nuclear deterrence is the need of the hour," the Indian premier was reported as saying.
The newly launched submarine, NDTV adds, "completes India's nuclear triad by adding maritime strike capability to land and air-based delivery platforms" — a feat Pakistan had already achieved in 2017 with the launch of the Babur-3 missile.
In March this year, Pakistan had carried out another successful test of the nuclear-capable Submarine Launched Cruise Missile (SLCM) Babur and announced that it has attained 'Credible Second Strike Capability'.