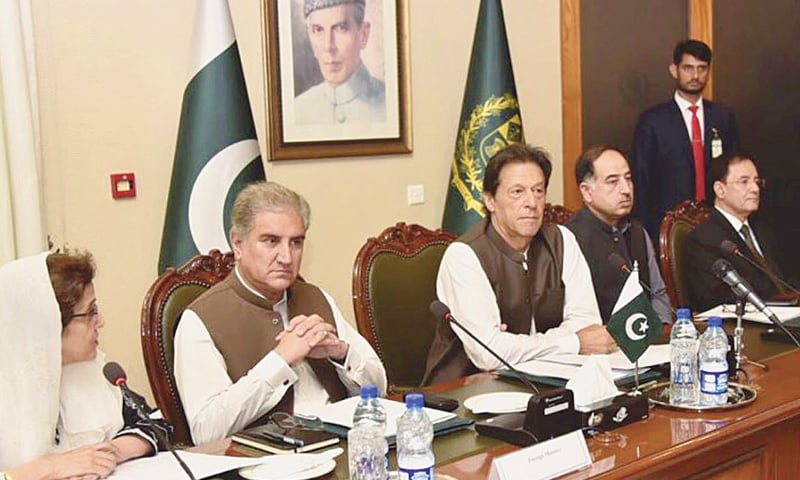 ISLAMABAD: US Secretary of State Mike Pompeo's visit to Islamabad is likely to go ahead despite the controversy that erupted over his telephonic conversation with Prime Minister Imran Khan.
"We are looking forward to Secretary Pompeo's visit to engage with him for peace and stability and look at areas where we can cooperate," Foreign Minister Shah Mehmood Qureshi said at a press conference at the Foreign Office on Friday.
Secretary Pompeo is expected to visit Islamabad on Sept 5.
Mr Pompeo had earlier phoned Mr Khan to greet him on the assumption of office. The controversy started with the readout of the conversation issued by the State Department, which stated: "Secretary Pompeo raised the importance of Pakistan taking decisive action against all terrorists operating in Pakistan and its vital role in promoting the Afghan peace process."
Foreign Minister Qureshi says US account of phone conversation is 'contrary to reality'; Washington stands by its readout
The FO rejected the US assertion, saying it was "factually incorrect" and that nothing of that sort had been mentioned during the conversation. The State Department, however, disregarded Pakistani contention and stood by its initial readout of the phone call.
Mr Qureshi, who had ordered his ministry to issue a rebuttal over the State Department claim, weighed in on the issue and said the American statement was "contrary to the reality".
He, however, emphasised that Pakistan's relationship with the US was important and the PTI government would like to have a constructive engagement with Washington by building on the convergences in the relationship.
The foreign minister also mentioned the importance of cooperating with the US for peace in Afghanistan for improving the complexion of Pakistan-US ties. "We will have to understand their expectations and they would have to look at our requirements. It is not a one-way relationship," he maintained.
Later, talking to the outgoing US ambassador David Hale, who paid a farewell call on him, Mr Qureshi said his interactions with the US leadership would be based on honesty and sincerity so as to develop a sustained partnership in the interest of both countries.
Meanwhile, State Department spokesperson Heather Nauert stressed that the US still saw Pakistan as "an important partner" and "hope(s) to forge a good, productive working relationship with the new civilian government" in Islamabad.
"My understanding is that the beginning of the call or the call itself was a good call and a good discussion toward our working with the new government and the new administration," she said.
However, she said, "We stand by our readout."
Wang due on Sept 8
Mr Qureshi said his Chinese counterpart Wang Yi would be visiting Islamabad on Sept 8.
The foreign minister underscored the importance of Pakistan-China relations saying that China-Pakistan Economic Corridor (CPEC) was "an important development" and the PTI government would seek to "benefit to the fullest" from it.
He described the Pak-China relations as exemplary. "The Shanghai Cooperation Organisation also brings numerous opportunities, and how Pakistan can benefit has to be analysed," he said.
Also, Iranian foreign minister Javad Zarif is expected to visit Pakistan by the month end. Similarly, the Japanese minister of state for foreign affairs expressed his interest in visiting Islamabad for engaging with the new government.
Responding to a question about dialogue with India, Mr Qureshi said there was no other option. "Irrespective of whether or not we make progress in ties, we will have to talk," he said.
He recalled that it was prime minister's desire to improve ties with India and Mr Khan had mentioned the same during his victory speech after the general election.
He also said Indian external affairs minister Sushma Swaraj had sent a greeting message for him on becoming the foreign minister.
Mr Qureshi had last week kicked up a minor controversy when his statement was assumed to have suggested that India had offered to open dialogue with Pakistan. The FO had to clarify Mr Qureshi's comments after India denied the statement.
PM visits FO
Meanwhile, Prime Minister Imran Khan on Friday paid his first visit to the Foreign Office where he was briefed on some more important matters related to external affairs. He stayed there for nearly an hour and a half.
It is said that Mr Khan "gave guidelines" on foreign policy. The PTI leadership had earlier stated that Pakistan's interests would be central to foreign policy operations.
Anwar Iqbal also contributed to this report from Washington.
Published in Dawn, August 25th, 2018