Either its charcoal, thin layers of paint or the spontaneous rough broad brush strokes, Shahid Mirza seems to be enjoying a joyful intimacy with the mediums he has been working with for more than three decades.
Born to legendary film editor and director Aman Mirza, he is blunt and open-hearted Lahori and belongs to the generation of creative and radical individuals who had challenged the social norms and oppressive regimes with their way of living, literary works, theatre, art, and political activism.
"Books were rarely available to us but we lived in an era which had a rich culture of reading and sharing books, joining study circles, and exchanging ideas," he recalls.
Shahid Mirza was a science student, struggling hard to get more marks and join some professional degree course.
"I would love to draw and put the sketches in old picture frames at home, but never thought of opting for arts as a profession. We used to sit daily at the Lahore Museum Cafeteria. One day in 1976, one of our friends, Zaehri, brought a pile of admission forms of the National College of Arts. We all filled in these forms and thus reached the NCA.
"When I passed out, I had earned a degree in graphic designing," he recalls.
Shahid says that the NCA was not an elite institution then and interaction with multi-class and multicultural people was an enriching experience for students; all of his lifetime Sindhi and Baloch friends were his college fellows.
After working for a few years for leading advertising agencies, he moved to New York where he found it hard to get a good job in his field.
"While doing a professional course, my American teacher advised me to paint, because of my odd approach towards advertising. That was a watershed moment, and I switched over to visual arts," he relates.
Painting since the late 1980s, he has had six solo shows to his credit. He earns his living by teaching but creates art by spending long hours in his studio apartment, working at a relaxed pace with no deadlines to meet for exhibitions.
Deeply rooted in his land and culture, Shahid Mirza is continuously evolving his visual vocabulary, based on indigenous cultures of Harappa, Mohenjodaro and Mehrgarh.
"The images from Mehrgarh are my new love affair, developed during the drawing studies. Either it is a mountain, image from old civilisation or scenes of the Walled City of Lahore, I believe in a direct interaction with the subjects by drawing them in detail and studies on-the- spot," he narrates.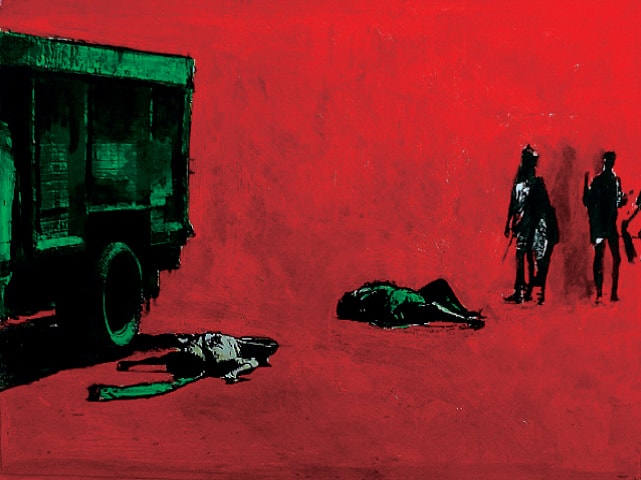 The recent body of works of Shahid displayed in a solo show recently concluded consists of paintings, created using a variety of mediums and concepts during the last six years. He had displayed two kinds of works; the first ones which were more prominently displayed, reflecting the skills of the artist to work like western abstract expressionists and the late 19th century impressionists. It showed a sound understanding of compositions and excellent sense of colour by employing wide tonal range to make a strong visual impact.
He uses images of Indus Valley figurines, stone sculptures of the subcontinent and images of northern area mountains like Passu cones, which produce familiarity for local viewer. Despite very sensitive rendering, most of these paintings have strong European, Western influences.
The second kind of works exhibited in less prominent areas has a unique character. It carries freshness, newness and a very strong sociopolitical content. Created by use of old images from the time of the Partition in 1947, the works look like telling a story through radiant colours, but without comprising the aesthetic appeal. Dismantling the conventional narratives, these works represent the political consciousness and signature style of Shahid Mirza, which is getting mature and strong day by day, like old wine.
Published in Dawn, January 7th, 2018