A team from the National Accountability Bureau (NAB) took former Sindh Information Minister Sharjeel Inam Memon into custody on Monday after the Sindh High Court (SHC) rejected his bail plea in a corruption case pertaining to the award of advertisements at 'exorbitant rates' through the abuse of his power.
NAB officials also arrested 11 co-accused in the case who had been accompanying Memon in the court. Out of the 11, five had handed over themselves to NAB officials whereas the remaining seven were arrested along with Memon. One accused in the case had been granted extension in his bail.
Memon will be produced before an accountability court on Tuesday, NAB officials said, adding that they would seek 14-day remand of the accused.
Following the rejection of his bail plea, Memon had holed up for hours in a courtroom to avoid arrest as his team explored their options, but could not stave off the inevitable for long. During this period, in an apparent show of solidarity, several PPP ministers visited Memon in the court, DawnNews reported.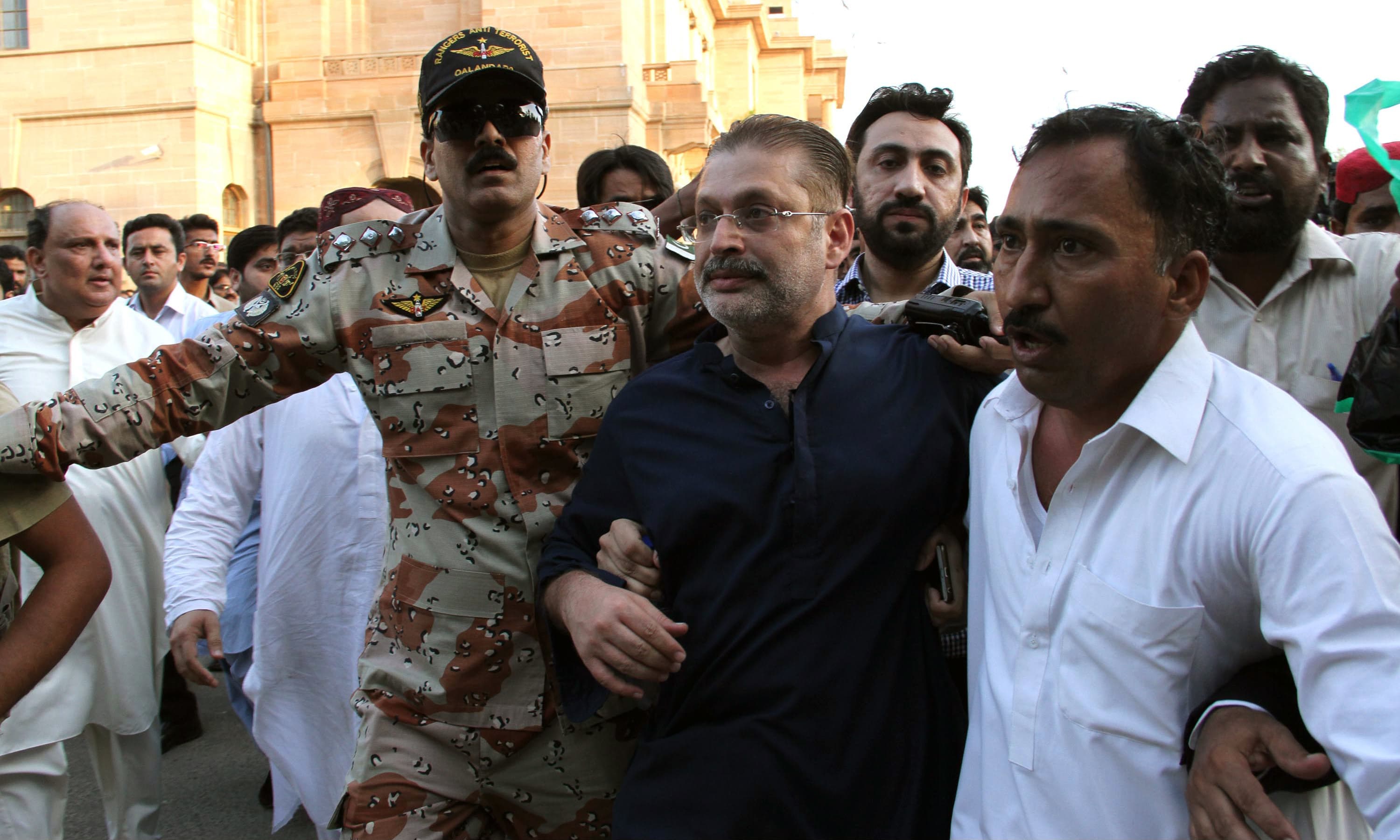 To avoid any 'untoward incident', a large number of law enforcement agencies personnel had beefed up the security around the court.
As soon as Memon exited the building, surrounded in a tight cordon by his lawyers and supporters, he was nabbed by representatives of the accountability bureau and whisked away.
Earlier in the day, a two-judge bench of the Sindh High Court, headed by SHC Chief Justice Ahmed Ali M. Shaikh, had rejected the PPP leader's bail application along with the applications of 12 others accused. The accused are alleged to have been involved in corruption worth Rs5.76 billion in the case.
Memon filed an appeal against his arrest in the court but the bench declined to hear the appeal, saying that it could be taken up if the Supreme Court overturned the lower court's short order, DawnNews reported.
The bail of one of the accused, Riaz Muneer, has been accepted by the court. Previously, all of the accused in the case, including Memon, had procured pre-arrest bail.
In a previous hearing of the case, NAB had said that it had investigated corruption and corrupt practices in the award of advertisements against the law and at exorbitant rates to TV channels and FM radio stations for various awareness campaigns between July 2013 and June 2015, It said it had found that the accused acted with the connivance of each other, resulting in losses to the national exchequer.
The PPP leader is also facing a separate reference regarding illegal adjustment and consolidation of hundreds of acres of land in favour of a private housing project.