30 years ago, Pakistan won a most famous Test victory against India. It was Pakistan's first Test win against its arch-rivals on Indian soil since 1952. The win also heralded Pakistan's first-ever Test series win in India.
In January, 1987 an 18-member Pakistan squad arrived in India to play five Tests and six ODIs.
The last two series between the sides had ended in dull draws.
Imran was made captain in 1982 but stepped down in 1984 when a stress fracture in one of his shins failed to heal. He returned to the team in 1985 (under Javed Miandad) and was once again made captain in 1986.
Though the team's performance before the Indian tour was not as dazzling as it had been during Imran's first stint as skipper (1982-84), it wasn't disastrous either.
But Imran was under tremendous pressure when he arrived in India, not only because his team was facing India in its own backyard, but also because Pakistani middle-order batsman, Qasim Umar, had begun to whisper certain awkward things about the Pakistani dressing room (after the ODI tournament in Australia).
Umar had clashed with Imran on a number of occasions in Australia. When Imran refused to select him for the Indian tour, Umar told the press that Imran was a narcissist and exhibited favouritism.
He later went on to add that Imran and most of the players were habitual drug users (hashish) and regularly brought women into their hotel rooms. He also called the players binge drinkers.
Umar was quickly hushed up and then handed a life ban by the Pakistan Cricket Board. The board did not want to attract controversy because it was set to host the 1987 world cup (jointly with India) later in the year.
A section of the Pakistani press was pushing for an inquiry into the matter when an 18-member Pakistan cricket squad landed in India on January 18, 1987.
Pakistan's line-up in the 1987 Test series





• Imran Khan | (Captain) | 34 | Lahore | Right-handed batsman and right-arm-fast

• Javed Miandad | (Vice Captain) | 29 | Karachi | Right-handed batsman

• Rameez Raja | 24 | Lahore | Right-Handed opening batsman

• Shoaib Mohammed | 27 | Karachi | Right-handed opening batsman

• Mudassar Nazar | 30 | Lahore | Right-handed opening batsman

• Saleem Malik | 23 | Lahore | Right-handed batsman

• Rizwan-uz Zaman | 25 | Karachi | Right-handed opening batsman

• Ijaz Ahmed | 18 | Sialkot | Right-handed batsman

• Asif Mujtaba | 19 | Karachi | Left-handed batsman and occasional left-arm leg-spin

• Manzoor Elahi | 23 | Sahiwal | Right-handed batsman and right-arm medium fast

• Saleem Yousuf | 27 | Karachi | Wicketkeeper and right-handed batsman

• Zulqarnain Zaidi | 24 | Lahore | Wicketkeeper and right-handed batsman

• Ijaz Faqih | 30 | Karachi | Right-handed batsman and right-arm off-break

• Abdul Qadir | 31 | Lahore | Right-handed batsman and right-arm leg-break

• Tauseef Ahmed | 28 | Karachi | Right-handed batsman and right-arm off-break

• Wasim Akram | 20 | Lahore | Left-handed batsman and left-arm fast

• Saleem Jaffar | 24 | Karachi | Right-handed batsman and left-arm fast-medium

• Zakir Khan | 23 | Peshawar | Right-handed batsman and right-arm fast-medium
The first four of the five Tests ended in drab draws. The pitches were flat and slow, and both the captains, Imran Khan and Kapil Dev, were not willing to play any positive cricket.
The crowds turned up in huge numbers but by the fourth Test, they began to express their frustration over the dull and slow pace of the matches. The Test in Ahmedabad was marred by constant crowd trouble and twice Imran led his players off the field when his fielders on the boundary were pelted with stones, pebbles, and rotten fruit.
Both captains blamed each other for playing overtly defensive cricket. Both then blamed the dead nature of the pitches.
This and criticism in the Indian media saw a rather curious-looking wicket for the fifth and last match in Bangalore. It looked red and was dusty. Imran and Kapil both believed it would be good for batting and might start to take some turn in the last two days of the game. That's why Imran immediately chose to bat first after winning the toss.
In his autobiography, Javed Miandad explained that the pitch was under-prepared. He also mentioned how, when Pakistan's premier leg-spinner, Abdul Qadir, lost his form during the series, India's former captain and spinner, Bishen Singh Bedi, advised Javed to play a left-arm spinner in the side.
Miandad asked Imran to bring in Pakistan's discarded slow-left-arm spinner, Iqbal Qasim. But Imran was reluctant. He wanted to persist with Qadir. Miandad persevered and finally managed to make Imran ask the selectors to send Qasim as a reinforcement.
Qasim played in a few drawn games and was set to make way for Qadir in the last Test. But Miandad stepped in again and forced Imran to retain Qasim in the playing IX. Imran was again hesitant, but eventually played Qasim, along with off-spinner Tauseef Ahmad, in the Test.
Pakistan played three pacers: Wasim Akram, Saleem Jaffar, and Imran himself. Then there was also Manzoor Elahi in the IX who was a hard-hitting batsman and a medium-pacer. As we shall see, Imran clearly had no idea how the wicket would play.
When Pakistan came out to bat, ace medium-pacer, Kapil Dev, quickly removed Pakistan's openers, Rameez Raja and Rizwan-ul-Haq. But as the Pakistani batsmen waited for the pitch to flatten out, they came in for a shock.
The very first ball bowled by Indian left-arm spinner, Maninder Singh, spun prodigiously. Under all that dust on the pitch was an uneven, rough track, turning square right from the word go. Pakistan were shot out for just 116.
Salim Malik top scored with 33. Tail-enders Qasim and Tauseef added 24 for the 8th wicket, helping Pakistan avoid getting out for less than a 100. Singh picked up seven wickets.
It seemed an entirely different pitch when the Indian batsmen came in to bat and notched 68 for the loss of just two wickets at the end of the day's play. Pakistan were in trouble.
On day two, the Pakistani spinners finally got the hang of the curious pitch and rapidly ran through the Indian batting line-up. Qasim and Tauseef picked five wickets each, ending the Indian innings at 145.
At one point, it seemed Dalip Vengsarkar will manage to take India past 200, but was picked up by Tauseef for 50. Considering the way the pitch was playing, India managed to get a handy 29-run lead.
Miandad, Pakistan's finest player of spin, was pressed up the order by Imran to open with Rameez. The ploy seemed to be working when both pushed the score to 45 (minus 29, of course, so in reality, just 16).
Miandad fell to Shastri's slow-left-arm spin. Shastri then sneaked through the defenses of Rizwan. Pakistan 57 for 2. In effect, just 28.
Rameez and Saleem Malik somewhat steadied things before off-spinner Yadev removed Rameez. Pakistan 89 for 3.
In yet another batting reshuffle, Imran and Miandad sent in Iqbal Qasim at number four. Qasim was a tail-ender. He had played a handy knock of 19 in the first innings. According to Miandad, they sent him up because he was left-handed and could at least neutralise the spin Singh was getting from the right-handers' off-stump area.
Qasim dug in. He added 32 runs with Malik, slowly pushing the score to 121. These were valuable runs. Pakistan were now 92 ahead with seven wickets in hand. Kapil replaced Yadev and came on to bowl himself. With an in-swinger he clean-bowled Malik.
Imran joined Qasim and added another 19 before Qasim was taken out by Yadev for a well-played 26. All-rounder Manzoor Illahi joined Imran and both ended day two with Pakistan 155 for 5. In effect, 126.
The umpiring had been atrocious. There were no neutral umpires those days. Both the Indian umpires seemed to be under tremendous pressure from the massive and entirely partisan crowd.
At one point, the umpire gave Qasim out LBW. The ball had clearly hit his bat before hitting his pad. Qasim loudly protested. Incredibly, the umpire took the decision back!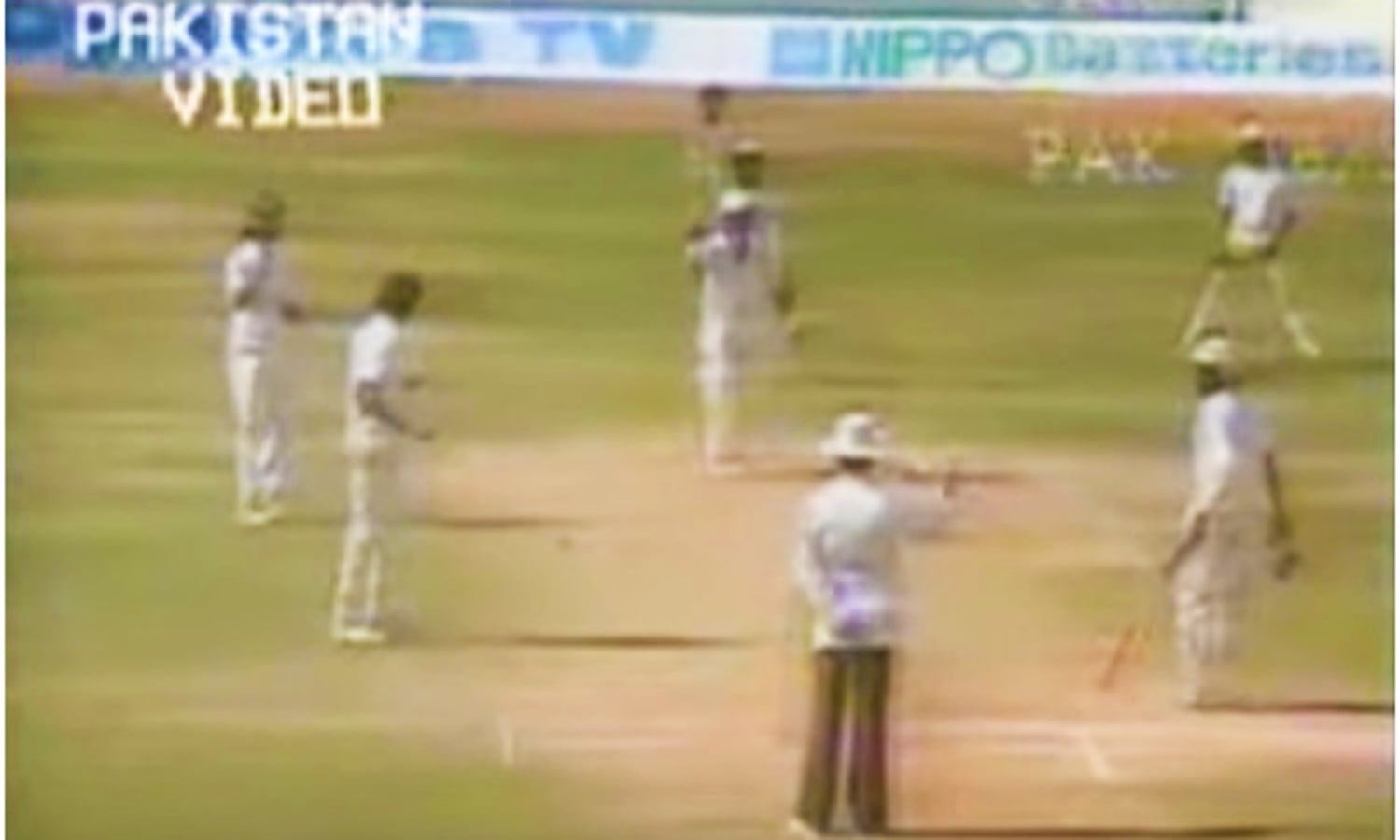 On day three, Maninder took out Manzoor and Wasim Akram. Akram had tried to hit out against the persistent spinners, smashing a six and a four, before falling LBW. Then Shastri got Imran who had compiled a patient 39. At lunch, Pakistan were 198 for 8. Just 169 ahead.
The pitch had not changed much. It was still turning a lot, but ironically, the turn had somewhat become predictable. It was happening from certain spots on the wicket. Imran knew Pakistan needed at least a lead of 230 to put India's quality batting line-up under pressure. But he just had two wickets left.
Pakistan wicketkeeper, Salim Yousaf, got together with the number 10, Tauseef.
With a dogged Tauseef on the other end, Yousaf played a gritty innings, peppered with lots of quick singles and four 4s. He posted 41. Tauseef and Yousaf managed to push Pakistan's lead beyond 200. But quick wickets saw Pakistan all out for 249. India had to chase down 220. Was it enough?
A short, fiery spell by Wasim Akram gave Pakistan two quick wickets. Gavaskar and Vengsarkar steadied the ship and took the score from 15 for 2 to 64. But then Vengsarkar was bowled by Tauseef.
With the score at 80, Tauseef then took out nightwatchman, K.More. At the end of day three, India were 99 for 4, needing 121. It had six wickets in hand and the little master Gavaskar was still at the crease. Game on.
Day four began well for India. Gavaskar and Azharuddin progressively piled on the runs, adding 24 and looking rather comfortable. Pakistan began to worry. India now needed less than 100.
It took an incredible caught-and-bowled by Qasim to get rid of Azhar. Azhar drove at a turning ball only to find Qasim flying to his left and holding on to a blinder. India 123 for 5 at lunch.
Shastri blocked everything as Gavaskar began to score more freely from the other end. Both took the score to 155 before Qasim got into the act again. He dismissed Shastri with another caught-and-bowled. India now required 65. It had four wickets in hand and the plucky Gavaskar was still on the crease.
New batsman, Kapil Dev, did not survive long and was cleaned up by Qasim. But Gavaskar pushed on. With all-rounder Binny, he took the score to 180. 40 needed.
Gavaskar had to go if Pakistan were to win. A number of LBW and close-in catches against him were turned down, some valid appeals, some pure pressure tactics.
Khan and Miandad glared at him. At one point, Miandad gatecrashed a mid-pitch meeting between Gavaskar and Binny, telling Gavaskar he should have been in the dressing room. Gavaskar ignored him.
And then it happened. Gavaskar, solid at 96, was finally sent back by a vicious turner by Qasim. It kicked off the dusty turf, took the upper edge of his bat and flew high to first slip where Rizwan leapt and held the catch. Gavaskar was finally gone.
Five runs later, Tauseef cleaned up Yadev, leaving Binny and the last man Maninder to make the remaining 35 runs. Both pushed the score to 198. 22 needed.
Maninder survived a testing over by Qasim. Binny was back facing Tauseef again. He smashed the off-spinner for a towering six. Just 16 needed. He wanted to hit out the remaining runs. But Imran kept the fielders close to the bat.
Binny tried to smash another big one, trying to pick the ball from off and dispose it into the stands. But the ball kept low and took the outside edge of the bat. Saleem Yousaf did the rest, holding on to a sharp catch. Pakistan had won its first Test in India after 1952 and, with it, its first-ever series against India in India.