Pakistani cricket teams have been described as being the most unpredictable and erratic in the cricket-playing world.
Cricket is massive in South Asia. And Pakistani cricket teams have played a major role in making it a popular sport in the region — especially due to the kind of mercurial and off-beat talent that the country has produced ever since it began playing international cricket in 1952.
The country's cricketing history is largely made up of extremes: of sudden highs and dramatic lows.
Experts suggest that Pakistan cricket rarely found a middle ground. This is also why, for a long time, Pakistani cricket teams have been described as being the most unpredictable and erratic in the cricket-playing world.
The highs in this regard often emerged during the tenures of some powerful captains who managed to assemble and unite a motley crew of mercurial but highly-talented players who, unexpectedly, went on to turn the tables on some of the strongest teams.
The Pakistan team, during the tenure of Pakistan's first Test skipper, A. H. Karadar, was one such squad.
Between 1952 and 1958, it managed to win against almost every Test-playing team, despite the fact that it was made up of raw, inexperienced cricketers, picked by a cricket board that was equally inexperienced and extremely low on resources.
The teams during Imran Khan's long tenure as captain (across the 1980s and early 1990s) managed to make Pakistan a truly major cricketing power which, in 1992, eventually went on to win the Cricket World Cup.
Then there was the team that evolved after Imran's departure and was largely captained by Wasim Akram. This one produced some of the most exciting talent generated by Pakistan (especially in the fast-bowling department), and kept Pakistan afloat high in rankings across the 1990s.
But this team was not exactly united. Though studded with some of the most extraordinary talent and skills in international cricket at the time, it often suffered from infighting, players' rebellions and other more unsavoury controversies, such as match-fixing.
There is also the team which developed under Pakistan's current Test captain, Misbahul Haq. Haq was appointed captain in 2011 and has gone on to become the country's most successful Test captain.
Misbah was unique in this respect because he actually tried to develop a team whose style and culture eschewed the Pakistani teams' reputation of being mercurial and unpredictable.
But as two of Pakistan's greatest cricketers, Imran Khan and Javed Miandad, stated in their respective autobiographies: Pakistan assembled perhaps its most talented and strongest side ever in the late 1970s. It was captained by Mushtaq Mohammad.
Though Miandad places Mushtaq Mohammad right beside Imran Khan as the best captain he played under, Imran suggests that Mushtaq was lucky to have such a strong combination of players.
Indeed he was, but the team which Mushtaq went on to captain had actually begun to develop from 1974 onward under Intikhab Alam. The difference was that under Intikhab, it failed to click as a winning unit and was often dismissed as being a disorganised group of talented men who just couldn't develop a winning habit.
Mushtaq managed to change that. When he became captain in 1976, Pakistan had won just three Test matches in the 47 that it had played between 1960 and 1975.
Mushtaq won two in his very first series. But after downing New Zealand 2-0 at home, Mushtaq's team faced the daunting task of playing back-to-back series against two of the time's most feared sides: Australia and the West Indies.
Pakistan was to embark on a long tour in which it had to play three Tests in Australia and five in the West Indies. Pakistan had never won a Test in Australia, and it had defeated the West Indies (in the West Indies) just once, and that too in the late 1950s.
Australia and the West Indies had risen to become the world's top two sides in the mid-1970s. Their main weapons were its bowlers who, at that time, were some of the fastest the world had ever seen.
The pitches in both the regions were mostly quick and bouncy. In those days, both regions also had some of the most boisterous and hostile crowds.
Australia had risen under the captaincy of Ian Chappell who turned the Australian side into an aggressive unit, willing to do anything to undermine the opposition.
This attitude was the substance from which emerged something called 'sledging'.
It was the act of intimidating one's opponents with curse words and sardonic remarks to distract them and make them lose their focus. The Australians had mastered it.
Ian's brother Greg Chappell, who took over the captaincy in 1976, continued from where Ian had left. In fact, Greg injected even more aggression in the way the Australians liked to play their cricket: Audibly, aggressive, in-your-face and, most of all, to win and win alone!
The West Indians were a comparatively quieter side. But they too hated to lose. Much of their talking was done through the battery of fast bowlers that they carried: Michael Holding, Joel Garner, Andy Roberts and Colin Croft. Each capable of unleashing deliveries that were over 95 mph, just like Australia's Jeff Thomson, Dennis Lillee and, to a certain extent, Gary Gilmour.
---
Video: Jeff Thomson and Dennis Lillee were two of the fastest bowlers in the world when the Pakistan team went to Australia in November 1976.
---
---
Video: The West Indies came packed with an even more fearsome pace attack.
---
After Mushtaq's team defeated the New Zealanders on the flat and slow pitches of Pakistan, Mushtaq demanded that the team should receive a pay increase. The Pakistan cricket board, headed by former captain A H. Kardar, refused.
Mushtaq and at least five other players threatened to pull out of the squad. Kardar responded by actually pulling them out. Intikhab was made captain again and replacements were announced for half a dozen more players who had decided to back their captain's demands.
But since Mushtaq had freshly led Pakistan to a series victory, the local press sided with him until Prime Minister Zulfiqar Ali Bhutto intervened and asked one of his ministers Abdul Hafeez Pirzada to amicably sort out the matter.
Kardar was a member of Bhutto's left-leaning and populist Pakistan Peoples Party (PPP) that had come to power in December 1971. But Mushtaq's brother, former Pakistani batsman and captain Hanif Mohammad, was also a huge supporter of Bhutto. And Bhutto was aware of that. Hanif was also the chief selector.
The deadlock between the players and the board was finally broken when the government instructed the board to accept the demands of the players, and give the team a pay raise.
Some critics of the deal suggested that Mushtaq had actually wanted to be dropped because he knew that his team didn't stand a chance against the hostile Australians and the mighty West Indies.
Nevertheless, Mushtaq and his vice-captain, Asif Iqbal, finally sat with the selectors and picked 18 players for the long tour. The team was to be managed by former Pakistan player, Col. Shujahuddin while former Pakistan wicketkeeper, Imtiaz Ahmad, was named Assistant Manager.
The squad consisted of three openers: The regular pair of Majid Khan and Sadiq Mohammad and the newbie, Mudassar Nazar, who was yet to make his debut.
Rest of the batting was studded with experienced batsmen such as the elegant Zaheer Abbas, the cavalier Asif Iqbal, the solid Mushtaq Mohammad, the mercurial Wasim Raja,and two new-comers: Javed Miandad (who had made his debut in the series against New Zealand) and Haroon Rashid, who had never played in a Test.
The fast bowling department was led by the hot-headed Sarfaraz Nawaz, the quickly improving Imran Khan, and veteran swing bowlers, Asif Masood and Salim Altaf. A teenaged medium-pacer, Sikandar Bakht, too was picked.
Mushtaq and Intikhab Alam were the main spinners in the side, both leg-break-googly bowlers. Accompanying them in the spin department was slow left-arm spinner, Iqbal Qasim, who hadn't played in a Test.
There were two wicketkeepers: The regular, Wasim Bari, and the less experienced, Taslim Arif.
The 18 players and two officials departed for Australia (via Singapore) on a Pakistan International Airlines' flight in November 1976.
What was expected to end up as a severe thrashing at the hands of the Australians and the West Indians, and a possible end to the careers of the team's senior players became a historical odyssey that would push Pakistan cricket out of the shadows of disappointments and ridicule, and finally make it a cricketing power to be reckoned with.
After the tour, Pakistan cricket changed forever.
BAPTISED BY FIRE
The Pakistan team arrived in Australia to a hostile reception. The Australian press had dismissed the Pakistani players as being 'bunnies.' They were up against an Australian side that had in 1975-76 whipped England 4-1, and the West Indies 5-1.
The Pakistanis also came across a lot of sledging. They got a mouthful of it during the 1st Test at Adelaide.
They were up against Thomson, Lillee and Gilmour — all of whom threatened to reduce Pakistan under the score of 200, had it not been for a gutsy 85 by Zaheer, and 48 by Imran. Pakistan finally managed to post 272, but it could have been far worse.
Earlier, Thomson, who was consistently bowling over 95 mph, and had ripped out two Pakistani wickets, tried to bounce out Zaheer. The ball rose viciously and Zaheer was late on the hook shot. The rising ball hit the edge of his bat and ballooned in the air.
Thomson ran for the catch not knowing that Allan Turner was also coming in for it. Both the players collided. Thomson dislocated his shoulder and had to be carried away from the field.
When the Australians came in to bat, they smashed the Pakistani bowlers all over the park and gained a lead of over 150.
With two and a half days remaining, Pakistan had to bat for a long period of time to save the game. Zaheer, Mushtaq and Javed took the score to 236-4. Zaheer also raised a stylish century, only to get out at 101, hooking Lillee.
Imran, Saleem Altaf, Sarfaraz and Bari went quickly, leaving Pakistan reeling at 379-9 with just 217 ahead, and with more than a day and a half remaining in the Test. Asif Iqbal was still there with number 11 batsman, Iqbal Qasim, who was making his Test debut.
At tea, Mushtaq admonished Zaheer in the dressing room for playing recklessly after completing his century. But what happened next took the Australians by surprise.
Asif Iqbal added 87 precious runs with Qasim who faced 96 deliveries but scored just four. He gave vital support to Asif who went on to score a fighting 152.
The partnership was finally broken in the first session of the fifth day when Qasim was run out, trying to pinch a quick single to get Asif back on strike.
The Australians were left with a gettable 284 to win in two sessions. But Pakistan made sure that didn't happen, especially due to some tight bowling by Iqbal Qasim who took four wickets.
The Australians aborted the chase after the fall of their sixth wicket. They needed just 23 to win when the game ended in a tense draw.
The crowd booed the Australians for abandoning the chase. Pakistan had managed to engineer a remarkable escape.
---
Video: Pakistan dismiss Australian skipper, Greg Chappell, and force Australia to halt their chase. Chappell went, caught Mushtaq, bowled Qasim. (No Audio).
---
In his autobiography, Mushtaq wrote that after the day's play, Lillee went into the Pakistan dressing room with a bucket of beer. He walked towards Mushtaq and prodded: Come on, Mushy, let's you and I have some beers.
Mushtaq was furious: I don't understand you guys. Out there you insult and abuse us, and now you want to have a beer with my team?
Lillee laughed: What takes place on the field stays on the field. Off it, we're buddies.
Earning a fighting draw had almost felt like a win for Pakistanis and they went brimming with confidence to Melbourne for the 2nd Test.
The wicket at the Melbourne Cricket Stadium used to be one of the fastest in the world until 1975. But when Pakistanis arrived here in January 1977, they were pleased to notice a dry, brown track.
Sarfaraz had gotten himself injured in the nets and was replaced by Asif Masood. Mushtaq lost the toss and Chappell chose to bat. Soon the Pakistani bowling attack was being taken to the cleaners.
Australia posted a mammoth 514. Pakistan responded in kind. Or sort of. Pakistan's celebrated opening pair of Majid Khan and Sadiq Muhammad quickly posted an opening stand of 113 before Majid fell.
No problem. Zaheer continued with his good form and pushed the score to 241 with Sadiq who made a fluent 105.
But then, as if out of nowhere, Lillee produced two stunning spells of fast bowling, leaving Pakistan collapsing from 241-2 to 333 all out.
The Australians scored 315-8 in their second innings before declaring, giving Pakistan an impossible 499 runs to chase. The only highlight of Pakistan's bowling was Imran's five wickets, but which he got at the expense of 122 runs.
Playing for a draw, Pakistan collapsed, scoring just 151 in their second innings. They were devastated again by Lillee (four wickets), and leg-break bowler, Kerry O'Keefe.
Pakistan lost the game by a whopping 348 runs.
---
Video: Lillee destroys Pakistan at Melbourne
---
A day before the 3rd Test in Sydney, Mushtaq, and vice-captain, Asif Iqbal, couldn't make out the nature of the wicket at the Sydney Cricket Ground. It wasn't exactly a green-top but nor was it like the one in Melbourne.
In the three-day side game against Queensland, the flamboyant Wasim Raja had cracked a hard-hitting century and was expecting to be selected in Sydney.
At night, Mushtaq and Asif Iqbal sat together in Mushtaq's hotel room to decide the final XI for the third Test. They believed the Sydney track would help the batsmen, and decided to strengthen the batting line-up.
They dropped fast bowler Salim Altaf and replaced him with the debutant middle-order batsman, Haroon Rashid. Asif Masood made way for the returning Sarfaraz.
Mushtaq gave the names of the selected team members to Manager Shujahuddin, who informed Raja that he wasn't in the side.
A loner, and often a binge drinker, Raja went on a rampage. After getting sloshed, he smashed a mirror in his hotel room and then stumbled into the hotel lobby, cursing Shujahuddin.
Mudassar, Asif Masood, Sadiq, Sarfaraz and Salim Altaf were at the hotel bar on the ground floor when they saw Raja stumbling and cursing his way across the lobby. They at once alerted Mushtaq.
Mushtaq says in his autobiography that Raja accused Shujahuddin for keeping him out of the side until Mushtaq arrived and calmed Raja down. Back home, when Kardar came to know about the incident, he wanted Raja to be sent back to Pakistan. But Mushtaq vetoed the idea.
Mushtaq also adds that Shujahuddin had absolutely nothing to do with Raja not being picked for the 3rd Test. It was purely Mushtaq's and Asif's decision.
Though, Mushtaq was tempted to play with Raja after his swashbuckling century against Queensland, Mushtaq and Asif decided that he was too unpredictable and instead went for the inexperienced but more reliable Haroon.
The next day, the 3rd and final Test of the tour began, with Pakistan one-down in the series. The Australian press had already written the Pakistan team off, but now the local press, which had backed Mushtaq during his tussle with Kardar, wasn't so sure about him either.
Chappell won the toss and elected to bat. He also thought it would be a batting track, or a wicket which might take a spin in the fourth innings. But it turned out to be quite the opposite.
More than a decade later, Majid Khan informed his biographer that when Pakistan went in to bowl, Mushtaq spotted a juicy patch of green, just short of the good length mark. Before his discovery (which he only shared with his team), he had gone in the game with just two quick bowlers: Imran and Sarfaraz.
Nevertheless, he asked them both to try to keep hitting that spot. The ploy worked. Sarfaraz and Imran shared 42 overs between them in the first innings and cleaned up the Australians for just 211. Imran picked up six wickets and Sarfaraz picked three.
But now, the question was how would the Pakistani batsmen face up to the likes of Lillee, Gilmour and the awkward Max Walker on this wicket. Mushtaq believed the spot was still fresh and would promptly be discovered by the Australians as well.
The three tested the Pakistanis with a series of bouncers and lots of sledging, reducing them to 111-4.
Pakistan regrouped when young guns Javed Miandad and Haroon Rashid bravely played around the veteran Asif Iqbal and pushed the score to over 300. Asif notched a valiant 120, hooking, pulling and driving the Australians quicks at will.
Frustrated by the doggedness of Pakistan's middle and lower-order batsmen, Lillee and Gilmour had bowled numerous bouncers and hurled all sorts of abuses at them.
Greg Chappell in his book, "The 100th Summer" writes that one Lillee delivery struck Sarfaraz hard in the ribcage. Sarfaraz threw away his bat, walked up to the leg-umpire and shouted: Are you blind! Can't you see?
The umpire told him to continue batting. Lillee bowled another vicious bouncer that whizzed past Sarfaraz's face. "Eat this, bunny!" Lillee snarled.
Sarfaraz again threw away his bat, only to pick it up and hold it upside-down.
One must be reminded that helmets hadn't been introduced in cricket. Batsmen faced quick bowlers without much protection: Just gloves, pads, the 'box' and maybe a thigh-pad. The head, face and chest did not have any protection whatsoever.
The Australians began their second innings 149 runs behind Pakistan's score. But once again, they struggled against the pace of Imran and the swing of Sarfaraz.
After both the pacemen had reduced Australia to 115-8, a gritty partnership began to develop between Rod Marsh and Dennis Lillee.
Taking a leaf out of the Australians' sledging technique, Mushtaq placed the then 19-year-old and very vocal Javed Miandad at silly point.
Miandad would sing songs from Urdu films to irritate Marsh and Lillee, and kept repeating, "Now he will keel you", whenever Imran or Sarfaraz would send down a bouncer.
After a series of bouncers sent down by Imran, Lillee complained to the umpire and the umpire told Mushtaq that he would take Imran off if he persisted with bowling bouncers.
Mushtaq was furious: How come you didn't admonish the Australian bowlers when they were bouncing our tail-enders?
But the umpire kept saying he would take Imran off.
Mushtaq loudly asked Imran to stop bowling bouncers. But as Khan walked back to his bowling mark, Mushtaq told him to "aim between the bugger's eyes".
Pakistan finally removed Marsh and then wrapped up the Australians for 180. Khan took the last wicket, bouncing out Lillee who, after trying to fend off a sharp, rising delivery, only managed to lob it high in the air and was caught by Zaheer.
Khan bowled at fierce speeds, capturing another six wickets, with Sarfaraz pitching in with another three. Pakistan needed just 32 to win.
---
Rare Video: Khan takes the last Australian wicket and his 12th of the match.
---
Pakistan reached the target with a loss of two wickets. Majid Khan finally finished the game by smashing three fours and then (miss)-hooking Lillee for a six. Not only did Pakistan square the series 1-1, it won its first ever Test on Australian soil. The Australian press was left speechless.
Back home, a bunch of cricketers who before the start of the Australian tour had been portrayed (by the board) as a group of greedy and self-serving men became untouchable heroes.
WAR IN THE CARIBBEAN
Pakistan flew to the West Indies from Australia via the Fiji Islands, and reached the Caribbean in February 1977.
The West Indian team, fans and press were now more than just curious to see a side that had squared a series against the No. 1 team in the world. The West Indies were considered to be the second best team at the time.
But West Indies had a longer line of fast men: Michael Holding, Vanburn Holder, Bernard Julien and the very slippery, Andy Roberts.
When Holding pulled out of the series due to injury, he was replaced by two more quicks: The very fast and very unorthodox, Colin Croft, and the 6ft-8inch giant, Joel Garner.
The legendary West Indian all-rounder and former captain, Garry Sobers, was not impressed by what Pakistan had achieved in Australia.
He predicted that the West Indies, led by Clive Lloyd, would be able to brush the Pakistanis aside.
Even before the 1st Test kicked-off, Pakistan lost the in-form Zaheer who broke his toe while playing football at a beach.
21-year-old Mohsin Khan was subsequently flown in from Pakistan as a replacement, but Zaheer was kept in the touring squad in case he recovered during the five-Test series.
Then, young Miandad fell into depression after losing his father who had passed away in Karachi. He was preparing to fly back home when he was stopped by his mother (on the phone) who insisted that his father would have wanted him to stay with the team.
But the problems didn't end there. Pakistan almost lost its main wicketkeeper as well — quite literally. Wasim Bari was taking a swim at a beach when a strong tide carried him deeper into the sea. He yelled for help and almost drowned but was thankfully saved by a lifeguard.
After a few side games, the Pakistanis flew out to Barbados for the 1st Test. The wicket at the Kingston Oval was reddish in colour and looked like it would help the fast men.
Mushtaq and Asif decided to beef up the batting. Haroon was played in the injured Zaheer's position, and Wasim Raja was finally brought in at number 7. Imran, Salim Altaf and Sarfaraz were to lead the pace attack.
Pakistan won the toss and was elected to bat because Mushtaq thought the wicket would crumble in the fourth innings. But Croft and Garner reduced Pakistan to 271-7 despite a quick-fire 88 by Majid.
Then, Raja came into his element and played well with the tail to push the score up to 435. Smashing 12 fours and a six, Raja reached his century and was knocked out at 117.
The West Indians responded in kind, posting 421, just 14 runs behind Pakistan's score.
By the time, Pakistan began its second innings, the reddish strip seemed to have quickened up a bit and the cracks on it had begun to open.
Croft, Garner and Roberts reduced Pakistan to 158-9, or just 172 runs ahead with almost two days remaining. The West Indians were on their way.
But not quite. Raja and the number 11, Bari, added a blistering 122 runs for the last wicket partnership.
Raja cracked a flamboyant 71, and Bari a streaky but vital 60 as Pakistan were able to post a respectable 291, leaving the West Indies to get 305 in a day and a half. Game on.
At 142-2, it seemed the Windies would be able to reach the target. But Sarfaraz, Imran and Salim Altaf had other ideas. All three then rapidly began to run through the West Indian side with an impressive exhibition of seam bowling.
Pakistan had turned the tables, and were now heading for a possible victory when the 9th West Indian wicket fell at 237.
But dogged resistance from the last wicket pair of Deryck Murray and Croft saved the day for the hosts. The game ended in a tense draw. The great Gary Sobers was made to eat his words. Almost.
The squad travelled to the Port of Spain for the 2nd Test. Here, the wicket was firmer than the one in Barbados.
Sarfaraz got injured and was replaced by Intikhab Alam, the veteran leg-spinner. An out-of-form Miandad was dropped, and the left-arm leggie Iqbal Qasim brought in.
Mushtaq believed the wicket would eventually slow down and begin to take spin. He won the toss and chose to bat first. Wrong decision.
Right from the word go, the West Indian fast men were all over the Pakistanis. Especially Colin Croft who demolished the Pakistan line-up by bagging eight wickets.
Only Wasim Raja stood tall, smashing a rapid 65 with seven fours and two towering sixes of Garner and Croft. The West Indians responded with a telling total of 316, gaining a big lead of 236.
Pakistanis tried to regroup and fight back. Sadiq and Majid posted an opening stand of 123. But from 123-0, Pakistan crumbled to 181-4.
However, as Roberts and Garner seemed to be running through the Pakistan batting, they once again found Raja in the way.
He maneuvered some vital partnerships with the lower order (especially with Imran), and smashed 85, again with seven fours and two sixes.
Pakistan left the Windies a target of 206 to make in a day and a half. They achieved it rather easily on the fifth day of the Test for the loss of four wickets. Pakistan were now one down in the series.
As Pakistanis reached Georgetown for the 3rd Test, Mushtaq contemplated dropping himself from the side. His batting form had dipped and the defeat in the 2nd Test seemed to have hit him hard.
He discussed the matter with his Vice Captain, Asif Iqbal, and Majid Khan. Both advised him to stay put.
Another quick strip awaited the Pakistanis in Georgetown. Zaheer had recovered from his injury and was immediately selected in the playing XI.
West Indies won the toss and without any hesitation, Lloyd invited the Pakistanis to bat first. Roberts, Garner and Croft quickly sent the Pakistanis packing for just 194.
Imran was the highest scorer, striking a defiant 47. But he almost lost his head doing this when a fierce bouncer from Roberts whizzed past his face.


The ball passed me even before I could react. It was the fastest delivery I have ever faced, Imran wrote in his autobiography.

But the wicket slowed down by the time the Windies began their innings. And it showed.
They collected 448 runs and a huge lead of 244. With more than two days remaining in the game and the wicket expected to break, the Pakistan team was facing another defeat.
Pakistan started their second innings well. Sadiq and Majid cruised to take Pakistan to 60 for no loss when a vicious bouncer from Roberts smashed into the right cheekbone of the left-handed Sadiq and he went down like a man shot.
He lost consciousness and was bleeding. He had to be carried away from the ground straight to the hospital.
"I thought he was dead," wrote his brother, Mushtaq, many years later.
Zaheer joined Majid and instead of being intimidated by Sadiq's injury, both launched a counterattack and took the score to 219. Zaheer fell for a solid 80, but Majid continued, playing perhaps one of his most important Test innings.
Mushtaq fell cheaply, but Haroon and the lower order played around Majid until he was finally out for an epic 167 which included 25 fours.
Sadiq had also returned to bat — his cheek in stitches and left eye bloodshot and swollen, he made a valiant 48.
Pakistan posted 540. Not only did they wipe out the lead but gave the West Indies 304 to make in less than a day.
The West Indies were 154-1 when the match ended in a draw. Pakistanis had fought hard to earn it. Mushtaq again contemplated dropping himself for the 4th Test at Queens Park in the Port of Spain. Once again, Majid and Asif advised him to keep playing.
Salim Altaf was dropped and made way for Iqbal Qasim. There was some doubt about Sadiq's availability, but the swelling on his cheek and eye seemed to have gotten better.
The Queen's Park seemed to have the kind of reddish strip that the Pakistanis had encountered in the first Test in Bridgetown. It promised to play even and fair.
Lloyd won the toss and sent Pakistan in. Pakistanis were struggling at 51-3 when Mushtaq joined Majid.
Mushtaq was tested with a series of quick bouncers by Croft and Roberts. But on the other end, Majid continued from where he had left in Georgetown.
He pulled, hooked and drove the West Indian fast men with disdain and took the score to 159 with Mushtaq. Majid fell for 92. His innings were spiked with 14 fours and a six.
The Pakistan team stood at 191-5 and was still struggling when Asif got out. But then Mushtaq finally found his form. He played well with the lower-order and made a vital 121, helping the team reach a respectable 341.
Mushtaq then carried his confidence into his bowling and bagged five wickets. He was aided by Imran who bagged four, and West Indies were shot out for 154, giving Pakistan a handy lead of 187.
But the lead seemed a tad too small when the West Indian bowlers reduced the Pakistanis to 95-5 in their second innings.
According to a teammate, Raja was outside the stadium sharing a drink with a few West Indian fans when Mushtaq and Asif were batting.
Raja came back into the dressing room and before he could pad-up, Asif got out. Raja quickly strapped on his pads and gloves, picked up his SS Jumbo bat, and strolled out to join Mushtaq.
Raja's first scoring shot was a towering straight six off a bewildered Garnar.
As Mushtaq grinded his innings, Raja continued to play his shots. He cut, drove, pulled and lofted, all the while being asked by skipper, Mushtaq, to slow down and hang in, but to no avail. Raja was on a roll again.
Mushtaq fell at 211 for a well-crafted 51. He was quickly followed by Raja (70), when, after lofting Garner for a third six, he tried to smash the tall fast bowler over long off but was clean bowled.
Then Pakistan's tail began to wag when Imran and Sarfaraz commenced to smash the West Indies attack all over the park. The Pakistan team was finally bowled out for 301, gaining a lead of 488 runs. Pakistan now had a day and a half to bowl out the West Indies and square the series.
Soon, Sarfaraz and Mushtaq reduced the Windies to 154-7 with three wickets each. But Pakistan's advance towards victory was halted by a long and dogged partnership between Murray and Roberts.
They hung on, usurping precious time and taking the game into the last session of the Test match. Desperation began to creep into the Pakistan side.
Mushtaq tried everything but the partnership just could not be broken. The match was moving towards a draw.
Desperate, Mushtaq threw the ball to Raja. Raja began to bowl loopy leg-breaks, trying to draw the dogged Murray out of his crease to drive. He did exactly that and was caught by Sadiq at point. West Indies: 196-8.
New man, West Indies leggie, Inshan Ali, came in to play out time with Roberts. But Ali went almost the same way as Murray did. Caught Sadiq, bowled Raja.
Pakistanis went ballistic. But there was still one wicket remaining. Raja continued to invite the West Indian batsmen to drive. Instead, Roberts lifted Raja for two huge sixes.
Mushtaq asked Raja to continue bowling Roberts well flighted deliveries. "Keep pulling him out his crease…" was his message.
But as Raja bowled the fifth delivery of his third over, Roberts expected another flighted ball. Instead, Raja bowled a quick leg-break. Roberts plunged forward to defend. The ball turned from the middle and moved slightly towards off, taking the edge of Roberts' bat. It then quickly flew into the waiting hands of Majid Khan at first slip.
It was all over. Pakistan had won the game and squared the series.
From the day they landed in Australia, the Pakistan team had fought hard to successfully defy the odds. They faced hostile fast bowling, quick pitches, an antagonistic press, and taunts of being "bunnies".
Now they were going into the last game of the long tour after squaring the series against the two most feared cricketing sides in the world.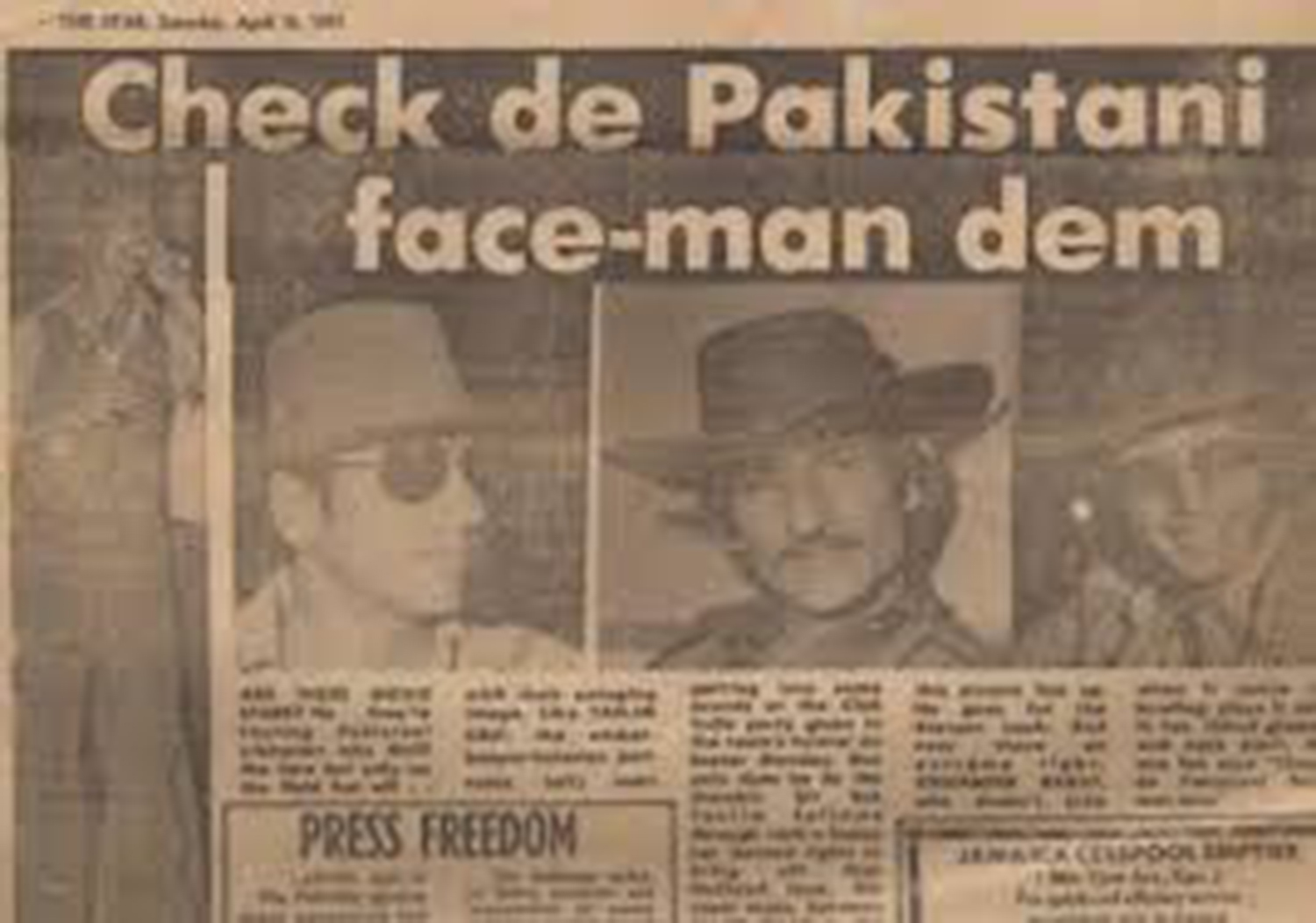 Another fast track awaited Pakistanis in Jamaica. They dropped Qasim and brought in Sikandar Bakht to beef up the pace attack for the 5th and final Test.
Lloyd won the toss and was surprisingly elected to bat. The Windies were soon in danger of being shot out under 200, but the hard-hitting West Indies opener, Gordon Greenidge, posted a quick 100 to help West Indies reach 280. Imran bowled sharply and was rewarded with six wickets.
---
Rare Video: Imran runs through the West Indian batting line-up in Jamaica.
---
Pakistan didn't do any better with the bat. They were shot out for just 198, with only Haroon Rasheed posting a fifty.
The Windies then squeezed the Pakistanis into a corner by making 359 and gaining a huge lead of 441 runs. Batting now to save the game and the series, the Pakistan team faltered and was reduced to 138-5.
Asif Iqbal and Raja then set about to repair the damage. They decided to launch a counter-attack.
Raja was back, slashing and pulling, and Asif drove and cut as both took Pakistan to 253 before Raja fell for 64 trying to loft off-spinner Halford out of the ground.
Imran hung around with Asif who completed his first century of the series. But the centre soon collapsed, and Pakistan were all out for 301, losing the game and the series 2-1.
Years later, while remembering the long tour, Imran Khan wrote:
"(These were the two series in which) we wanted to shake off our sense of inferiority. It represents a watershed moment for Pakistan cricket…"