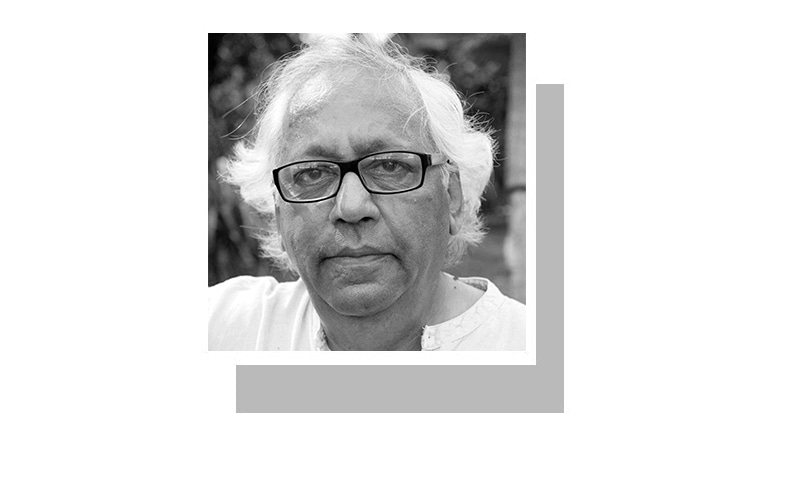 A current self-created crisis centres around Raheel Sharif's post-retirement gig as supremo of the Islamic coalition created by Saudi Arabia.
All hell broke loose when the government announced it had given our ex-army chief permission to go for the riyals. The great and the good denounced the prime minister for pitching Pakistan into an anti-Shia coalition, asserting that this move would drive a wedge between our Sunni and Shia communities. It would also alienate Iran.
Hang on, folks, it's not as bad as it seems. In fact, if you look at the whole thing closely, you will soon see it's an illusion created by smoke and mirrors. All you have to do is remember the origins of this coalition: when Riyadh announced its formation in 2015, many of its proclaimed members had never heard of this alliance before. In fact, our foreign secretary said he had read about it in the newspapers.
So if one of the most militarily powerful Muslim countries — and the only nuclear power in the Muslim world — had no clue, how serious could the enterprise be? Slowly, reluctantly, a few countries raised their hands: after all, nobody wants to risk being cut off from the largesse that flows from the Saudi kingdom.
Nawaz Sharif, caught between his loyalty to the Saudis for pampering him during his years of exile, and the near-unanimous rejection of the hare-brained idea, did what he does best: dither. While promising to fight for his Saudi patrons if they were attacked, he regretfully declined the opportunity to slaughter Yemenis as incompetent Saudi Arabia and UAE pilots have been doing to such gruesome effect.
---
The Raheel appointment is not as bad as it seems.
---
But later, without taking the matter to parliament, he signalled his willingness to join the coalition after all, and gave approval to Raheel Sharif to take up his lucrative assignment. So what changed? Ah, I have a devious conspiracy theory to explain Nawaz Sharif's subtle moves.
We all remember the Raheel Sharif posters that popped up on walls and lampposts around the country last year, urging him to stay on past his retirement date. These were accompanied by TV chat show hosts and their guests jumping up and down in unison, insisting that Pakistan could not afford to lose the services of a general who had spearheaded such a successful anti-terrorism campaign. Ditto many columnists and editors.
The campaign had all the hallmarks of an orchestrated ISPR effort to put pressure on Nawaz Sharif to offer the army chief an extension. The prime minister did not want to say no to a powerful, assertive and popular general; equally, he did not want such a widely admired figure around.
To get rid of him without confronting the military, he asked the Saudis to offer him the non-job of head of the coalition. When a formal request arrived, he told Raheel Sharif that while he and the whole nation would miss him, he had a higher responsibility to the ummah.
The general, not having received the offer of an extension as COAS yet, agreed. And good luck to him: the reported salary of million dollars, while chickenfeed to the Saudis, will come in handy after this stint as leader of a non-existent force is over. All this is pure speculation, of course, even if it fits together rather well.
My lack of confidence in the alliance stems from the track record of all such efforts by various combinations of Muslim states to achieve a common purpose. Starting from the defeat inflicted by Israeli soldiers and guerrillas on the combined Arab armies in 1948, to the military humiliations of 1956, 1967 and 1973, Arab generals and soldiers have not exactly covered themselves in glory.
Politically, too, Muslim cooperation remains a disapointment. The OIC, or Organisation of Islamic Cooperation, has been shambling around like a zombie for years, and has achieved nothing. A creature of the Saudis, it provides a sinecure for retired Muslim politicians, and makes the occasional empty declaration. It has done nothing to help the Palestinians, Kashmiris and the Rohingyas. Wars and quarrels between Muslim states fester on without the OIC taking a position.
So given all these splits and lethargy, why should we think the new Saudi-led alliance will do any better? I can picture Raheel Sharif now, going from one Muslim capital to the next, asking for firm commitments on troops, planes and ships. There will be much solemn nodding of heads among his hosts before a litany of excuses is trotted out. They will then ask for Saudi aid to buy new weapons.
The problem with being chief of a phantom legion is that unless you are Aragorn from the Lord of the Rings, you can't really get your ghostly soldiers to fight terrorists or Iranians. So my advice to Raheel Sharif is to chill out in Riyadh: he won't have to do any fighting anytime soon.
Published in Dawn, April 8th, 2017