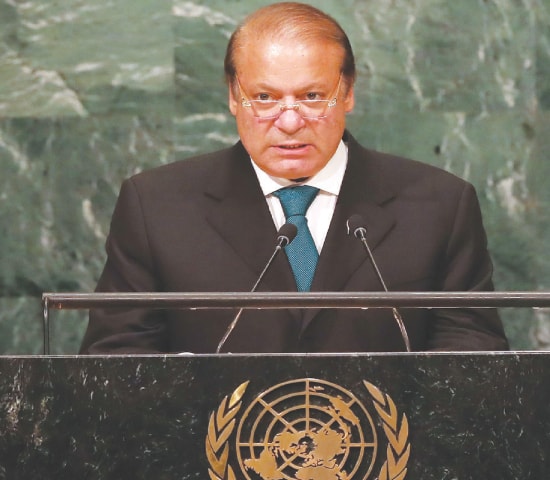 UNITED NATIONS: Prime Minister Nawaz Sharif urged India on Wednesday to engage with Pakistan in a serious and sustained dialogue for resolving the Kashmir dispute while pledging to maintain a credible deterrence against India's unprecedented arms build-up.
"Judged on the basis of objective criteria, and without discrimination, Pakistan is fully eligible for membership of the Nuclear Suppliers Group," said the PM in his address to the 71st session of the UN General Assembly.
It was for the first time that a Pakistani leader used the term 'intifada' at the United Nations to describe the uprising in India-held Kashmir. The term was previously used for Palestinian uprisings against the Israeli occupation.
"Burhan Wani, the young leader murdered by Indian forces, has emerged as the symbol of the latest Kashmiri intifada, a popular and peaceful freedom movement," he said.
Mr Sharif said that Pakistan would soon share with the UN secretary general a dossier containing information and evidence of gross and systematic violations of human rights committed by Indian forces in held Jammu and Kashmir.
---
Sharif elaborates Pakistan's need to maintain N-deterrence against Delhi's increasing military build-up
---
He elaborated Pakistan's need to maintain nuclear deterrence against India's increasingly aggressive military build-up. "We cannot ignore our neighbour's unprecedented arms build-up and will take whatever measures are necessary to maintain credible deterrence."
Yet, he said, Pakistan was ready to resume a sustained dialogue for the resolution of Kashmir and other issues. "Today, from this rostrum, I would also like to reiterate our offer to India to enter into a serious and sustained dialogue for the peaceful resolution of all outstanding disputes, especially Jammu and Kashmir."
The PM used his address to reassert Pakistan's unflinching support to the Kashmir cause, unlike previous speeches by Pakistani leaders which made only fleeting references to Kashmir.
"Peace and normalisation between Pakistan and India cannot be achieved without resolution of the Kashmir dispute. This is an objective evaluation, not a partisan position," he said.
The PM's reference to a 'credible deterrence' came two days after his meeting with US Secretary of State John Kerry who, according to a State Department statement, reminded Mr Sharif of the "need for restraint in nuclear weapons programme".
In his address, the premier reminded the international community that Pakistan's nuclear programme aimed only to maintain a strategic deterrence against an armed race, which is tilted heavily in India's favour.
Mr Sharif reminded the world leaders that the current uprising in held Kashmir was indigenous and a consequence of India's own oppressive policies. "Our predictions have now been confirmed by events. A new generation of Kashmiris has risen spontaneously against India's illegal occupation – demanding freedom from occupation," he said.
"The latest Kashmiri intifada," he said, was "a popular and peaceful freedom movement, led by Kashmiris, young and old, men and women, armed only with an undying faith in the legitimacy of their cause, and a hunger for freedom in their hearts."
'Half a million soldiers'
The prime minister regretted that as usual this indigenous uprising had been met with brutal repression by India's occupation force of over half a million soldiers. Over 100 Kashmiris have been killed, hundreds, including children and infants, blinded by shotgun pellets and over 6,000 unarmed civilians injured over the past two months, he added. "These brutalities will not suppress the spirit of the Kashmiris; it will only intensify their anger and fortify their determination to see India end its occupation of Kashmir. From Srinagar to Sopore, the men, women and children come out each day, defying curfew, to demand freedom," the PM emphasised.
Pakistan, he said, fully supported the demand of the Kashmiri people for self-determination, as promised to them by several Security Council resolutions, because "their struggle is a legitimate one for liberation from alien occupation".
Mr Sharif pointed out that international law and UN declarations on self-determination gave Kashmiris the right to struggle for their freedom. Every year, the General Assembly unanimously adopts the resolution, which reaffirms "the right of all people to self-determination" and calls on the states concerned to immediately end their occupation and "all acts of repression," he said.
"On behalf of the Kashmiri people; on behalf of the mothers, wives, sisters and fathers of the innocent Kashmiri children, women and men who have been killed, blinded and injured; on behalf of the Pakistani nation, I demand an independent inquiry into the extrajudicial killings, and a UN fact-finding mission to investigate brutalities perpetrated by the Indian occupying forces, so that those guilty of these atrocities are punished," PM Sharif declared.
"We demand the immediate release of all Kashmiri political prisoners; an end to the curfew; freedom for the Kashmiris to demonstrate peacefully; urgent medical help for the injured; abrogation of India's draconian laws; and removal of the foreign travel ban on Kashmiri leaders."
The prime minister reminded world leaders that the people of Kashmir had waited 70 years for implementation of the promise that the UN Security Council made to them.
"The Security Council must honour its commitments by implementing its own decisions. This General Assembly must demand that India deliver on the commitments its leaders solemnly made on many occasions," he said.
"To this end, steps should be taken by the United Nations to demilitarise Jammu and Kashmir and undertake consultations with India, Pakistan and the true representatives of the Kashmiri people to implement the resolutions of the Security Council."
UN offer welcomed
The prime minister welcomed the offer of the good offices by Secretary General Ban Ki-moon for this purpose. "We will also open consultations with members of the Security Council to explore the modalities for implementation of the Security Council resolutions on Kashmir."
Switching over to the repercussion of this and other disputes, Mr Sharif warned: "The international community ignores the danger of rising tensions in South Asia, at its own peril."
Pakistan, he said, was committed to the establishment of strategic stability in the region.
"It neither wants, nor is it engaged in an arms race with India," said Mr Sharif while reiterating Pakistan's determination to maintain a credible deterrence. "We have consistently urged the conclusion of bilateral arms control and disarmament measures between Pakistan and India to prevent conflict and avoid wasteful military expenditures," he said. "We are open to discussing all measures of restraint and responsibility with India, in any forum or format and without any conditions."
Mr Sharif said Pakistan was ready for talks to agree on a bilateral nuclear test ban treaty, adding that as a responsible nuclear-weapon state Pakistan would continue to cooperate with all international efforts that sought to "promote fair and equitable solutions to disarmament and non-proliferation challenges".
Mr Sharif said that Pakistan had introduced 'state-of-the-art' measures to strengthen the safety and security of its nuclear materials and facilities. "We have adopted a comprehensive export control regime that is fully consistent with international standards."
The prime minister said that Pakistan's Zarb-i-Azb Operation was the largest, most robust and most successful antiterrorism campaign anywhere in the world, deploying 200,000 security forces.
He noted after 15 years of war in Afghanistan, the international community agreed that the only road to lasting peace in that country was through a dialogue between the government in Kabul and the Afghan Taliban.
Pakistan had long proposed this as the most viable course to end decades of conflict and suffering in Afghanistan, he added. "There have been setbacks. That, however, is not a sufficient reason to abandon the path of peace and rely on the military option, which has failed, for the past decade and a half, to stabilise Afghanistan," he said.
Returning to India-Pakistan relations, Mr Sharif said confrontation should not be the destiny in South Asia. "Pakistan wants peace with India [and] I have gone the extra mile to achieve this, repeatedly offering a dialogue to address all outstanding issues," he said. "But India has posed unacceptable preconditions to engage in a dialogue."
He warned India not to see this offer of talks as a sign of weakness. "Let us be clear: talks are no favour to Pakistan. Talks are in the interest of both countries. They are essential to resolve our differences, especially the Jammu and Kashmir dispute, and to avert the danger of any escalation," he said.
Published in Dawn September 22nd, 2016