If you're looking to change the dinner menu, these recipes inspired by Mexican flavours and Tex-Mex cuisine are for you. Tex-Mex Rice is a great way to freshen and use up leftover rice, while fajita and salsa recipes are big on flavour without much effort required on your part. If you have all the ingredients on hand, you could be enjoying a Mexican-inspired feast in less than an hour.
Chicken Fajitas
Ingredients
Fajita seasoning mix:
Garlic powder 2 tsp Dried oregano 2 tsp Paprika 2 tsp Red chilli powder ½ tsp Ground cumin 2 tsp
---
Tired of all the meaty feasts after the Eid? Try something light and new
---
For chicken fajitas:
Cooking oil 2 to 4 tbs Boneless chicken breast 400 to 500g, cut into strips Garlic 1 tsp crushed Onion 1 finely sliced Tomato 1 finely sliced Bell peppers 3 thinly sliced Salt 1 tsp, or to taste Lemon juice 2 tbs
Method
In a small bowl, add all the spices for seasoning and mix well. Keep aside.
Heat oil in a large pan. Add chicken and garlic, and cook until chicken is no longer pink. Add one tablespoon of the fajita seasoning and a ¼ teaspoon of salt and mix well.
Add onions and tomatoes, and another tablespoon of the prepared seasoning. Cook for one minute.
Add peppers, remaining fajita seasoning and salt. Cook for a few minutes until peppers and tender.
When fajitas are cooked, remove from heat and stir in the lemon juice.
Fresh Tomato Salsa
Ingredients
Tomatoes 2 finely diced Onion 1 finely diced Jalapeno pepper, 1 large, seeded and diced A handful of (coriander), chopped Lemon juice 1 tbs Ground cumin 1 tsp Salt ½ tsp
Method
In a bowl, add all ingredients and mix well.
Tex-Mex Rice
Ingredients
Cooking oil 2 tbs Onion 1 finely diced Garlic 1 tsp crushed Ground cumin 1 tsp Tomato paste 1 tbs Water ¼ cup Rice 3 cups cooked Sweet corn ½ can Salt to taste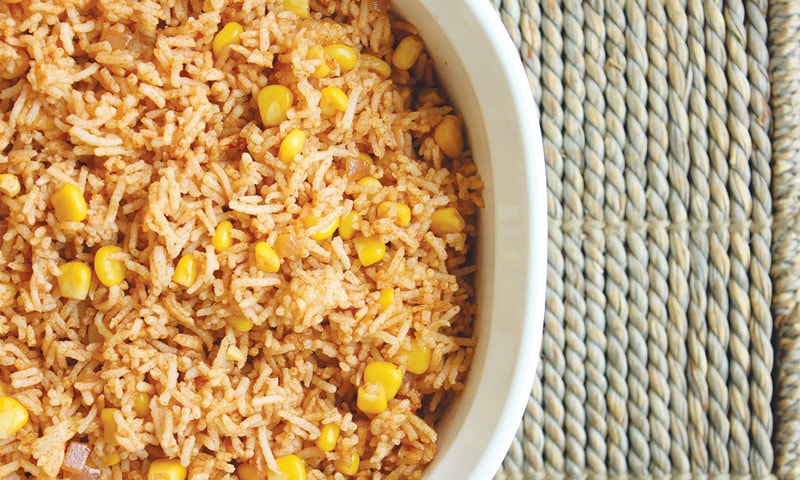 Method
Heat oil in a large pan. Add onion and cook until soft. Add the garlic and cumin and cook for a few seconds. Add tomato paste and water, and stir to mix. When tomato mixture starts to bubble, add rice and salt and mix well. Cook until rice is heated through and excess liquid is absorbed.
Mix in sweet corn and serve.
Published in Dawn, Sunday Magazine, September 18th, 2016