ISTANBUL: Three suicide bombers opened fire then blew themselves up in Istanbul's main international airport on Tuesday, killing 36 people and wounding close to 150 in what Turkey's prime minister said appeared to have been an attack by the militant Islamic State (IS).
This is the latest in a string of attacks that have struck Turkey in recent months.
---
Following is a list of the worst bomb attacks in Turkey since 1986:
2016
June 28: At least 36 people are killed in a triple suicide bombing and gun attack at Istanbul's Ataturk airport.
June 7: At least seven police officers and four civilians die when a bomb rips through a police vehicle near the historic centre of Istanbul.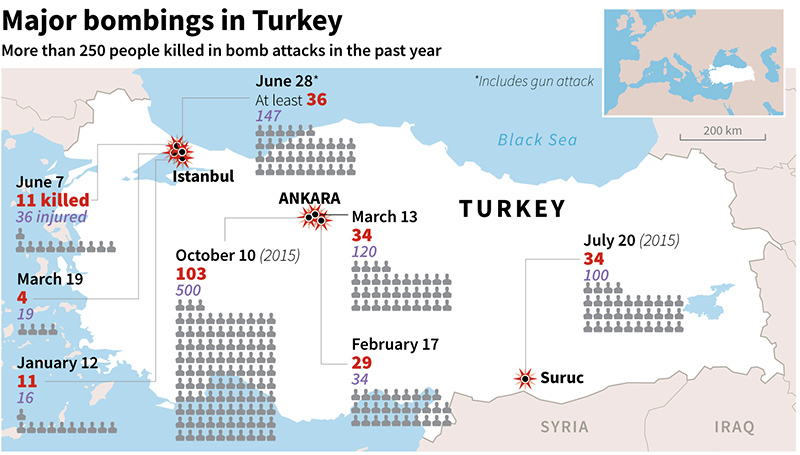 March 19: Three Israelis and an Iranian are killed and dozens injured in a suicide bombing blamed on IS militants targeting an Istanbul shopping thoroughfare, the Istiklal Caddesi.
March 13: At least 34 people are killed and dozens wounded in a suicide car bomb attack in Ankara. The assault is claimed by the Kurdistan Freedom Falcons (TAK), a radical offshoot of the better-known Kurdistan Workers' Party (PKK).
February 17: At least 29 are killed in a car bombing targeting the Turkish military in Ankara. The attack is also claimed by TAK.
January 12: Eleven German tourists are killed and another 16 people wounded in a suicide attack by a Syrian bomber in Istanbul's Sultanahmet district, the ancient tourist heart of the city and home of the Blue Mosque.
2015
October 10: In the bloodiest attack in Turkey's history, 103 people are killed and more than 500 wounded in twin suicide bombings targeting a pro-Kurdish peace rally in Ankara. Authorities blame IS.
July 20: 34 people are killed and about 100 wounded in a suicide bombing in the predominantly Kurdish town of Suruc near the border with Syria. Turkish officials blame IS.
Read: Turkish Marxist group withdraws claim for Istanbul suicide bombing
2013
May 11: A twin car bomb attack kills 52 people in the town of Reyhanli near the Syrian border. Ankara blames pro-Damascus groups.
February 11: 17 people are killed when a Syrian minibus explodes in Reyhanli.
2008
July 27: Two bombings in Istanbul leave 17 dead and 115 wounded. Ankara blames the PKK.
2006
September 12: 10 people, including children, are killed in a bomb blast in Diyarbakir, the largest city in the mainly Kurdish southeast.
2003
November 15 and 20: Four suicide car bomb attacks in Istanbul hit two synagogues, the British consulate and a branch of the British multinational bank HSBC, leaving 63 dead, including Britain's consul general, and hundreds wounded. The attacks are claimed by Al Qaeda and a Turkish extremist group named the Islamic Front of Raiders of the Great Orient.
1999
March 13: 12 people are killed in a firebombing on an Istanbul shopping mall. The attack is claimed by the PKK, which later retracts its statement.
1991
December 25: Explosives and firebombs are hurled at an Istanbul department store, killing 17 people and injuring 23. The attack is blamed on the PKK.
1986
September 6: A twin suicide bombing kills 22 people at a synagogue in Istanbul.