KARACHI: Former president General (retd) Pervez Musharraf left for Dubai early Friday morning, hours after the interior ministry issued a notification to remove his name from the exit control list (ECL).
Before leaving, Musharraf told a DawnNews correspondent, "I am a commando and I love my homeland. I will come back in a few weeks or months."
Editorial: Musharraf's latest coup
The former president, vowing to face all pending cases against him, said he was keeping himself abreast with developments in the country and will actively take part in politics after his return.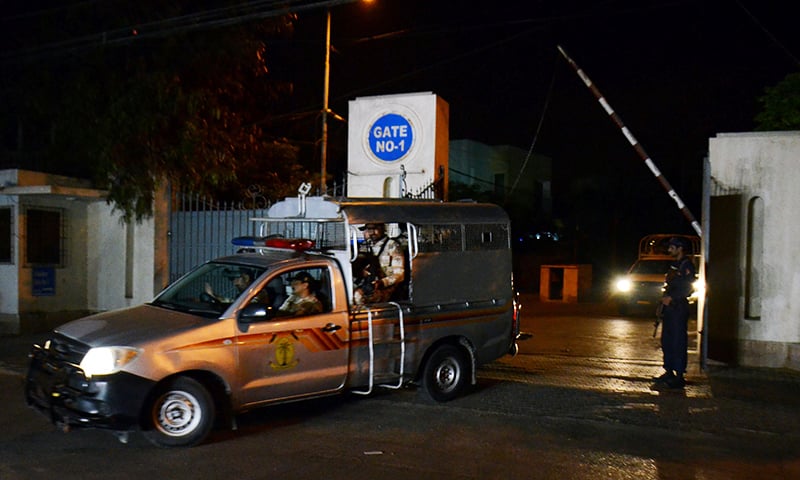 Musharraf said he was going abroad to seek "medical treatment of a decade-old illness which has now developed several complications."
On Thursday, Interior Minister Nisar Ali Khan announced at a press conference that the government had decided to allow Musharraf to travel abroad for treatment after the Supreme Court lifted a ban on Musharraf's foreign travel a day ago.
According to the minister, Musharraf had committed to facing all cases against him in court and had "promised to return in four to six weeks."
Dr Amjad, the senior vice-president of All Pakistan Muslim League, the political party founded and led by Musharraf, insisted that the former president was leaving the country "just for medical treatment."
Farogh Naseem, Musharraf's counsel, had also earlier said his client needed to go abroad to "undergo a surgery for a fractured vertebra," treatment for which he said "is not available in Pakistan."
Musharraf, who is facing a treason trial for clamping emergency in the country on Nov 3, 2007, was barred from travelling abroad after his name was placed on the ECL on Apr 5, 2013.
The former dictator is scheduled to record his statement to a special three-judge court on Mar 31 in the treason case against him.