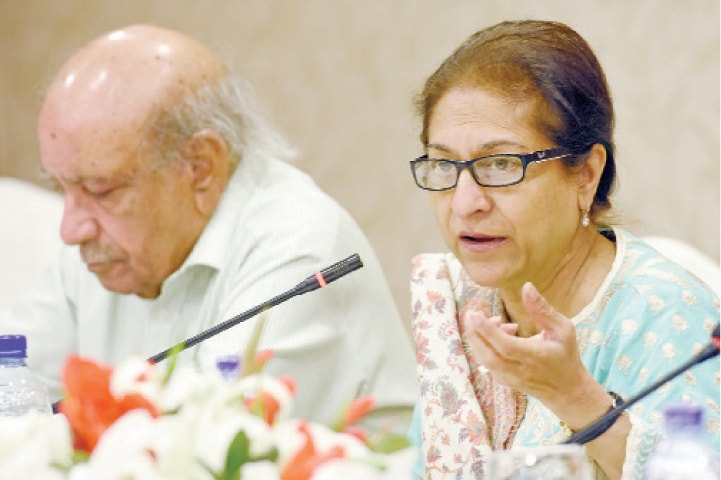 ISLAMABAD: Discrimination on the basis of gender, the lack of economic opportunities available to women and the challenges posed by male-dominated workplaces were the topic of discussion at various events, held in connection with International's Women's Day, on Monday.
"The legal profession is completely male-dominated and there is a perception that women are misfits as lawyers. I faced opposition from my own home and had to contend with many hurdles as women are underrepresented in this field," lawyer Hifza Bokhari told a seminar on the resilience of women.
'Celebrating the Resilience and Achievements of Pakistani Women', organised by Potohar Organisation for Development Advocacy (Poda), brought together lawmakers, government officials and women from all walks of life.
"People raised many issues, from how it isn't a woman's profession, to how the 'environment' is not conducive to women. Then, the first case I came across when I began practicing was regarding gender discrimination. But unfortunately, most cases of domestic violence in our society go unreported.
---
Speakers laud achievements of Pakistani women, discuss ways to eliminate gender-based discrimination
---
"If we stick with the mindset that 'this is a domestic incident and we cannot interfere', we will not be able to get rid of violence against women," Ms Bokhari told the gathering.
PML-N Senator Nuzhat Sadiq lauded the contributions of women such as Malala Yousafzai, filmmaker Sharmeen Obaid-Chinoy and Samina Baig, saying that their achievements were a testament to the fact that the women of our society could do things just as well as men.
"I think we should be celebrating women's day every day," said mountaineer Samina Baig. She said that even though her home town in a remote part of Gilgit-Baltistan didn't have many facilities, there was education for all. "That is what gives us the strength to realise our dreams. "If you trust women, give them opportunities, then they can do anything; even climb Mount Everest."
Meanwhile, at the 'Women in the Media' roundtable – held at the United Nations Information Centre – journalist Myra Imran complained that women often leave journalism because the work environment and the mindsets of their colleagues push them away.
Pointing to the systemic problems within society's perception of women in the public eye, anchorperson Fereeha Idrees said, "There is a scary misogynistic approach rampantly prevalent in our country against empowered women like Malala, Sharmeen and anyone who stands up to defend them. We must make a resolve to curb these."
UN-Habitat representative Bella Evidente insisted that equal representation in every profession and within households was the right of every woman, not a privilege. "In Pakistan, there are very few women in decision-making positions and this has to change. There should be a watchdog that monitors the progress and actions taken to improve women's representation."
Separately, at 'Women in Public Life: Breaking the Barriers', a conference organised by the Human Rights Commission of Pakistan, participants adopted a resolution calling on the state to ensure due representation for women in public institutions, government bodies and committees, as well as public administrative entities and the judiciary.
The resolution called for a transparent criterion of appointments to decision-making positions to ensure that the selectors are gender-balanced as well.
Published in Dawn, March 8th, 2016