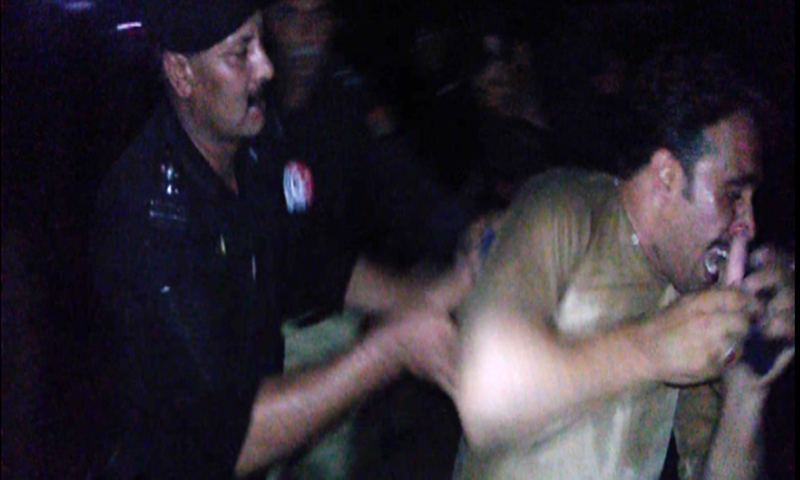 PESHAWAR: Violent protests erupted in several parts of Khyber Pakhtunkhwa province on Friday over prolonged loadshedding conducted despite claims made by the federal government that no power cuts would take place during critical timings in the Holy month of Ramazan.
Power outages during Sehr timings were also reported from other cities across the country including Karachi, Lahore, Multan, Bahawalpur, Gujranwala, Kasur, Sheikhupira, Sahiwal and Okara.
Up to 20-hours long power cuts were reported in Peshawar, Charsasda, Mardan, Swabi, Kohat, Dera Ismail Khan, Karak and Dir districts of Khyber Pakhtunkhwa prompting violent protesters to take to the streets.
A grid station was torched by a mob in Charsadda district while district administration offices were set alight in Swabi. Clashes between police and protesters were also reported in several areas.
Earlier Prime Minister Nawaz Sharif, during meeting of the Cabinet Committee on Energy, had directed authorities to ensure hassle-free power supply during 'Sehr' and 'Iftar' in the Holy month of Ramazan.
Federal Minister of Water and Power Khawaja Muhammad Asif had also assured the nation of uninterrupted power supply during critical times throughout the Ramadan.
Know more: No loadshedding during Sehr, Iftar and Taraveeh
One of the protesters Mouhammad Hamad Ijaz said that people were deprived of electricity even during Sehr timings. He claimed that bearing power cuts in the month of Ramazan was a difficult task.
Peshawar Electric Supply Company (Pesco) spokesperson Shaukat Ullah said that 20 hours loadshedding was not unannounced. Shaukat Ullah further said that it had been announced that loadshedding will continue in those areas where line loses are on peak and recovery is low.
Minister of State for Water and Power Chaudhry Abid Sher Ali had also warned last week that loadshedding of up to 20 hours was being carried out in areas where over 90 per cent line losses were recorded.
On the other hand, Abid Sher Ali said, only six-hour loadshedding was carried out in areas where people paid their bills regularly. He said power sector could not be run unless consumers cleared their bills.
Take a look: Committee to analyse privatisation of Neelum-Jhelum Power Project
According to Khawaja Asif, power generation on Wednesday had crossed the 16,000MW mark and the demand-supply gap now stands at about 3,600MW.
PM takes notice of power cuts, seeks report
Prime Minister Nawaz Sharif has taken notice of loadshedding during Sehri timings on the first day of Ramazan. He sought a detailed report over the issue from the ministry of water and power .
Furthermore, ministry of water and power on Friday appealed to the power consumers to observe electricity conservation during critical timings.
According to a press release issued on Friday, the ministry is exploring all avenues for optimal load management to keep the 'Iftar', 'Taraweeh' and 'Sehri' timing loadshedding free.
The ministry has also chalked out a plan to minimise the overall impact by distributing the load across the country.