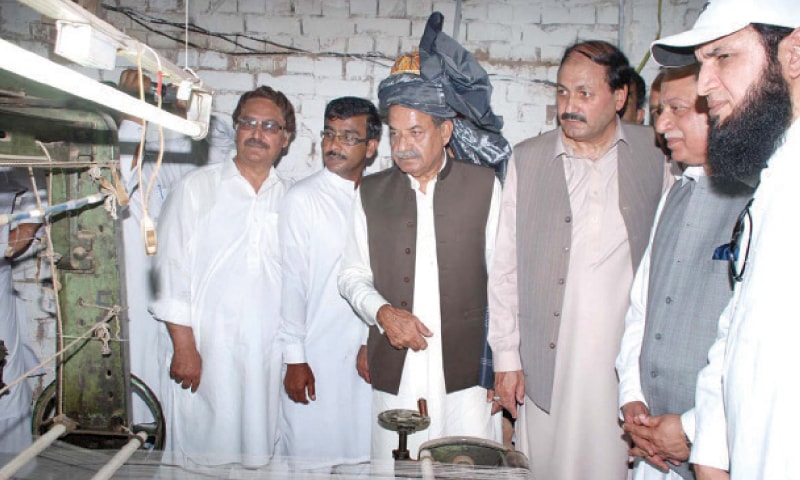 LANDI KOTAL: Khyber Pakhtunkhwa Governor Sardar Metab Ahmad Khan on Wednesday reopened the closed industrial units in Bara here.
At least 39 small silk power looms had been closed in Alamgudar area close to Bara bazaar since September 2009 when security forces launched a military operation against outlawed organisations and anti-social elements. 
The closure of power looms left nearly 6,000 labourers jobless and also compelled a good of number of local and non-local industrialists to flee the area due to insecurity.  
Addressing a ceremony on the occasion, the governor said militancy had destroyed the industry and economic life of the people as industrial units and Bara Bazaar, which were the hub of economic activities in Khyber Agency, remained closed for eight long years. He added that militancy also displaced over 50,000 people.
"I have advised the local political administration to devise a plan for reopening and revitalising all the big and small industrial units in Bara as it will provide additional employment opportunities to the local residents," he told the gathering which included local elders, industrialists from Punjab and Khyber Pakhtunkhwa and representatives of both KP and Tribal Chambers of Commerce and Industries.  
Announcing Rs1 billion for repatriation of the Bara IDPs the governor assured that all the IDPs would be returned to their homes till August this year. He said developmental work in health, education, irrigation, electricity and roads sectors had been initiated.
Mahtab Ahmad said work on a plan to rehabilitate the Bara Bazaar and the power looms had already been started. 
He maintained that bigger industrial units would also be reopened soon, saying that a master plan was on the cards for establishment of economic zones in the area.
The governor stated that the Pakistan Army after successfully launching the operations Zarb-i-Azb, Khyber-1 and Khyber-II had completely destroyed hideouts of the militants and had touched the heights of gallantry, bravery and professional standards which would be written with golden words in the global history. Those operations were very necessary for the restoration of peace and stability in the region especially in Fata which
would be remembered as a military strategy in the military institutions the world over. 
KHASADARS AWARDED CASH PRIZE: Governor Mahtab Ahmed on the occasion awarded a cash prize of Rs2 million to three Khasadar personnel for foiling a heroin smuggling bid.
The governor awarded Rs1 million to Sepoy Khanzeb and Rs500,000 each to Naeb Subedar Zulfiqar and Sepoy Noor Mohammad.
Published in Dawn, June 18th, 2015
On a mobile phone? Get the Dawn Mobile App: Apple Store | Google Play