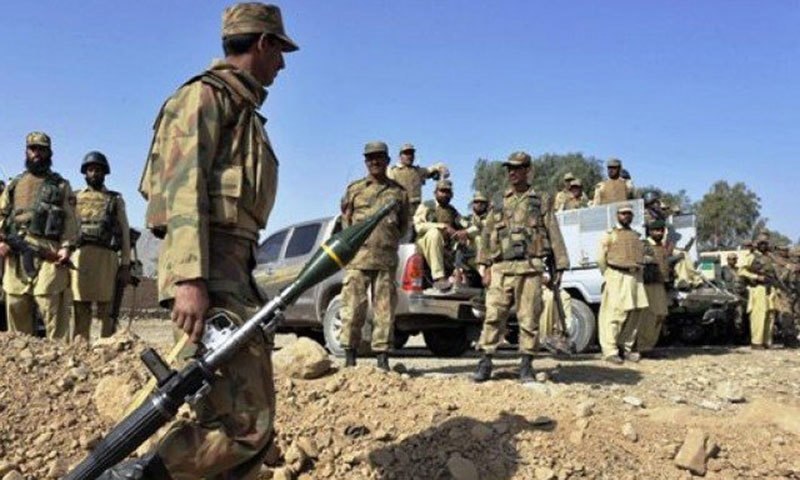 LANDI KOTAL: Security forces took control on Tuesday of the entire Sipah and Akkakhel areas in Tirah valley after flushing out Lashkar-i-Islam activists from these areas.
Official sources said that the control of Sipah and Akkakhel was so far the biggest achievement of security forces during the ongoing Khyber Two military operation against joint forces of the outlawed Lashkar-i-Islam, Tehreek-i-Taliban Pakistan and Jamaatul Ahrar.
The banned outfits had joined hands soon after the launch of Khyber Two operation in February.
Also read: Tirah valley operation intensifies, 23 soldiers killed
The forces also pressed their ground advance towards the TTP-controlled Kukikhel areas in the valley with fierce ground battles in Dwa Thoe and Zarmanza areas of Kukikhel, Garhai of Kamar Khel, Jabbar Mela of Qambar Khel and Nakai area of Malakdin Khel.
"The fall of Kukikhel is a matter of time now because the area has been encircled from almost all sides and militants were seen fleeing the area," security officials said.
LI spokesman Salahuddin Ayoubi told journalists by mobile phone from an undisclosed location that the loss of Akkakhel and Sipah was a 'tactical retreat' and they would soon retake the area with support of TTP and Jamaatul Ahrar activists.
He said the Lashkar had killed nine soldiers and injured 11 during ground battle in the Dwa Thoe area, but the claim could not be independently verified.
Military observers believe that the army's control of Sipah and Akkakhel was a severe blow to the LI because it had been controlling the region for the past 10 years.
Sources in Bara said the LI had established its recruitment and training centres along with several hideouts in Sanda Pal, Sandana, Nangrosa and Speen Drand areas of Sipah and Dars Jumaat, Kulla, Mastak, Sadako Markaz and Sultan Khel localities of Akkakhel.
During the past 10 years, the LI had defended the strong bases against arch rivals Ansaarul Islam and Tauheedul Islam.
It had also frustrated many security offensives launched during various military operations before the launch of Khyber One and Khyber Two.
"The LI, along with its allies, are now left with no option but to flee across the border or lay down arms," security officials said.
They said cleansing Tirah of terrorists was nearing completion.
Published in Dawn, April 29th, 2015
On a mobile phone? Get the Dawn Mobile App: Apple Store | Google Play