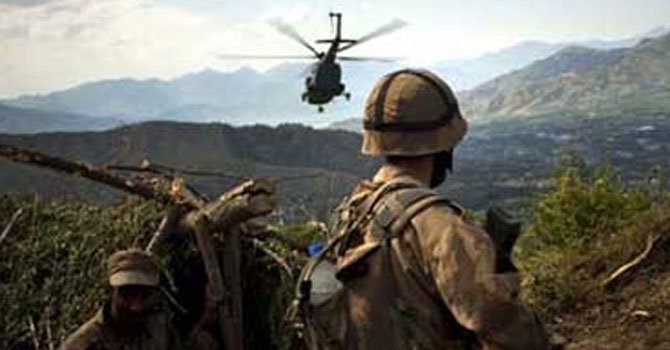 — File Photo
PESHAWAR: A decisive operation has been launched against militants in the Tirah valley of Bara by Special Services Groups (SSG) forces along with regular troops, during which at least 23 troops have been killed along with local lashkar men.
Scores of militants have also been killed in the offensive during the last three days.
Official sources confirmed to Dawn.com that several soldiers, including SSG commandos, have been killed in the battle for Tirah valley on Saturday, around 30 militants have also been confirmed dead along with scores of others injured.
On late Sunday evening, a clash took place between security forces and militants in Akka Khel area of Bara tehsil. Ten militants were killed in the fighting, official sources said.
Sources said that SSG commandos along with regular army troops and Frontier Corps are battling to root out the last pockets of resistance in the Tirah valley especially on the border of Orakzai Agency.
The landlocked area is reported to be a bastion of the banned Tehrik-i-Taliban Pakistan (TTP) and other foreign militants.
The offensive has entered a crucial phase, after softening of targets by gunships and jet fighters.
Ground troops along with local volunteers have been mobilised to clear the area.
Security experts had already hinted at a decisive strike in the Tirah valley as the TTP and Lashkar-i-Islam had started consolidating their positions in the valley.
The two groups pose a serious threat to the settled areas especially Peshawar.
The FC media cell had confirmed on Friday that four soldiers were killed and over 14 militants had died in the clashes which have been continuing since then.
Sources have confirmed to Dawn.com that one dead body of an SSG commando and six injured SSG soldiers along with eight other solders were shifted to the CMH Peshawar on Saturday.
Artillery and mortar shelling has also intensified as troops have started an advance march and door-to-door offensive to clear pockets of resistance.
The former secretary of security for Fata region and an expert on tribal affairs, Brigadier Mehmood Shah speaking to Dawn.com said that Tirah would become a headache for the Pakistan administration if it is not cleared of militants.
He said that militants from Khyber Agency's Bara area and the Dara Admakhel TTP have also shifted their operational base to Tirah valley as they consider it to be a safer place to regroup.
He added that if Tirah valley is left unattended, it would become even more dangerous than South Waziristan Agency.
The recent clashes between the Ansarul Islam (AI) and the TTP, also supported by the Lashkar-i-Islam (LI), had left many fighters dead on both sides, providing a conducive environment for security forces to launch a major offensive.
Another factor which might help the security forces this time is the internal rift in the TTP after the death of its commander Tariq Afridi.
Following the death of Tariq Afridi, the Central TTP and Afridi's own faction both have appointed their own chiefs.
This indicates widening rifts between the Hakimullah-led militants and Tariq Afridi's loyalists who suspect that the TTP central commander was responsible for Afridi's murder.
The central TTP nominated Umer Khalifa while the Afridi faction nominated Zubair alias 'Kaka' as their chief.
But widening difference clearly surfaced after the two factions were unable to consolidate their positions.
The TTP-AI fight has made things more difficult for the TTP in Tirah valley.
The TTP spokesman Ehsanullah Ehsan has repeatedly blamed security forces of backing the AI while he has also refused to accept the Dara Adamkhel Taliban chief Zaubair.
Security forces may benefit from the discontent and can take the TTP factions separately who are already at odds with each other.
They can also take on the LI through the AI whose fighters are already part of the Zakha Khel peace committee, which is fighting the LI in Maidan valley.