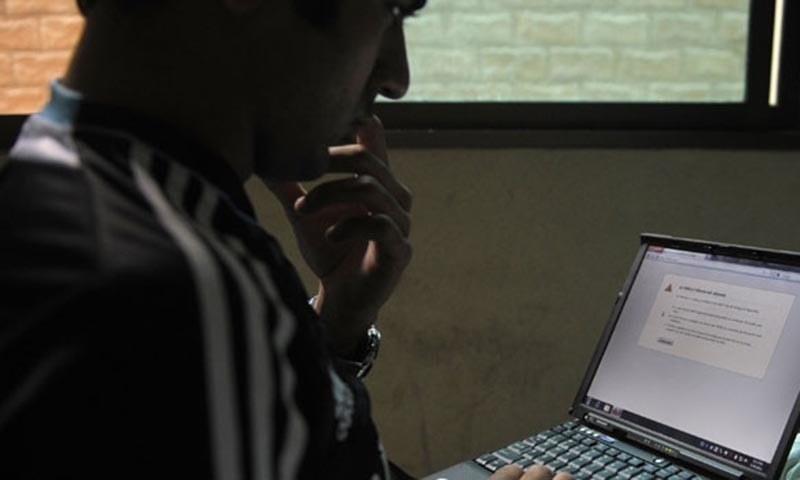 ISLAMABAD: Uploading photos on Instagram and Facebook or sending emails or text messages to a recipient without their consent may be considered harmless online behaviour, but under the new Prevention of Electronic Crimes Bill (PECB) 2015, these actions and many more could land unsuspecting Internet users in jail.
"The bill criminalises all such activities. Nowhere in the world is spam a criminal offence, but it is about to become one in Pakistan," said Internet Service Providers Association of Pakistan (ISPAK) Convener Wahajus Siraj.
Read: New cybercrime bill tough on individuals' rights, soft on crime
He was addressing a press conference on Wednesday, held at the National Press Club to protest against the new bill that has been forwarded to the National Assembly for debate.
Speaking on behalf of a Joint Action Committee on the Cyber Crime Bill 2015, Mr Siraj explained how the new bill would impact Internet users, the IT industry, print and electronic media, academia, researchers, the legal community and private citizens, particularly the youth of Pakistan.
The joint action committee, which is a group consisting of representatives of Internet service providers, IT companies and entrepreneurs along with other stakeholders, argued that checks and balances on investigation agencies and officers have been removed under the bill that also fails to define the mechanisms of enforcement.
---
ISPs, entrepreneurs and IT stakeholders come out in opposition to proposed cybercrime legislation
---
"For example, there no longer exists a need – under the new law – for an investigation officer to give reasons to obtain a warrant from the court to search, seize or make arrests. The safeguards introduced by the IT industry, such as protection against self-incrimination and the right of an accused to know the charges against him/her, have also been omitted," Mr Siraj said.
"In its present form, the new bill will seriously discourage students, academics and universities who conduct research," he said.
Pointing out some of the glaring aspects of the bill that would affect civil liberties, he explained how political criticism and political expression in the form of analysis, commentary, blogs, cartoons, caricatures and memes has been criminalised under sections 17 and 18 of the new bill.
Disseminating obscene or immoral messages on Facebook, Twitter or other social networks has been made an offence under Section 20 without defining 'obscenity' or 'immorality', thus giving sweeping powers to investigating agencies to implicate anyone on these charges, he said.
Farieha Aziz, director of Bolo Bhi – an advocacy organisation focusing on Internet policy, digital security and privacy – explained how posting a photograph of any person of Facebook or Instagram without their permission would be an offence under Section 20 of the new bill.
"Section 21 says that sending an email or message without the recipient's permission will become an offence. This means that an expression of consent from a recipient will be needed before texting him or her, without which the end user can report to the law enforcement agencies and have the sender thrown behind bars for anywhere between a few months to several years," Ms Aziz said.
Faisal S. Khan, the chief executive officer of the IT company OVEXTECH, explained how his business would be hit in every possible way, adding, "The new law will throw Pakistan [back] into the dark ages".
Speakers were also critical of Section 31, which supposedly gives the government unfettered powers to block access or remove speech not only on the Internet, but which is transmitted through any device, limiting the media's freedom and citizens' right to expression.
Pakistan Software Houses Association (PASHA) Executive Member for IT Syed Ahmad explained how the bill gave authorities powers to confiscate devices and data, something foreign investors who valued their privacy would be uncomfortable with.
Speakers were also concerned about Section 26 – the definition of service providers – traditionally limited to ISPs and telecom companies. According to the speakers, the definition has now been expanded to include any place that offers access to Internet to the public such as restaurants, malls, hotels, offices, airports bus stations.
"This puts burden on cafes and restaurants to retaining traffic data for three months and they can be punished for not doing so," Ms Aziz explained.
Published in Dawn, April 16th, 2015
On a mobile phone? Get the Dawn Mobile App: Apple Store | Google Play