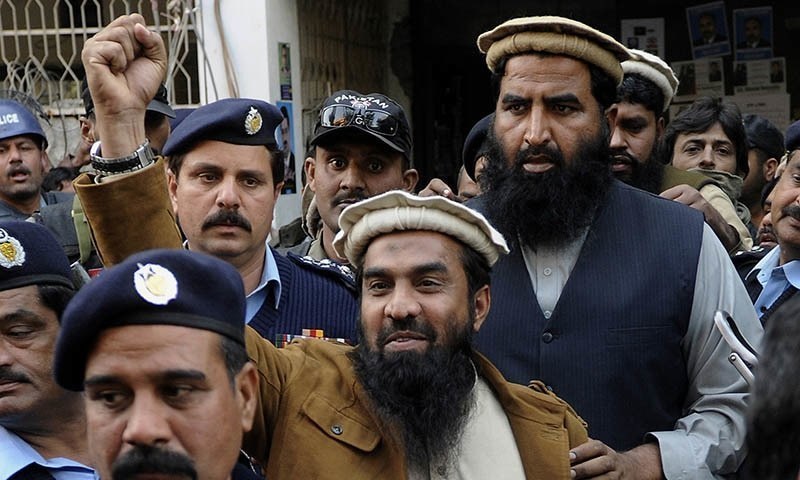 ISLAMABAD / NEW DELHI: Responding to Indian criticism of the release of Mumbai attacks accused Zakiur Rehman Lakhvi, the Foreign Office has blamed India for the development.
"Inordinate delay in extending cooperation by India complicated the case and weakened the prosecution's case," FO Spokesperson Tasnim Aslam said on Friday.
Lakhvi, the alleged mastermind of the 2008 Mumbai terrorist attacks, walked out of detention on bail after the Lahore High Court set aside government's orders for keeping him confined.
Lakhvi, who was arrested in December 2008, had been originally granted bail in December, but the government kept him detained on temporary orders. He is among the seven accused being tried for involvement in the attacks by an anti-terrorism court in Rawalpindi.
The FO statement was issued after Indian High Commissioner T.C.A. Raghavan met Foreign Secretary Aizaz Chaudhry to protest Lakhvi's release.
According to Indian External Affairs Ministry Spokesman Syed Akbaruddin, High Commissioner Raghavan, in his meeting with Secretary Chaudhry, "underlined that this (Lakhvi release) has reinforced the perception that Pakistan has a dual policy on dealing with terrorists and those who have carried out attacks or are posing a threat to India are being dealt with differently and emphasised that this is a most negative development in so far as bilateral ties are concerned".
Ms Aslam, meanwhile, said: "The case of Mumbai attack suspects is sub judice. It would not be proper to cast aspersions on Pakistan's commitment to countering terrorism at a time when Pakistan has entered a critical stage of defeating the menace of terrorism."
"We respect the judicial process and are confident that it would serve the interest of justice," she added.
FRENCH LEADER: During his visit to France, Indian Prime Minister Narendra Modi found strong backing on the issue from President Francois Hollande, who called Lakhvi's release 'shocking'.
In a speech in Paris on the first day of Mr Modi's visit, Mr Hollande thanked the prime minister for his "solidarity" over the attacks in the French capital in January. "In the same vein, I express to you my indignation each time that a terrorist is freed while he still has responsibility for an abominable act," he said.
Indian Home Minister Rajnath Singh said India wanted talks with Pakistan but Lakhvi's release was an "unfortunate and disappointing" development.
"India wants talks with Pakistan but the present development is unfortunate and disappointing," he told reporters on the sidelines of a function.
India claims Lakhvi guided 10 gunmen from a control room in Pakistan during the 26/11 Mumbai attacks.
Published in Dawn, April 11th, 2015
On a mobile phone? Get the Dawn Mobile App: Apple Store | Google Play