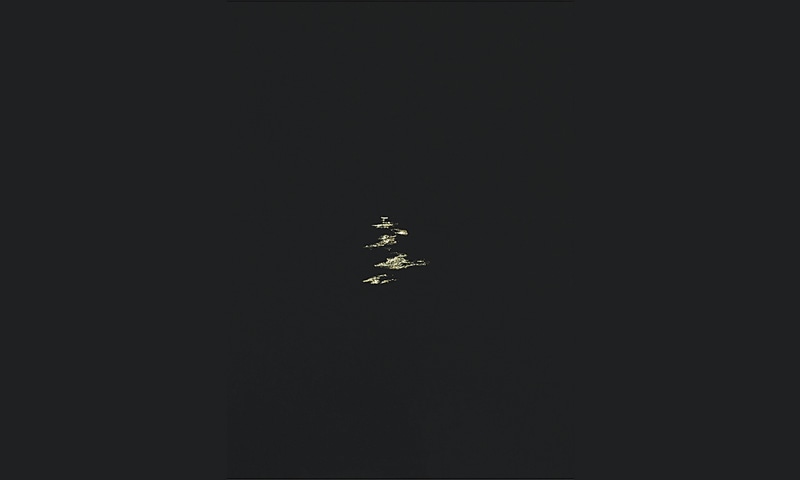 Lala Rukh's practice seems to point towards her absorption with the notions of omission rather than inclusion, and the nominal rather than the expansive. In the early '80s, her various studies of the human body on paper only hint at the form with slight impressions, making the drawings look almost incomplete. On being asked what led to this minimalist aesthetic, she responds, "I was always interested in the hierarchy of mediums, as in those days, if you didn't do oil painting, you weren't relevant." Recalling reactions, Lala Rukh recounts one of the most amusing remarks she received: "Lala, aap hamse mazak kar rahee hain (Lala, you are joking with us)."
Untitled
Ultimately, this philosophy led to a further reduction in her visual vocabulary. A retrospect of her practice reveals times where the image became a mere stroke and at others, quite complex while remaining with the realm of minimalism. In the series, "Hieroglyphics" for instance, Lala Rukh developed her own coded language to represent calligraphic forms. The horizon is another recurring aspect along with the ocean at night. Even in the absence of these representations, symbolic references of these continue to present themselves in the form of the rich use of black, as is the case in her latest body of work.
Ironically, despite their dark nature, her images, in fact, come across as romantic and a documentation of a personal inquiry that is set in a time gone by. Having said that, what makes her work significant is that, in taking this radical stance, it was as ahead of its time then, as it is now. One dares not call her work minimalistic as the Western objectives of the movement are far removed from Lala Rukh's endeavours. But while the diminution of form draws from various sources it is re-informed by the artist's very personal introspection and reflective quietude.
Musing about her journey, the artist exclaims, "you know after all these years, I have realised it's all about proportion. Even the stars in the night sky have proportion".
Published in Dawn, Sunday Magazine, February 8th, 2015
On a mobile phone? Get the Dawn Mobile App: Apple Store | Google Play