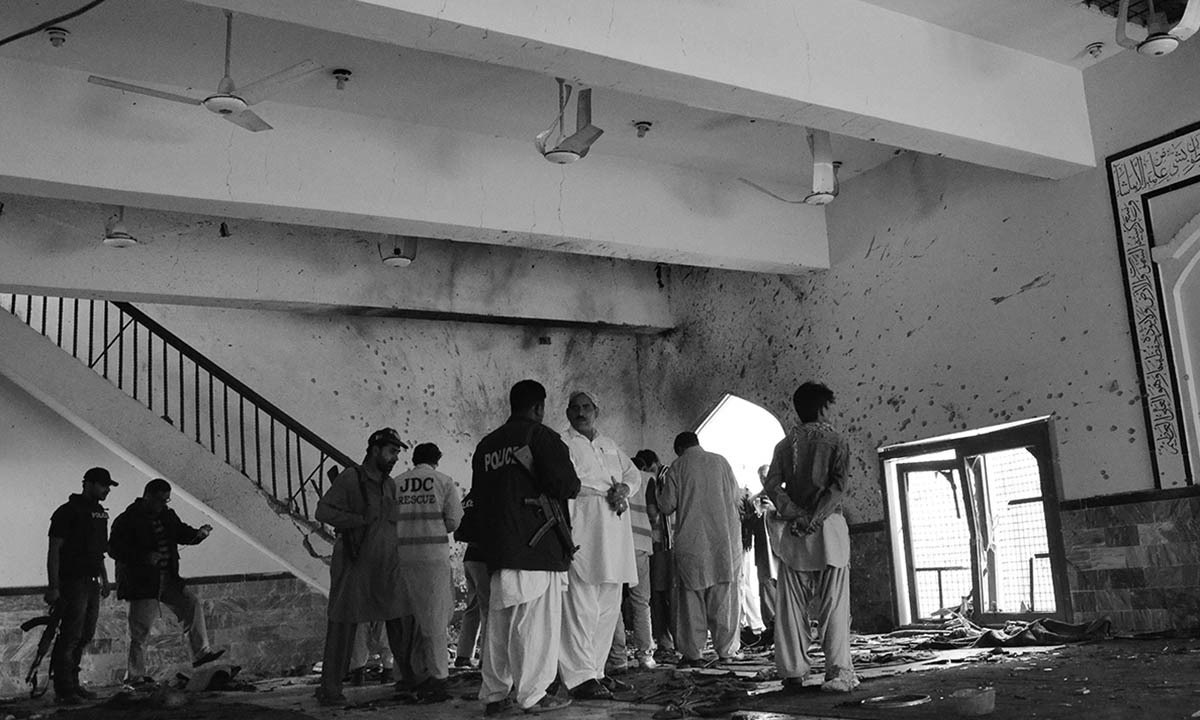 AS though caught in a grotesque time loop, the same spectacle plays out over and over again. This time in an imambargah in Shikarpur, where yesterday's bomb explosion after Friday prayers killed around 50 people and injured scores, many of them critically.
The intensity of the blast can be gauged by the fact that the building's ceiling collapsed from the impact, trapping many underneath the debris. It was the second major sectarian attack to take place since the beginning of this year.
The earlier one, responsibility for which was claimed by a TTP faction, occurred in a Rawalpindi imambargah, killing seven people and injuring nearly 20. But the attack in Shikarpur is significant for several reasons.
It is the first large-scale sectarian attack in interior Sindh, the traditional home of Sufi Islam, underscoring the need to expand the war against extremism beyond the tribal areas to cities and smaller towns.
It is also damning evidence of how misgovernance compounded by state inertia can provide space for extremist elements to insidiously widen their influence. Over the past few years, critical, telling signs of the drift towards radicalisation and religious disharmony in Sindh have been ignored.
A number of Hindu temples have been desecrated and there is a rising crescendo alleging forced conversions of Hindu girls. Deobandi sectarian groups have become increasingly assertive in what is traditionally a Barelvi ethos.
Exploiting the wilful neglect of the education sector, madressahs have proliferated, enrolling droves of children from poor families and enabling them to absorb their divisive ideologies. The vacuum of governance that exists in Sindh does not bode well for controlling the sectarian forces that have entrenched themselves there, and the Shikarpur bombing may mark the trajectory of a yet deadlier chapter in extremist violence in Pakistan.
A recent Human Rights Watch report has castigated the government for failing to protect religious freedoms and prevent violence against minorities.
There appears little hope of a change in this situation with the government seemingly unable to ride the crest of an unprecedented public consensus in favour of a robust response to counter the scourge of extremism. It was significant perhaps that when the attack took place, the prime minister was chairing yet another meeting on law and order, this time in Karachi.
What has been the substance of its response apart from repeatedly going into a huddle with trusted aides in the aftermath of the Peshawar attack, and hanging some death row inmates in rapid succession? Where is the evidence of the National Action Plan being put into practice?
While religious groups have appropriated the Charlie Hebdo issue to seize the initiative and demonstrate their street power, the state appears to be on the retreat, taking recourse to a timorous, fire-fighting approach that is far from what is needed at this desperately difficult hour.
Published in Dawn, January 31st, 2015
On a mobile phone? Get the Dawn Mobile App: Apple Store | Google Play