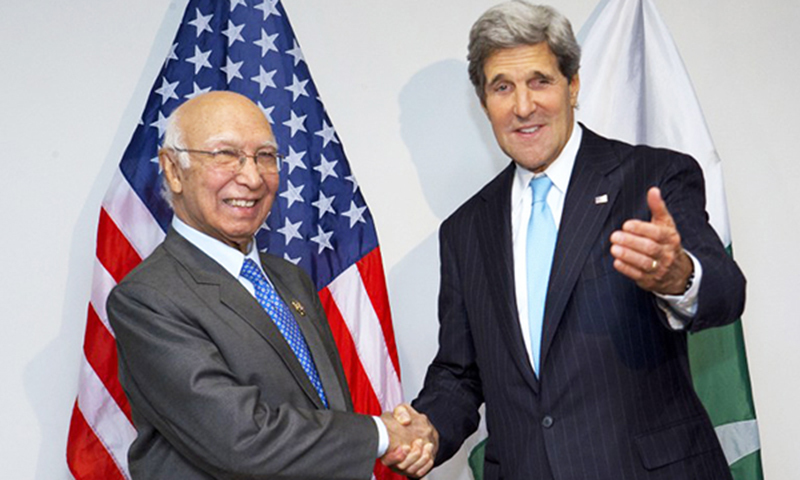 ISLAMABAD: At a time when Pakistan is trying to avert possible passage of a law by US Congress to restrict assistance to Islamabad, the government is in no mood to hire services of lobbyists in Washington.
Adviser to the Prime Minister on Foreign Affairs Sartaj Aziz confirmed during question hour in the Senate on Thursday that Pakistan's Embassy in Washington had sought approval for hiring lobbyists, but pointed out that the experience with lobbyists had not been very encouraging in the past.
Also read: Sour ties with US
Many members of the house appeared to be lobbying for lobbyists when they said that every country had lobbyists in Washington and Pakistan should also hire a few, but Mr Aziz insisted that the Pakistani community in the United States would be used for lobbying work.
"Lobbyists serve some purpose but not as much as our own community," he said.
---
Adviser to PM Sartaj Aziz says experience with lobbyists was not very encouraging in the past
---
Ilyas Bilour of the Awami National Party said that had there been a lobbyist working for Pakistan, he or she could have arranged a meeting of Prime Minister Nawaz Sharif and US President Obama when the former visited Washington in September.
He said the Indian prime minister, on the other hand, met Mr Obama twice during that visit.
Mr Aziz responded by saying that it would be inappropriate to draw a comparison between the two prime ministers. He said Mr Sharif had undertaken an official visit to the United States in October last year when he not only met the US president but the vice president also requested for a meeting which did take place.
"This is not the job of lobbyists," he said.
About the threat of restrictions on the US assistance to Pakistan, Mr Aziz said the Congress was considering budget for the fiscal year which began on October 1. It contains two bills which have direct relevance to Pakistan. The National Defence Authorisation Bill contains provisions for reimbursement to Pakistan (and other countries) under the Coalition Support Fund (CSF). The second bill relates to the US government assistance programme for various countries including Pakistan.
He said that as these bills were at various stages of consideration, the Senate versions were different from those of the House of Representatives.
"We understand that the draft versions contain certain restrictions or provisions relating to Pakistan. For instance, some provisions relate to terrorism cooperation, others to issues like Dr Shakil Afridi. These bills also contain language that will require the US administration to certify to the Congress in specific areas or to issue waiver," he said.
The adviser, however, said the government was cognizant of the developments and had been making efforts to sensitise relevant circles in the Congress as well as the US administration. The ministry of foreign affairs and Pakistan's Embassy in Washington were active in this regard.
The matter has also come up for discussion at senior-level meetings with the US side in Islamabad.
He said that while several provisions of the legislation had relevance to Pakistan, it should be noted that these bills were still under consideration and, therefore, subject to change.
The allocations have not been finalised either. It would, therefore, be premature at this stage to make a judgment about their impact.
Published in Dawn, October 24th, 2014