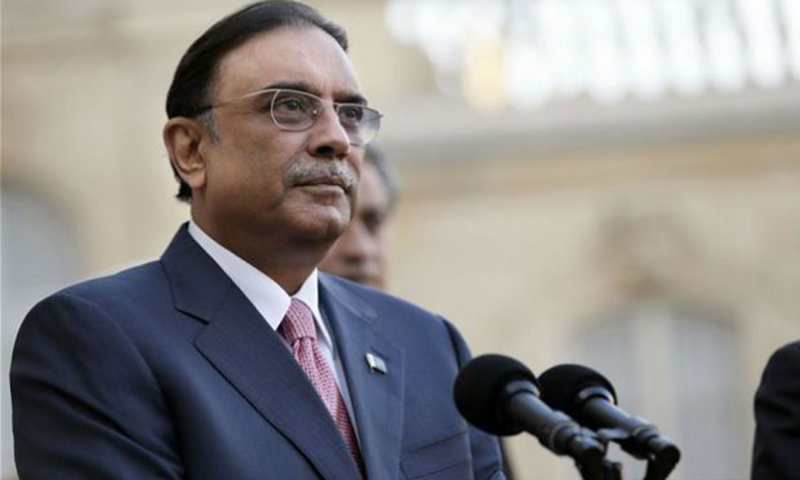 LAHORE: Pakistan Peoples Party Co-Chairman Asif Ali Zardari has rejected some party leaders' suggestion that the party should abandon its support to the PML-N as it was affecting its popularity in Punjab. Mr Zardari said he was at present more interested in protecting democracy than party politics because the nation was going through testing times.
"We are supporting the PML-N to protect democratic system. I don't agree that our policy of reconciliation is damaging the PPP, particularly in Punjab," he told the party's office-bearers from southern Punjab and Lahore at a meeting in Bilawal House on Saturday.
Some of the participants had expressed concern over the PPP's policy of "overtly" supporting the PML-N government. A participant told Dawn that some office-bearers spoke their mind freely before Mr Zardari, saying the party's reconciliation policy was costing it dearly in Punjab.
"The Pakistan Tehreek-i-Insaf is filling the vacuum left by the PPP. We are conceding space to the PTI. We should start openly taking on the PML-N government and its leadership on issues of public importance and play the role of an active opposition," an office-bearer was quoted as saying.
Mr Zardari listened to their concerns, but told the office-bearers: "This is no time for such politics. The PPP will not compromise on democracy and supremacy of the constitution and parliament."
He said he would visit other parts of Punjab soon to strengthen the PPP in the province. It was no more a stronghold of the PML-N as people were ready to take to the streets in protest against its policies, he agreed with the workers..
Mr Zaradri deplored the defection of Malik Aamir Dogar, secretary general of the PPP's south Punjab chapter. "The late father of Mr Dogar had told him that he should never quit the PPP, but he did not follow his advice," he said.
Mr Dogar had refused to accept PPP ticket for by-elections in the NA-149 constituency (Multan) scheduled for Oct 16. He is contesting the polls as an independent candidate with the PTI's support. His main rival is veteran politician Javed Hashmi, who has backing of the PML-N.
In an apparent reference to Imran Khan and Dr Tahirul Qadri, Mr Zardari said: "Those fostering anarchy will not succeed. The country cannot afford the politics of sit-ins. Dialogue, and not street politics, is a solution to all problems."
He said it was not good to put one's own or the party's interest above the country's .
"They criticise our children who are Pakistani citizens though theirs are foreign nationals," he said in a veiled reference to Imran Khan.
He said Bilawal Bhutto Zardari had decided to address a rally to be held in Karachi on Oct 18 to observe the seventh anniversary of the Karsaz tragedy. PPP workers from across the country will participate.
"Except the PPP which had a rich history of political struggle and sacrifices, all other political parties are a product of the establishment," Mr Zardari asserted.
Some participants complained that Mr Zardari's political secretary Rukhsana Bangash did not allow them to meet him. He said he would look into the matter.
Prominent among the participants were former prime minister Yousuf Raza Gilani and PPP leaders Qamar Zaman Kaira, Sherry Rehman, Sardar Latif Khosa, Makhdoom Shahabuddin, Samina Ghurki, Shaukat Basra and Faisal Mir.
Talking to reporters after the meeting, Mr Gilani said the PML-N could not fulfil its promises. "Protests and sit-ins are part of democratic process and an objection cannot be raised to them."
Had the PML-N government adopted the Zardari style of politics, it would not have faced the problems it was confronted with, he said.
Mr Gilani said the PPP had raised voice against rigging soon after last year's general elections but nobody supported it.
"We want to uphold supremacy of democracy, not of the government or a person," he said and demanded that local body polls be held in the country.
Published in Dawn, October 5th, 2014