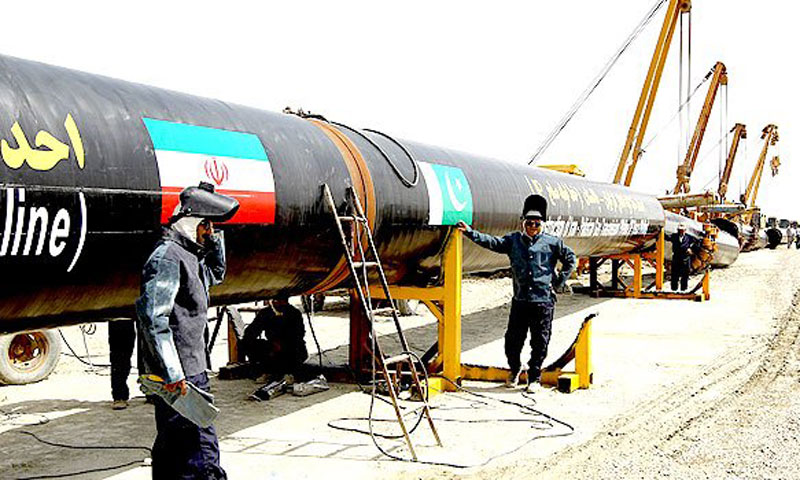 ISLAMABAD: The new government moved to smother speculation about the Pakistan-Iran gas pipeline on Saturday, with a minister asserting that the country needed to lap up the commodity from "wherever it comes, whether from Iran or the Arabian Sea".
"We will continue the work at the gas pipeline because such a vital project cannot be set aside in hard times like the present," Ahsan Iqbal, the Federal Minister for Planning, said.
Certain quarters had expressed fears about the fate of the pipeline because of the ruling PML-N's close ties with the Saudis.
Talking to journalists after a meeting with officials of the Planning Commission, Mr Iqbal said: "Energy is our first, second and third top priority. Electricity is no longer a mere commodity now; it is a necessity and lifeline."
Taking charge of the same department after 14 years, Mr Iqbal said the PML-N government had presented a "vision 2010" in 1998, but this time it would be limiting its goals to five years. A "vision 2018" will be launched soon after presentation of the federal budget, the minister added.
As the Planning Commission has been upgraded by the new government, Mr Iqbal said the planning division would also be monitoring projects to ensure their completion within the stipulated time and budget.
"As the government machinery is rusty and worthless, it is imperative to have a department to oversee the execution of projects."
Regarding his own ministry, he said the planning and development division would be made a model for other ministries.
"We will implement e-government here and within one year the planning division will move to paperless working, while efficient human resource will be rewarded," he said.
Ahsan Iqbal highlighted the priority areas of the government — improving tax collection by plugging loopholes and broadening the tax base.
"We want to raise the tax-to-GDP ratio from 9.5 per cent to 14 per cent before the term of our government ends."
He said the government would encourage local as well as foreign investment. "We do not want foreign grants from friendly countries, but we want them to invest here."
The minister played down the importance of remittances as a reliable source of money, saying that it was an unproductive venture. "The inflows from this sector would stop if Pakistanis started returning home in droves or stopped sending money back home."
Mr Iqbal said the PML-N government had a zero tolerance policy for corruption and efforts would be made to strengthen NAB, FIA, Public Accounts Committee and other departments supposed to fight white-collar crime.
"The most unfortunate part of the previous government was that corrupt officials were assigned key posts in these crime fighting departments, but we will ensure that officers with good track record are given the right posting," he said.
Ministers take charge
Although Saturday was a weekly holiday, a number of new ministers took charge on the directive of Prime Minister Nawaz Sharif in the morning by arriving at their offices at around 8am.
Many officials were seen rushing to their offices a few minutes after 8am, asking security personnel if the minister had arrived.
Some of the ministers held a brief chat with newsmen before going to their offices.
Interior Minister Chaudhry Nisar Ali Khan said that terrorism was the greatest challenge the nation had been facing and the new government would take steps to improve law and order to provide relief to people.
He declared that his working would be different from the previous minister and he would not poke his nose in every matter.
Minister for Water and Power Khawaja Asif brushed aside high hopes regarding elimination of loadshedding that many had pinned with the arrival of new government.
"It will take many years to overcome this menace — but we will surely bring it to bearable limits," he said.
Minister for Petroleum and Natural Resources Shahid Khaqan Abbasi said as the new government had taken charge, now people would feel a positive change.
"After domestic and commercial users the power sector is the top most priority as long as gas supply is concerned.