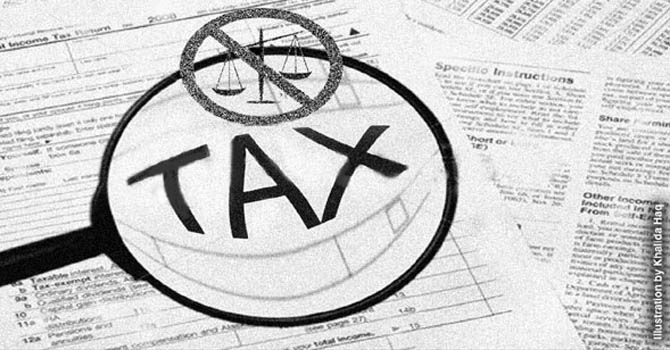 — File Photo
ISLAMABAD: Prominent candidates for National Assembly belonging to influential political and business families despite being very rich and holding huge assets paid only a meagre income tax in year 2012.
The clearance certificates granted to them by the Federal Board of Revenue (FBR) clearly shows that they paid small amounts in taxes.
Some details released by the State Bank of Pakistan (SBP) to the Election Commission of Pakistan (ECP) show key politicians or their spouses' outstanding or written-off loans. These details don't cover the entire five-year period when they were lawmakers, however.
The certificates issued by the SBP only say: "Details of overdue/written-off loans amounting to Rs2 million or above for the last one-year reported by the financial institution as on Feb 28, 2013." This clearly indicates that any loan written-off before the year 2012 was not covered in the documents.
In reply to a question about details of any written-off loans of the past, a spokesman for the central bank said the banking sector, including the State Bank of Pakistan, was "following the directives of the Election Commission of Pakistan".
Despite such loopholes, some details have still come out. One such example is that of former foreign minister Hina Rabbani Khar whose spouse, Feroze Gulzar, got a loan of a local bank amounting to Rs56 million written off.
Her father Ghulam Rabbani Khar also got a loan of Rs109,000 written off. He still has Rs55.24 million overdue loans taken from three banks.
A banking sector expert based in Karachi told Dawn that 'overdue' category of loans indicated that the loan had not been performing smoothly and it was possible that some amount had only been recently paid to get the outstanding loan out of 'non-performing loan' category.
During the year 2012, Ms Hina Rabbani Khar paid Rs145,142 tax although her income was Rs3.14 million in the year.
Among other people paying only a meagre tax includes Nawab Muhammad Yousuf Talpur who paid Rs57,064 tax in 2012 which was deducted at source from his salary as an MNA. But his declared income in the year was Rs9.49 million.
Munawar Ali Talpur paid Rs92,031 tax out of the income of Rs8.64 million in 2012. The statement of assets submitted to the ECP shows that Mr Talpur has more than 207 acres of agriculture land, Rs1.5 million worth of farm animals and arms and ammunition worth Rs747,000 apart from other assets and residential properties.
Similarly, his spouse, Ms Faryal Talpur, who is the sister of President Asif Ali Zardari, paid Rs295,245 tax against Rs22.42m income in 2012.
Another sister of President Asif Zardari, former MNA and a candidate of PPPP for women's reserved seat, Dr Azra Fazal Pechuho, has an erratic income record, according of documents submitted in the ECP, which shows her income was nil in 2010, but it suddenly increased to Rs8.91 million in 2011 and in the year 2012 her income jacked up to Rs11.18m. Out of this amount, she paid Rs311,407 in tax.
Mr Noor Khan of the PPPP, who himself acknowledges to be a multi-billionaire, paid only Rs80,284 tax in 2012 as per certificate released by the FBR to the ECP.
According to tax experts, on an average any person getting a monthly salary of around Rs120,000 pays around Rs80,000 income tax, annually.
According to FBR, Mr Noor Khan paid Rs67,479 tax in 2011. In his statement filed in the ECP, Mr Khan, who was an MNA from NA-3, Peshawar, said the net worth of his assets was more than Rs32 billion. They include 200 acres of agricultural and commercial properties, a Prado, a Land Cruiser, 200 tola gold of his spouse etc.
PPPP MNA from KPK and former federal minister Dr Arbab Alamgir Khan paid Rs266,957 tax in 2012 out of Rs1.90 million income. However, net worth of his assets is Rs2 billion, including Rs44m apartment in Dubai and agriculture and commercial lands.
Mehboobullah Jan, a former MNA from Kohistan, who is again a candidate for NA-23 in coming polls, holds assets worth Rs5.40 billion.
These include real estate businesses, agricultural land worth Rs1.9 billion, timber business worth Rs2 billion and a construction company worth Rs2.2 billion. He has two vehicles worth Rs7 million.
However, he has no NTN and hence no tax filing record.
Ameer Muqam, a PML-Q candidate for NA-31, paid no tax in 2012 despite earning Rs3.8 million in the year because of adjustments made in the previous filing of his tax returns. In 2011, he paid Rs28,094 tax and in 2010 he paid Rs19,058 despite the fact that his income in these years was Rs4.73 million and Rs4.89 million, respectively.
Mr Muqam has stated in his statement that total worth of his businesses and other property, including agricultural land, is more than Rs163 million.
He has 17 vehicles, including a bulldozer, tractors and a bullet-proof Land Cruiser.
Hamza Shahbaz Sharif paid Rs3.52 million tax in 2012. His income is Rs12.5 million. PML-N leader Nawaz Sharif paid Rs2.20 million tax in 2012.
Makhdoom Amin Fahim paid Rs1.35 million tax against his income of Rs6.66 million in 2012.
However, his spouse, Ms Rizwana Amin, owes Rs16.91 million in terms of overdue bank loans.
Former MNA Shahid Khaqan Abbasi of PML-N paid Rs1.34 million in tax. He is the CEO of a private airline worth Rs1.80 billion. The worth of his other assets, including property in Murree and Islamabad, is around Rs300 million.
Former deputy prime minister Chaudhry Pervaiz Elahi paid Rs1.26 million tax and Rs90,775 in terms of agricultural income.
Former interior minister Aftab Khan Sherpao paid Rs58,882 in terms of taxes in 2012. His income was Rs2.98 million in that year. Former federal minister Syed Khursheed Shah paid Rs97,190 tax in 2012 and he paid Rs41,516 in tax in 2011.
PML-Q (Likeminded) leader and industrialist Humayun Akhtar, who is now trying to get a PML-N ticket for NA-79, paid Rs210,832 tax in 2012. His income in the year was Rs1.59 million.
PTI Vice Chairman Shah Mehmood Qureshi paid Rs587,500 tax in 2012 out of an income of Rs5.24 million.
Follow Dawn Business on Twitter, LinkedIn, Instagram and Facebook for insights on business, finance and tech from Pakistan and across the world.