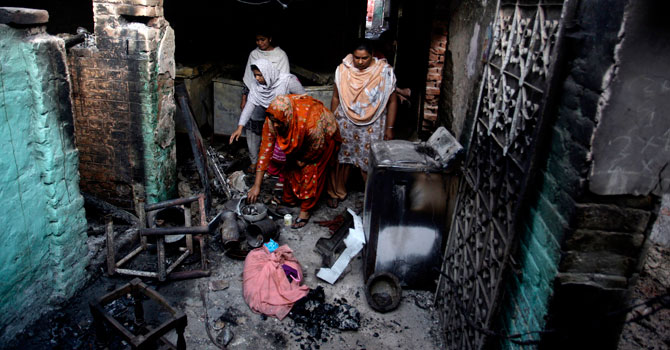 A Pakistani Christian family search in their home that was torched by an angry mob in Lahore, Pakistan, Sunday, March 10, 2013. — Photo by AP
LAHORE: Pakistani Christians closed missionary schools on Monday in protest after a mob torched more than 100 Christian homes following allegations of blasphemy.
The schools are considered among the best in Pakistan and are extremely popular with wealthy Muslim families, with pupils taught in English in a disciplined and effective learning environment.
More than 3,000 Muslims rampaged through Joseph Colony, a Christian area of the eastern city of Lahore, on Saturday after allegations that a Christian had made derogatory remarks about the Prophet Mohammed (PBUH) three days earlier.
No-one was killed but the incident triggered protests around Pakistan from Christians, a tiny minority in overwhelmingly Muslim Pakistan, demanding better protection.
"Missionary schools of Lahore will remain closed on Monday on account of massacre in Joseph colony," Bishop Sebastian Shaw, chairman of the Catholic board, told reporters.
Sadiq Daniel, bishop of the church of Pakistan in Sindh said all missionary schools in the province, including those in Karachi, would be closed on Monday.
In Southern Punjab, where many Christians live in the main city Multan and many others are settled in villages to work in agriculture, the local bishop also announced the closure of missionary schools.
"All educational institutions of Christian community will remain closed on Monday to express solidarity with the affectees of Joseph Colony," Bishop Leo Rodrick Paul said.
Police in central Multan city said they have deployed officers to protect sensitive Christian places including churches and schools.
Authorities in Lahore arrested 150 people on charges of riot and arson over the rampage, which was triggered by allegations that a Christian sanitary worker had made derogatory remarks about the Prophet Mohammed (PBUH).
Police and locals said a drunken row between the Christian and his Muslim friend lay at the root of Saturday's violence, which highlights the religious tensions affecting Pakistan as it prepares for a general election expected in May.