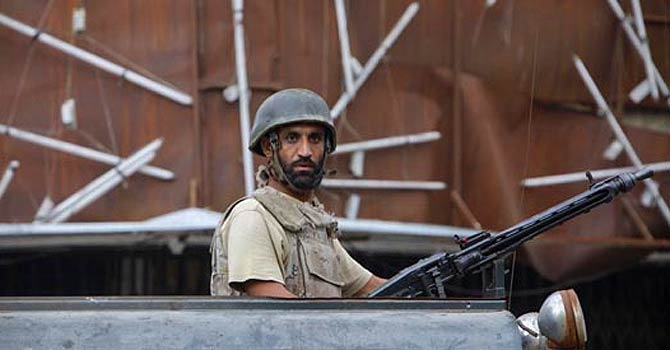 Photo shows a paramilitary soldier form the Sindh Rangers on duty in Karachi.—File Photo
KARACHI: Rangers forces launched an intensive targeted operation in Karachi's Lyari area on Thursday, hours after the severely tortured bodies of two paramilitary personnel were recovered from Mewa Shah Graveyard.
All entry and exit points of the restive area, marred by gang wars and drug mafias, were blocked as a large contingent of paramilitary personnel launched the operation against alleged criminals.
According to DawnNews, more than 12 people were also arrested in the operation.
Rangers personnel also claimed to have freed at least three people held captive by criminals in the ongoing operation.
Earlier on Thursday, eight people, including two Rangers personnel, were killed in the violence-ridden city, police said.
The bodies of two Rangers personnel, bearing torture marks, were found from Mewa Shah Graveyard in Lyari.
Police said both personnel were severely tortured before being killed.
The victims belonged to the intelligence wing of Sindh Rangers and went missing since Wednesday while performing duty in Lyari.