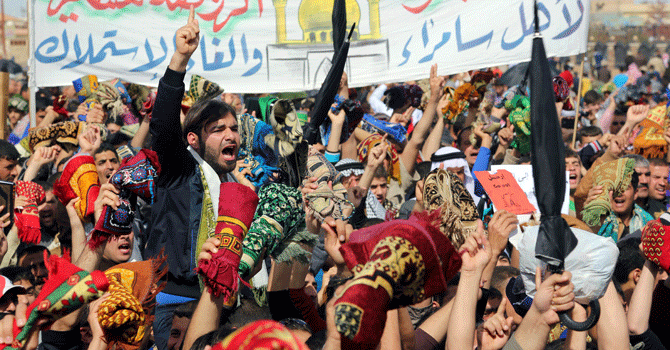 Iraqi protesters shout slogans during a demonstration in the city of Samarra on March 1, 2013 demanding the ousting of Prime Minister Nuri al-Maliki. Protests have been staged in Sunni-majority areas of Iraq in recent weeks, calling for the resignation of Prime Minister and decrying the alleged targeting of their community by the Shia community-led authorities. — AFP Photo
RAMADI: Iraq's finance minister told crowds of Sunni Muslim protesters on Friday he was resigning, after more than two months of demonstrations demanding an end to marginalisation of their minority sect.
The country's precarious sectarian balance has come under growing strain as Iraq Sunnis vent frustrations that have built up since the US-led invasion of 2003 overthrew Saddam Hussein and empowered the majority Shia community through the ballot box.
"I came today in order to announce my resignation from this government in front of you," Rafaie Al-Esawi, also a Sunni, told a crowd of protesters from a stage in Iraq's western province of Anbar, on the border with Syria.
The demonstrations in the country's Sunni heartland are fuelling concerns the increasingly sectarian conflict in neighbouring Syria will push Iraq back towards the bloody Sunni-Shia strife of 2006-2007.
It was Maliki's arrest of Esawi's bodyguards that ignited the protests in the first place last December.
"More than 70 days of demonstrations and this government hasn't fulfilled our people's demands," Esawi later told Reuters.
"It doesn't honour me to be part of a sectarian government. I decided to stay with my people."
Violence has intensified with the swell of Sunni opposition to Shia Prime Minister Nuri al-Maliki, whose power-sharing government has been all but paralysed since US troops withdrew in December 2011.
Iraqi authorities said Esawi's bodyguards had confessed to involvement in assassinations carried out in coordination with security men employed by Sunni Vice President Tareq al-Hashemi, who fled into exile a year ago and was later sentenced to death in absentia for terrorism.
Esawi was once a leader of armed Islamist group Hamas al-Iraq, which was active in Anbar.