Was there ever a time when the Pakistan cricket side was actually able to successfully negotiate quality quick bowlers on a fast track?
Yes, there was. Read on.
The Eternal Debacle
Recently, the Pakistan Test side faced a humiliating 3-0 series defeat against South Africa in South Africa.
A defeat was always on the cards but not a debacle, considering how well the Pakistanis had done against England, Sri Lanka and Bangladesh under the captaincy of Misbah-ul-Haq.
However, the three series that Pakistan won were all played on flat tracks in the UAE and Bangladesh that also begun to take turn in the latter half of the Tests.
But the tracks in South Africa were almost the complete opposite of what the Pakistan side had relished in the UAE.
They were hard and fast and some even had enough grass on them to help the quick bowlers get prodigious seam movement. With the ball coming in at rapid speeds at their chests and faces and also moving, the Pakistani batsmen seemed all at sea. It's amazing how even after decades of failing on fast tracks; all Asian teams continue to struggle on such strips.
But the good news (for Asian sides) is that today,  South Africa seems to be the only country where almost all Test centres have wickets that overwhelmingly favour fast bowling.
Otherwise, apart from the wicket at Perth's WACA Stadium in Australia, and the one in Headingley, Leeds in England that is notorious for aiding swing and seam bowling, wickets across the cricket-playing world these days are mostly flat, slow and low, or at best, turners.
That's why wickets in South Africa remain to be refreshing exceptions.
Sitting ducks: Pakistani batsmen completely failed to cope with quick bowling on fast South African wickets in the recently concluded series. They were bounced out 3-0 in the rubber.
But this was not always the case.
In the 1970s and a good part of the 1980s, though wickets in Pakistan, India and Sri Lanka were somewhat exactly the way they are now, almost all grounds in the West Indies and Australia offered hard, fast and bouncy tracks.
In England the ball used to move more (off the wicket) than it does today, mainly due to the fact that even until 1978, wickets were largely left uncovered and most of them would turn into slippery monsters after receiving rain.
_________________________________
Two Tribes
Someone (on TV) recently asked, "Was there ever a time when the Pakistan cricket side was actually able to successfully negotiate quality quick bowlers on a fast track?"
Well, yes, there actually was a time. Two series come to mind in this respect: Pakistan's tour of Australia and West Indies (under Mushtaq Mohammad) in 1976-77, and Pakistan's tour of the West Indies (under Imran Khan) in 1987-88.
When Khan's team squared the series in West Indies in 1988 (1-1), the Windies had already peaked (in the mid-1980s), even though they still boasted of quality fast bowlers and the wickets in the West Indies were still relatively quick.
Nevertheless, the West Indies side would gradually begin to decline after this and the wickets in the Caribbean would get slower and lower by the year.
That's why the 1976-77 series against Australia and West Indies remains to be one of the best examples of a time when a Pakistani side played some of its finest cricket on fast wickets.
But this is not the only thing that made this series iconic. Imran Khan (in both of his books, 1984's 'Imran' and 1992's, 'An All Round View'), considered the Pakistan squad of the 1970s to be the most talented he has played in.
He wrote that though this was a highly talented side, it had been underachieving until the 1976-77 series against Australia and West Indies.
It was only after these series that Pakistan cricket finally managed to be taken a lot more seriously and the international worth of a number of their cricketers grew two-fold.
Secondly, Australia and the West Indies were the top two Test sides in the world. And most of the grounds in Australia and the Caribbean islands had some of the quickest wickets – quicker even than the ones found today in South Africa.
Both the sides also had the fastest bowlers of the period: Dennis Lillie, Jeff Thomson and Gary Gilmour (Australia); Michael Holding, Andy Roberts, Joel Garner and Colin Croft (West Indies).
Jeff Thomson (centre) and Dennis Lillee (right) formed one of the deadliest fast bowling partnerships in the mid and late 1970s. Both were propelled into prominence by the aggressive on-field tactics of Australian captain Ian Chappell (left). After sending a number of English batsmen to the hospital during the 1975 Ashes series in Australia, Thomson told reporters: 'I like to see blood on the pitch.'
These quicks had devastated an assortment of Test sides and sent numerous players to the hospital when the Pakistan team arrived to face them.
Also remember, helmets and other protective gear like the arm and chest pads were not yet invented.
_________________________________
Ready and Willing
Mushtaq Mohammad (left) with Zaheer Abbas, 1974.
Pakistani all-rounder, Mushtaq Muhammad, was made the captain in 1976 at the age of 33.
He replaced leg-spinner, Intikhab Alam, as skipper who had led Pakistan between 1971 and 1975 during which Pakistan could only win one Test!
Mushtaq was a regular member in the side and highly valued as a solid middle-order batsman, a wily leg spinner and an excellent slip fielder.
The decision to make him the captain was taken by the Pakistan cricket board when it decided to bring in a more aggressive captain to replace the defensive Intikhab.
But, in spite of the fact that the board was looking for a more pro-active and creative captain to turn the Pakistan team into a winning unit, it got more than that because Mushtaq was as head-strong as the board's chairman, A H. Kardar – a former Pakistan cricket captain (1951-58) and a close aide of the then Prime Minster of Pakistan, Z A. Bhutto.
On the very first day of the first Test of his captaincy, Mushtaq resigned! This was during the 1976 New Zealand team's 3-Test series against Pakistan in Pakistan.
At lunch on the first day of the first Test in Lahore, Mushtaq handed over his resignation to the board because the team for the match was selected without fully consulting him.
Kardar asked Mushtaq's elder brother, Hanif Mohammad – a former Pakistan captain and legendary opening batsmen – to 'talk some sense into Mushtaq.'
Mushtaq reluctantly agreed to take back the resignation and Pakistan went on to win the Test – it's first in three years!
This was the same Test in which an 18-year-old Javed Miandad made his debut and cracked a quick-fire century along with the veteran Asif Iqbal.
A young Javed Miandad on his way to notch his first Test century. He made 163 against the visiting New Zealand side in Lahore (Oct. 1976). Pakistan won the match.
Even though Mushtaq had led Pakistan to its first Test victory after almost three years, he saw himself on the wrong side of Karadar once again when he asked the board to raise the playing fee of the cricketers.
Kardar refused and threatened to sack him. But when the team's senior players exhibited their support for Mushtaq, Kardar backed down and the team went on to win the second Test of the series as well (in Hyderabad).
The third Test (in Karachi) was drawn but Pakistan won the series 2-0.
Next up was a gruelingly long tour of two of the top Test playing countries at the time: Australia and the West Indies.
Pakistan's 2-0 win against New Zealand at home meant nothing to the Australian and the Carrabin press. It dismissed the Pakistani side as a bunch of bunnies that would be swallowed whole by the Australian and West Indian sides packed with fearsome quick bowlers and classy batsmen.
A 24-year-old Imran Khan uproots the stumps of a New Zealand batsman during the third Test in Karachi, 1976. Also seen in the picture is wicketkeeper, Wasim Bari.
The wickets would be fast and the crowds hostile.
Before the team was announced for the tour, Mushtaq once again demanded that the players' fee be raised.
Kardar again refused and in fact, sacked Mushtaq and some other senior members of the squad. He then decided to reinstate Intikhab as skipper.
The Pakistani press supported Mushtaq and the players, leaving Prime Minister Bhutto to send one of his leading ministers, Abdul Hafeez Pirzada, to sort out the issue.
Pirzada accepted the players' demands and Mushtaq and his Vice Captain, Asif Iqbal, finally agreed to sit with the selectors to pick the squad for the long tour.
Between November 1976 and April 1977, Pakistan was to play 8 Tests – 3 against Australia and 5 against the West Indies – besides some ODIs and a number of side games.
A 17-member squad was selected:
•    Mushtaq Mohammad | (Captain) | Age: 33 | From: Karachi | Right-handed batsman and right-arm leg-break •    Asif Iqbal | (Vice Captain) | Age: 33 | From: Karachi | Right-handed batsman •    Majid Khan | Age: 30 | From: Lahore | Right-Handed opening batsman and occasional off-spin. •    Sadiq Muhammad | Age: 31 | From: Karachi | Left-handed opening batsman •    Zaheer Abbas | Age: 29 | From: Karachi | Right-handed batsman •    Javed Miandad | Age: 19 | From: Karachi | Right-handed batsman and occasional leg-break •    Haroon Rashid | Age: 23 | From: Karachi | Right-handed batsman •    Mudassar Nazar | Age: 20 | From: Lahore | Right-handed opening batsman •    Wasim Raja | Age: 24 | From: Multan | Left-handed batsman and right-arm leg-spin •    Wasim Bari | Age: 27 | From: Karachi | Wicketkeeper and right-handed batsman •    Taslim Arif | Age: 22 | From: Karachi | Wicketkeeper and right-handed batsman •    Imran Khan | Age: 24 | From: Lahore | Right-handed batsman and right-arm fast •    Sarfraz Nawaz | Age: 28 | From: Lahore | Right-handed batsman and right-arm fast-medium •    Saleem Altaf | Age: 32 | From: Lahore | Right-handed batsman and right-arm fast-medium •    Sikander Bakht | Age: 19 | From: Karachi | Right-handed batsman and right-arm fast-medium •    Asif Masood | Age: 30 | From: Lahore | Right-handed batsman and right-arm fast-medium •    Intikhab Alam | Age: 35 | From: Lahore | Right-handed batsman and right-arm leg-break •    Iqbal Qasim | Age: 23 | From: Karachi | Left-handed batsman and Left-arm leg-spin. •    Mohsin Khan | Age: 21 | From: Karachi | Right-handed batsman.*
*(Mohsin Khan joined the squad on the West Indian leg of the tour).
Former Pakistan cricketer Sujauddin was the manager.
The squad just before boarding the plane for the long tour (from left): Zaheer Abbas, Asif Masood, Intikhab Alam, Saleem Altaf, Mudassar Nazar, Wasim Raja, Imran Khan, Sujauddin (Manager), Imtiaz Khan (Assitant Manager), Majid Khan, Asif Iqbal, Mushtaq Mohanmmad; (sitting from left): Sarfraz Nawaz, Wasim Bari, Iqbal Qasim, Taslim Arif, Sadiq Mohammad, Javed Miandad, Sikander Bakht and (not seen in the picture), Haroon Rashid.
_________________________________
Bounced, Sledged and Back
The Pakistan team arrived in Australia to a hostile reception. The Australian press had dismissed them as bunnies (must this be repeated?) and they were up against an Australian side that had whipped England 4-1 and the West Indies 5-1.
9 slips for Lillee! Australia vs New Zealand, 1977.
The Pakistanis also came across something that the Australians had begun to develop under Ian Chappell's captaincy: Sledging.
Though Chappell retired in 1975, he was replaced by his brother Greg Chappell who even furthered the sledging bit.
Sledging meant bowlers and close-in fielders abusing the batsman or cracking 'personal jokes' about him to infuriate him, making him lose his concentration.
The Pakistanis got a bagful of this during the first Test in Adelaide on a quick-ish pitch.
They were up against Thomson, Lillee and Gilmour, all of whom threatened to reduce the Pakistan under the score of 200 had it not been for a gutsy 85 by Zaheer and 48 by Imran.
Pakistan finally managed to notch 272, but it could have been far worse.
Thomson, who was consistently bowling over 90 mph, and had swallowed two Pakistani wickets, tried to bounce out Zaheer.
The ball rose viciously and Zaheer was late on the hook shot. The rising ball hit the edge of his bat and ballooned in the air.
Thomson ran for the catch not knowing that Allan Turner was also coming in for it.
Both the players collided. Thomson dislocated his shoulder and had to be carried away from the field.
Thomson (left) and Turner collide.
When the Australians came in to bat, they smashed the Pakistani bowlers all over the park and gained a lead of over 150.
With two and a half days remaining, Pakistan had to bat for a long time to save the game.
Zaheer, Mushtaq and Javed took the score to 236-4. Zaheer also raised a stylish century, only to get out at 101, hooking Lillee.
Imran, Saleem Altaf, Sarfraz and Bari went quickly, leaving Pakistan reeling at 379-9 – just 217 ahead and more than a day and a half remaining in the Test.
Asif Iqbal was still there with the number 11, Iqbal Qasim.
At tea, Mushtaq admonished Zaheer in the dressing room for playing recklessly after completing his century.
But what happened next took the Australians by surprise.
Asif Iqbal added 87 precious runs with Qasim who faced 96 deliveries but scored just 4!
He gave vital support to Asif who went on to score a fighting 152.
The partnership was finally broken in the first session of the fifth day when Qasim was run out.
Iqbal Qasim run-out after adding 87 with Asif Iqbal.
Australians were left with a gettable 284 to win in two sessions. But Pakistan made sure that didn't happen, especially due to some tight bowling by Iqbal Qasim who took 4 wickets.
The Australians aborted the chase after the fall of their sixth wicket and needed just 23 to win when the game ended in a tense draw.
The crowd booed the Australians for abandoning the chase.
After the day's play, Lillee went into the Pakistan dressing room with a bucket of Australian beer. He walked towards Mushtaq: 'Come on, Mushy, let's you and I have some beers.'
Mushtaq was furious: 'I don't understand you guys. Out there you insult and abuse us, and now you want to have a beer with my team?'
Lillee laughed: 'What takes place on the field stays on the field. Off it, we're buddies.'
Earning a fighting draw almost felt like a win for the Pakistanis and they went brimming with confidence to Melbourne for the second Test.
The wicket at the Melbourne Cricket Stadium used to be one of the fastest in the world until 1975. But when the Pakistanis arrived here they were pleased to notice a dry, brown and flat track.
Sarfraz had gotten himself injured in the nets and was replaced by Asif Masood.
Pakistan fast bowler, Asif Masood at the Melbourne Cricket Stadium.
On the way to the toss, Australian skipper, Greg Chappell, pulled  out a tossing coin that had a woman's breast on one side and a woman's backside on the other.
'Mushy,' he said, smiling, 'instead of saying heads or tails, you'll have to call boobs or butts, okay?'
Mushy called boobs and lost the toss. Soon, the Pakistani bowling attack was being taken to the cleaners.
Australia posted a mammoth 514. Pakistan responded in kind. Or sort of. Pakistan's celebrated opening pair of Majid Khan and Sadiq Muhammad quickly posted an opening stand of 113 before Majid fell.
No problem. Zaheer continued with his good form and pushed the score to 241 with Sadiq who made a fluent 105.
But then, as if out of nowhere, Lillee produced two stunning spells of fast bowling leaving Pakistan collapsing from 241-2 to 333 all out.
The Australians scored 315-8 before declaring, leaving Pakistan an impossible 499 runs to get. The only highlight of Pakistan's bowling was Imran's 5 wickets but which he got at the expense of 122 runs.
Playing for a draw, Pakistan collapsed, scoring just 151, devastated again by Lillee (4 wickets), and leg-break bowler, Kerry O'Keef. Pakistan lost the game by a whopping 348 runs!
Mushy should've called 'butts.'
Sadiq Mohammad poses with the bat he scored 105 with at Melbourne.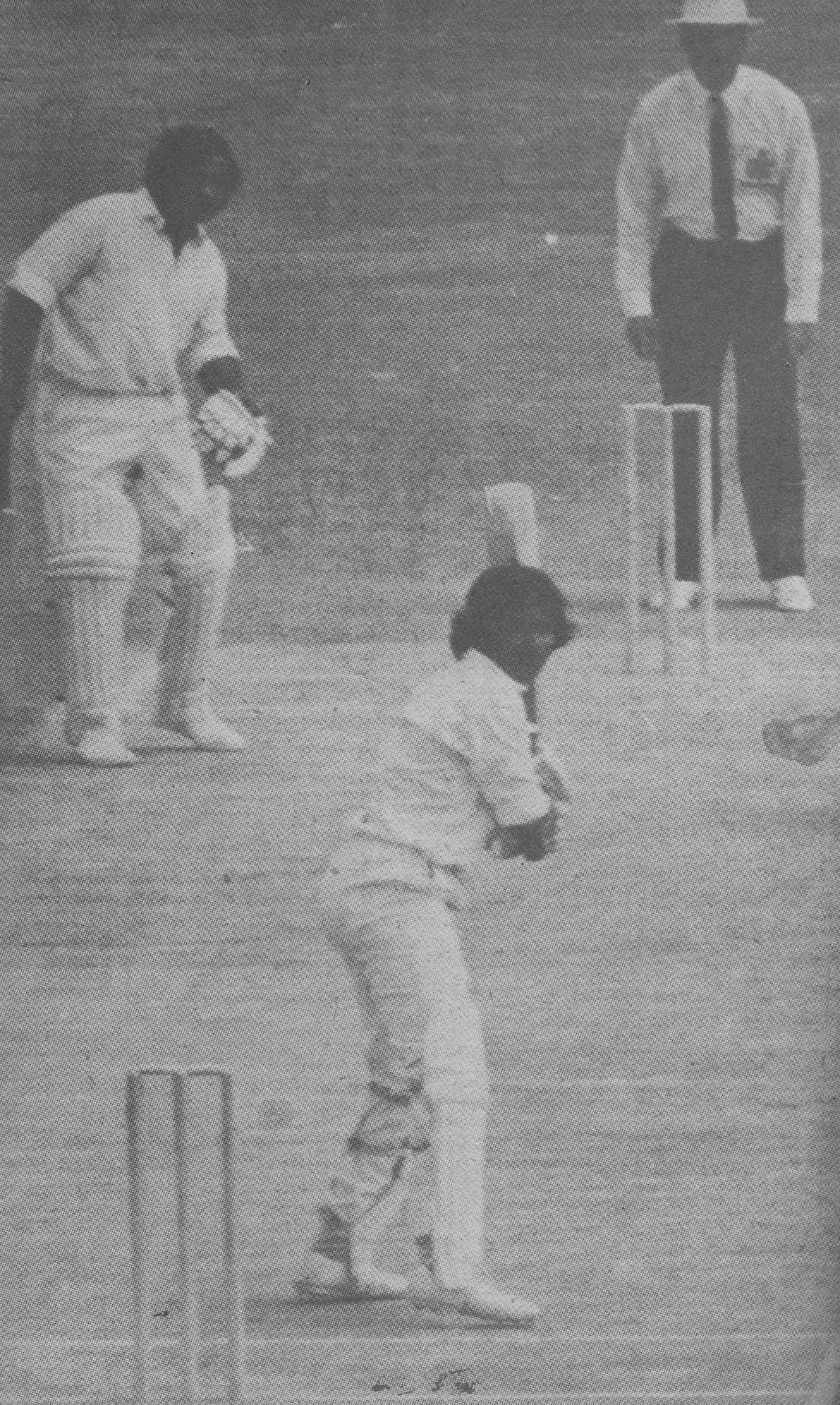 Another one bites the dust: Javed Miandad goes for 10 watched by skipper Mushtaq as Pakistan collapse in the second Test.
A day before the third Test in Sydney, Mushtaq and vice captain, Asif Iqbal, couldn't make out the nature of the wicket at the Sydney Cricket Ground. It wasn't exactly a green-top but nor was it like the one in Melbourne.
In the 3-day side game against Queensland, the flamboyant Wasim Raja had cracked a hard-hitting century and was expecting to be selected in Sydney.
At night, Mushtaq and Asif Iqbal sat together in Mushtaq's hotel room to decide the final XI for the third Test. They believed the Sydney track would help the batsmen and decided to strengthen the batting line-up. They dropped fast bowler Salim Altaf and replaced him with the debutant middle-order batsman, Haroon Rashid. Asif Masood made way for the returning Sarfraz.
Mushtaq gave the names of the selected team to Manager Sujahuddin who informed Raja that he wasn't in the side.
A loner, eccentric and a binge drinker, Raja went on a rampage. After getting drunk, he smashed a mirror in his hotel room with a whiskey bottle and then stumbled into the hotel lobby, cursing Sujahuddin.
Wasim Raja (1977).
Mudassar, Asif Masood, Sadiq, Sarfraz and Salmim Altaf were at the hotel bar having a drink when they saw Raja stumbling and cursing his way across the lobby. They at once alerted Mushtaq.
Raja accused Sujahuddin for keeping him out of the side until Mushtaq arrived and calmed Raja down. Some members of the management wanted Raja to be sent back home, but Mushtaq vetoed the idea.
The next day the third and final Test of the tour began, with Pakistan one down in the series.
Chappell won the toss and elected to bat. He also thought it would be a flat track. But it turned out to be quite the opposite.
The grass on it somehow remained fresh throughout the game giving assistantce to the quick bowlers. But Pakistan had gone into the game with only two quicks: Imran and Sarfraz.
Both shared 42 overs between them and cleaned up the Australians for just 211. Imran picked up 6 wickets and Sarfraz 3.
Sarfraz gets rid of Gary Cosier. (From Left): Sadiq, Mushtaq, Sarfraz, Imran, Javed and Cosier.
But now, the question was how the Pakistani batsmen would face up to the likes of Lillee, Gilmour and the awkward Max Walker on this wicket.
The three tested the Pakistanis with a series of bouncers and lots of sledging and reduced them to 111-4.
Pakistan regrouped when young guns Javed Miandad and Haroon Rashid bravely played around the veteran Asif Iqbal and pushed the Pakistan score to over 300. Asif notched a valiant 120, hooking, pulling and driving the Australian quicks at will.
Asif Iqbal.
The Pakistan dressing room erupts with applause as Asif Iqbal reaches his century in Sydney. (From left [sitting]): Haroon Rashid, Majid Khan, Sadiq Muhammad, Taslim Arif and Imran Khan. (Standing from left): Saleem Altaf, Wasim Bari and Sarfraz Nawaz.Pakistan reached 360 and gained a vital 149 runs lead.
The wicket remained fresh and bouncy.
Frustrated by the doggedness of Pakistan's middle and lower order batsmen, Lillee and Gilmour had bowled numerous bouncers and hurled all sorts of abuses at them.
One Lillee delivery struck Sarfraz hard in the ribcage. Sarfraz threw away his bat, walked up to the leg-umpire and shouted: 'Are you f**king blind! Can't you see?'
The umpire told him to continue batting. Lillee bowled another vicious bouncer that whizzed past Sarfraz's face. 'Eat this, bunny!' Lillee snarled.
The Australians began their second innings 149 runs behind Pakistan's score.
But once again they struggled against the pace of Imran and the swing of Sarfraz.
After both the pace-men had reduced Australia to 115-8, a gritty partnership began to develop between Rod Marsh and Dennis Lillee.
Taking a leaf out of the Australians' sledging technique, Mushtaq placed the 19-year-old and very vocal Javed Miandad at silly point.
Miandad would sing songs from Urdu films to irritate Marsh and Lillee and kept saying, 'now he will kill you,' whenever Imran or Sarfraz would send down a bouncer.
Imran Khan eyes and gives a mouthful to Australia's Rod Marsh at Sydney.
Lillee complained to the umpire and the umpire told Mushtaq that he would take Imran off if he persisted on bowling bouncers.
Mushtaq was furious: 'How come you didn't admonish the Australian bowlers when they were bouncing our tail-enders?'
But the umpire kept saying he would take Imran off.
Mushtaq asked Imran to stop (in front of the umpire), but as Khan walked back to his bowling mark, Mushtaq told him to 'aim between the bastard's eyes!'
Mushtaq arguing with the umpire. Also seen is substitute fielder, Wasim Raja, and a furious Imran Khan (behind the umpire).
Pakistan finally bag Rod Marsh. (From left): Sadiq, Bari, Mushtaq, Imran and Marsh.
Khan bowled at ferocious speeds, capturing another 6 wickets with Sarfraz pitching in with another 3. Both skidded Australia out for just 180, leaving Pakistan just 32 to get.
This portion of the match was telecasted live by PTV – a rarity in those days.
Pakistan reached the target with the loss of 2 wickets. Majid Khan finally wrapped up the game by smashing 3 fours and then hooking Lillee for a six. Not only did Pakistan square the series 1-1, it won its first ever Test on Australian soil. The Australian press was left speechless.
Mushtaq and Imran celebrate Pakistan's victory.
Sadiq and Mushtaq share a beer in the dressing room after the win. Seen in the background is Imran who took 12 wickets in the match.
_________________________________
Frolicking Good and Then Some
Pakistan flew to the West Indies from Australia via the Fiji Islands and reached the Caribbean in February 1977.
The West Indian team, fans and press were now more than just curious to see a side that had squared a series against the number one team in the world.
The West Indies were considered to be the number two team at the time after having been crushed by Australia 5-1 in 1975.
But West Indies had a longer line of fast men: Michael Holding, Vanburn Holder, Bernard Julien and the very slippery, Andy Roberts.
When Holding pulled out of the series due to injury, he was replaced by two more quicks: The very fast and very unconventional, Colin Croft, and the 6ft-8inch giant, Joel Garner.
Andy Roberts, Michael Holding, Colin Croft and Joel Garner.
Legendary West Indies all-rounder and former captain, Garry Sobers, was not impressed by what Pakistan had achieved in Australia.
He predicted that the West Indies, led by Clive Lloyd would be able to brush aside the Pakistanis.
Even before the first Test, Pakistan lost the in-form Zaheer who broke his toe while playing football at the hotel beach.
The 21-year-old Mohsin Khan was flown in from Pakistan as a replacement, but Zaheer was kept in the touring squad in case he recovered during the 5-Test series.
Then young Miandad fell into depression when news arrived that his father had died.
He was preparing to fly back home when he was stopped by his mother (on the phone) who insisted that his father would have wanted him to stay with the team.
But the problems didn't end there. Pakistan almost lost its main wicketkeeper as well – quite literally.
Wasim Bari was taking a swim at a beach when a strong tide carried him deeper into the sea. He yelled for help and almost drowned but was thankfully saved by a lifeguard.
After a few side games, the Pakistanis flew out to Barbados for the first Test. The wicket at the Kingston Oval was reddish in colour and looked like it would help the fast men.
Mushtaq and Asif decided to beef up the batting. Haroon was played at the injured Zaheer's position and Wasim Raja was brought in at number 7. Imran, Salim Altaf and Sarfraz were to lead the pace attack.
Pakistan won the toss and elected to bat because Mushtaq thought the wicket would crumble in the fourth innings.
Croft and Garner reduced Pakistan to 271-7 in spite of a quick-fire 88 by Majid.
Then Raja came into his element and played well with the tail to push the score up to 435. Smashing 12 fours and a six, Raja reached his century and remained not out at 117.
The West Indians responded in kind, posting 421, just 14 runs behind Pakistan's score.
By the time Pakistan began its second innings, the reddish strip seemed to have quickened up a bit more and the cracks on it had begun to open.
Croft, Garner and Roberts reduced Pakistan to 158-9, or just 172 runs ahead with almost two days remaining. The West Indians were on their way.
Javed Miandad swings but misses a delivery from Joel Garner, is hit on the pads and given out LBW. Asif Iqbal watches from the non-strikers end.
Not quite. Raja and the number 11, Bari, added a blistering 122 runs for the last wicket partnership!
Raja cracked a flamboyant 71 and Bari a streaky but vital 60 as Pakistan was able to post a respectable 291, leaving the West Indies to get 305 in a day and a half.
Wasim Bari attempts to run Vivian Richards out at Barbados.
At 142-2 it seemed the Windies would be able to reach the target. But Sarfraz, Imran and Salim Altaf had other ideas. All three then rapidly began to run through the West Indian side with an impressive exhibition of seam bowling.
Pakistan had turned the tables and was now heading for a possible victory when the ninth West Indies wicket fell at 237. But dogged resistance from the last wicket pair of Deryck Murray and Croft saved the day for the hosts. The game ended in a tense draw.
The great Gary Sobers was made to eat his words. Almost.
The squad travelled to the Port of Spain for the second Test. Here the wicket was harder than the one in Barbados.
Sarfraz got injured and was replaced by Intikhab Alam, the veteran leg-spinner. An out-of-form and depressed Miandad was dropped and the left-arm leggie Iqbal Qasim was brought in.
Mushtaq believed the wicket would eventually slow down and begin to take spin. He won the toss and chose to bat first. Wrong decision.
Right from the word go the West Indian fast men were all over the Pakistanis. Especially Colin Croft who destroyed the Pakistan line-up by bagging 8 wickets.
Only Wasim Raja stood tall, smashing a rapid 65 with 7 fours and 2 towering sixes of Garner and Croft.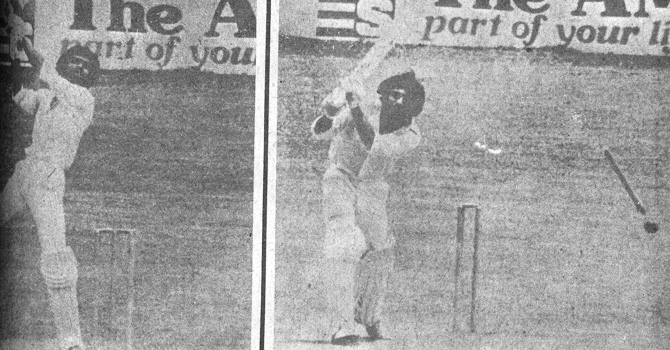 Six and out! Raja lofts Croft over long-off for six (left). Gets bowled by the very next delivery (right).
The West Indians responded with a telling total of 316, gaining a big lead of 236.
Pakistanis tried to regroup and fight back. Sadiq and Majid posted an opening stand of 123. But from 123-0, Pakistan crumbled to 181-4.
However, as Roberts and Garner seemed to be running through the Pakistan batting, they once again found Raja in the way.
He manoeuvred some vital partnerships with the lower order (especially with Imran), and smashed 85, again with 7 fours and 2 sixes.
Pakistan left the Windies a target of 206 to make in a day and a half. They achieved it rather easily on the fifth day of the Test for the loss of four wickets.
Pakistan was now one down in the series.
As the Pakistanis reached Georgetown for the third Test, Mushtaq contemplated dropping himself from the side. His batting formed had dipped and the defeat in the second Test seemed to have hit him hard.
He discussed the matter with his Vice Captain, Asif Iqbal and Majid Khan. But both of them advised him to stay put.
Another quick strip awaited the Pakistanis in Georgetown. Zaheer had recovered from his injury and was immediately selected in the playing XI.
West Indies won the toss and without any hesitation, Lloyd invited the Pakistanis to bat first.
Roberts, Garner and Croft quickly sent the Pakistanis packing for just 194.
Imran was the highest scorer, striking a defiant 47. But he almost lost his head doing this when a fierce bouncer from Roberts whizzed past his face.
'The ball passed me even before I could react. It was the fastest delivery I have ever faced,' he wrote later in a book.
Andy Roberts.
But the wicked slowed down by the time the Windies began their innings. And it showed.
They collected 448 runs and a huge lead of 244. With more than two days remaining in the game and the wicket expected to break, Pakistan were facing another defeat.
Pakistan started their second innings well. Sadiq and Majid cruised to take Pakistan to 60 for no loss when a vicious bouncer from Roberts smashed into the right cheekbone of the left-handed Sadiq and he went down like a man shot.
He lost consciousness and was bleeding. He had to be carried away from the ground straight to the hospital.
'I thought he was dead,' wrote his brother Mushtaq many years later in his biography.
Sadiq smashed in the face by a Roberts bouncer.
Zaheer joined Majid and instead of being intimidated by Sadiq's injury, both launched a hard hitting counterattack and took the score to 219. Zaheer fell for a solid 80, but Majid continued, playing perhaps one his most stylish and important Test innings.
Mushtaq fell cheaply, but Haroon and the lower order played around Majid until he was finally out for an epic 167 that included 25 fours.
Sadiq had also returned to bat – his cheek in stitches, and left eye bloodshot and swollen, he made a valiant 48.
Pakistan posted 540. Not only did they wipe out the lead but gave the West Indies 304 to make in less than a day.
The West Indies were 154-1 when the match ended in a draw. The Pakistanis had fought hard to earn it.
Mushtaq again contemplated dropping himself for the fourth Test at Queens Park in the Port of Spain. Once again Majid and Asif advised him to stay in the playing IX.
Salim Altaf was dropped and made way for Iqbal Qasim. There was some doubt about Sadiq's availability, but the swelling on his cheek and eye seemed to have gotten better.
The Queen's Park seemed to have the kind of reddish strip that the Pakistanis had encountered in the first Test in Bridgetown. It promised to play even and fair.
Lloyd won the toss and sent Pakistan in. The Pakistanis were struggling at 51-3 when Mushtaq joined Majid.
Mushtaq was tested with a series of quick bouncers by Croft and Roberts. But on the other end, Majid continued from where he had left in Georgetown.
He pulled, hooked and drove the West Indian fast men with disdain and took the score to 159 with Mushtaq.
Majid fell for 92. His innings was spiked with 14 fours and a six.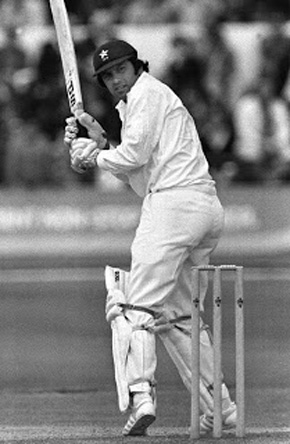 Majid Khan.
Pakistan were soon 191-5 and still struggling when Asif got out. But then Mushtaq finally found his form. He played well with the lower-order and posted a vital 121 helping the team reach a respectable 341.
Mushtaq flashes a 'V' sign in the dressing room after cracking a century at the Port of Spain.
Mushtaq then carried his regained confidence into his bowling and bagged 5 wickets. He was amicably aided by Imran who bagged 4 and West Indies were shot out for 154, giving Pakistan a handy lead of 187.
But the lead seemed a tad too small when the West Indies quicks reduced the Pakistanis to 95-5 in their second innings.
During the tour, some Pakistani players had developed a great liking for ganja (a marijuana variant) that was easily available in the Caribbean.
One of its biggest fans was the elusive Wasim Raja. According to his teammate, the then 19-year-old Sikander Bakht, Raja was outside the stadium sharing a ganja joint with a few West Indies fans when Mushtaq and Asif were batting.
Raja came back into the dressing room and before he could pad-up, Asif got out. Raja quickly strapped on his pads and gloves, picked up his 'SS Jumbo' bat, and still very much stoned, strolled out to join Mushtaq.
Raja's first scoring shot was a towering straight six off a fuming (and bewildered) Garner!
As Mushtaq grinded his innings, Raja continued to play his shots. He cut, drove, pulled and lofted, all the while being asked by skipper Mushtaq to slow down and hang in, but to no avail. Raja was on a roll again.
Raja smashes another four.
Mushtaq fell at 211 for a well-crafted 51. He was quickly followed by Raja (70), when after lofting Garner for his third six of the innings he tried to smash the tall fast bowler over long off again but was clean bowled.
Then Pakistan's tail began to wag, and wagged hard when Imran and Sarfraz began to smash the West Indies attack all over the park.
Pakistan was finally bowled out for 301, gaining a lead of 488 runs.
Pakistan now had a day and a half to bowl out West Indies and square the series.
Sarfraz and Mushtaq reduced WI to 154-7 with 3 wickets each. But Pakistan's advance towards victory was halted by a long and dogged partnership between Murray and Roberts.
They hung on, usurping precious time and taking the game into the last session of the Test match.
Desperation began to creep into the Pakistan side. PTV decided to hook up and show the session live on TV.
Mushtaq tried everything but the partnership just could not be broken.
Mushtaq threw the ball to Raja. Raja began to bowl looping leg-breaks, trying to draw the dogged Murray out of his crease to drive. He did exactly that and was caught by Sadiq.  WI 196-8.
New man, West Indies leggie Inshan Ali, came in, to play out time with Roberts.
But Ali went almost the same way as Murray did. Caught Sadiq, bowled Raja.
Pakistanis went ballistic. But there was still one wicket remaining. Raja continued to invite West Indies batsmen to drive him.
Roberts did that in Raja's third over and did it well, lofting him for two huge sixes.
But as Raja bowled the fifth delivery of the over, Roberts expected another fligted ball. Instead Raja bowled a quick leg-break, making Roberts edge the ball into the waiting hands of Majid Khan in the slips.
It was all over. Pakistan had won the game and squared the series.
Mushtaq lifted on the shoulders by his team mates soon after Pakistan squared the series at the Port of Spain. (From Left): Iqbal Qasim, Mohsin Khan, Haroon Rashid, Sarfraz Nawaz, Wasim Bari, Javed Miandad, Imran Khan, Mushtaq Muhammad, Sadiq Muhammad, Asif Iqbal, Intikhab Alam, Zaheer Abbas, Saleem Altaf and Wasim Raja.
Post-match celebrations: Pakistan team celebrate with champagne and dancing at a West Indian nightclub. Seen in the picture are Wasim Raja (far left), Mudassar Nazar (left), Javed Miandad (right) and Sikander Bakht (far right).
From the day they landed in Australia, Pakistan had fought hard and successfully defied the odds.
They faced hostile fast bowling, quick pitches, an antagonistic press and taunts of being bunnies.
Now here they were, going into the last game of their long tour after squaring the series against the two leading and most feared sides of the world.
Another fast track awaited them in Jamaica. They dropped Qasim and brought in Sikandar Bakht to beef up the pace attack for the fifth and final Test.
Lloyd won the toss and surprisingly elected to bat. The Windies were soon in danger of being shot out under 200, but the hard-hitting West Indies opener Gordon Greenidge, posted a quick 100 to help West Indies reach 280.
Imran bowled sharply and was rewarded with 6 wickets.
Imran Khan endorsing the once famous Australian lager, Hemeling
Pakistan didn't fare any better. They were shot out for just 198, with only Haroon Rasheed posting a fifty.
The Windies then squeezed the Pakistanis into a corner by making 359 and gaining a huge lead of 441 runs.
Sarfraz having a word with the West Indian umpire during the Jamaica Test.
Batting now to save the game and the series, Pakistan faltered and were reduced to 138-5.
Asif Iqbal and Raja then set about to repair the damage; they decided to attack.
Raja was back slashing and pulling and Asif drove and cut as both took Pakistan to 253 before Raja fell for 64 trying to loft Halford out of the ground.
Raja created a then world record by cracking the most sixes in a Test series (14).
Imran hung around with Asif who completed his first century of the series. But the centre soon collapsed and Pakistan were all out for 301, losing the game and the series 2-1.
References
Books:
Inside Out: Mushtaq Muhammad (2006)
An All-Round View: Imran Khan (1992)
Cutting Edge: Javed Miandad
Zed: Zaheer Abbas (1983)
Pakistan Book of Cricket 1977: Qamar Ahmed
Magazines
:
The Pakistan Cricketer  (December 1976; May 1977)
*Thanks to Aafia Salam for providing copies of The Cricketer from which I have used a number of priceless photographs of the two series.
---
Nadeem F. Paracha is a cultural critic and senior columnist for Dawn Newspaper and Dawn.com
---
The views expressed by this blogger and in the following reader comments do not necessarily reflect the views and policies of the Dawn Media Group.