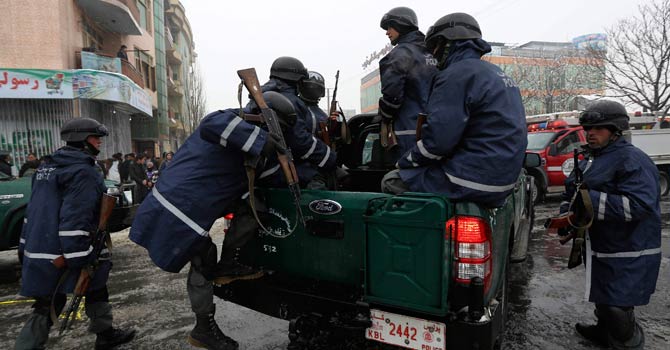 Afghan policemen leave the site of a suicide attack in Kabul. —Reuters Photo (File)
ASAD ABAD: A roadside bomb on Thursday killed at least ten people including eight policemen in the north-eastern Afghan province of Kunar, officials said.
The blast in Dangam district in the troubled province bordering Pakistan hit a vehicle carrying four police officers who earlier escaped a separate roadside bomb and were being transported for treatment for wounds sustained in that attack, Dangam district Governor Hamish Gulab Shinwari told AFP.
"The four wounded policemen were put on a passing civilian vehicle by colleagues to get to a nearby clinic, but the vehicle struck another landmine laid by the Taliban," Shinwari said.
Eight police officers and two civilians inside the vehicle were killed, he said.
The incident and toll was confirmed by provincial Governor Fazlullah Wahidi, who said a woman on the vehicle was also seriously injured in the blast.
"Unfortunately eight of our policemen and two civilian have been martyred and one woman critically injured in the incident," Wahidi told AFP.
No group or individual claimed responsibility for the attack, but both officials blamed Taliban militants for the attack.
Roadside bombs are the favourite weapons of Taliban militants fighting to oust the Western-backed government of President Hamid Karzai. Taliban indiscriminately place explosives to kill and hurt civilians.
The deadly blast in Kunar also comes a day after a Taliban attack left at least 16 people including ten policemen dead at an Afghan police checkpost in eastern Ghazni province.
The United States and Nato have around 100,000 troops in Afghanistan but the vast majority will leave next year, with an estimated 352,000 Nato-trained Afghan police and soldiers taking over.
Taliban militants have stepped up their fight against Afghan troops as the country's forces are increasingly taking over security responsibility from US-led Nato troops.