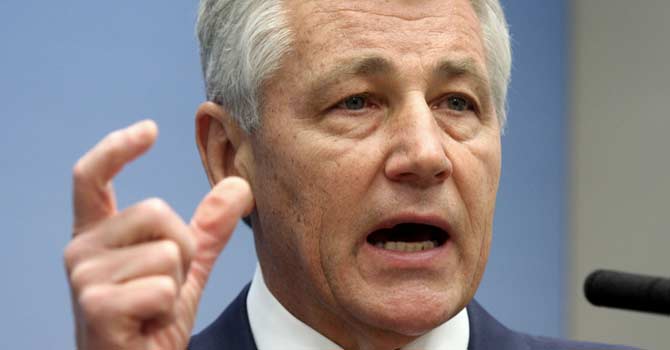 Former US Senator Chuck Hagel, US President Barack Obama's nominee for Secretary of Defence speaks on foreign policy at the Brookings Institution in Washington. — File Photo by AP
WASHINGTON: India has over the years financed problems for Pakistan from across the border in Afghanistan, says Senator Chuck Hagel, US President Barack Obama's nominee for secretary of defence.
Mr Hagel, who faces a confirmation vote in the US Senate on Tuesday night or Wednesday, made these remarks in a talk at the Cameron University in Oklahoma in 2011. The video of his speech reappeared on a website of the Washington Free Beacon, an American news portal that publishes associated content from a US conservative perspective.
The video gave more fuel to his opponents who were already trying to block his nomination because of the alleged anti-Israeli statements he had made in the past.
Mr Hagel's "comments on India's role in Afghanistan during a speech in 2011 provide yet another indication that he is poorly qualified to lead the US Department of Defence", said Lisa Curtis, a South Asia expert at the Heritage Foundation, a conservative Washington think-tank.
In his talk on Afghanistan, Mr Hagel reportedly said that India had been using Afghanistan as a second front against Pakistan. "India has over the years financed problems for Pakistan on that side of the border, and you can carry that into many dimensions."
He noted that India took advantage of tensions between Kabul and Islamabad for fomenting troubles in the areas that border Afghanistan. "The point being [that] the tense, fragmented relationship between Pakistan and Afghanistan has been there for many, many years," he said.
Mr Hagel is not the only American to suggest that India has been using Afghanistan for stirring troubles in Pakistan. C. Christine Fair, an assistant professor at Georgetown University, made similar suggestion during a congressional hearing on Afghanistan in 2011 but was later forced to clarify her position following protests from Indian lobbies.
Our Correspondent in New Delhi adds: US defence secretary nominee Chuck Hagel has riled Indians after his comments from a 2011 speech in which he accused New Delhi of financing problems for Pakistan through Afghanistan.
The remarks sparked a strong reaction from India which said such comments were "contrary to the reality" of its unbounded dedication to the welfare of Afghans.
A Times of India report quoted the Indian Embassy in Washington as seeking to play down its importance.
"Such comments attributed to Senator Hagel, who has been a longstanding friend of India and a prominent votary of close India-US relations, are contrary to the reality of India's unbounded dedication to the welfare of Afghan people," the embassy said.
It added that India's commitment to a peaceful, stable and prosperous Afghanistan was unwavering, "and this is reflected in our significant assistance to Afghanistan in developing its economy, infrastructure and institutional capacities". "Our opposition to terrorism and its safe havens in our neighbourhood is firm and unshakable. India's development assistance has been deeply appreciated by the people and the government of Afghanistan, and by our friends around the world including the US. We do not view our engagement with Afghanistan as a zero sum game," the embassy said.
The Times said Mr Hagel's remarks were in sharp contrast to the viewpoint of the Obama administration that had always been in praise of India's developmental role in Afghanistan and in fact had been pressing New Delhi to do more in Afghanistan.
The embassy said India and the US had a shared perspective and a deep convergence of interests for ensuring peace and stability in Afghanistan.
"We will continue to work to help the Afghan people build a peaceful, prosperous, democratic and inclusive future for themselves in an environment free from terror and intimidation," the statement said.