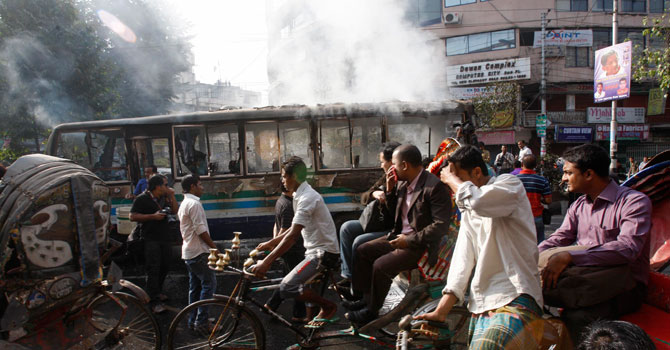 Bangladeshi commuters move past a bus which was set on fire by activists of the country's largest Islamic party Jamaat-I-Islami during a strike in Dhaka, Feb 5, 2013. — Photo by AP
DHAKA: Police fired rubber bullets Wednesday at hundreds of activists from Bangladesh's largest Islamic party during a second day of rioting sparked by the conviction of a top opposition figure for war crimes.
After four people were killed during violence that flared late into the night on Tuesday, dozens more Jamaat-i-Islami supporters were wounded when riot police tried to disperse fresh protests on Wednesday near Dhaka and the southwestern district of Khulna.
The violence erupted after the party's fourth most senior official, Abdul Quader Molla, was jailed for life on Tuesday for committing mass murder during the 1971 war of independence against Pakistan.
The sentence was handed down by a domestic war crimes tribunals which lacks any international oversight.
Jamaat says the war crimes charges against Molla and eight other senior party officials due to face trial — including its leader and deputy leader — are bogus and part of a wider political vendetta.
The party enforced a nationwide strike on Tuesday and Wednesday and threatened to call indefinite protests if the trials are not halted. It had called a series of protests last week that left at least three people dead.
The government maintains the trials are needed to heal the wounds of the deadly nine-month war in which it says three million people were killed, many by pro-Pakistani militia whose members allegedly included Jamaat officials.
The local police chief for Narayanganj, the suburb of Dhaka which saw the worst of the violence on Wednesday morning, said about 15 people had been injured by rubber bullets.
The private Independent TV channel said at least 12 people were injured in Khulna after police fired rubber bullets.
Security has been tightened across the country. In Dhaka, the government deployed border guards as reinforcements to stem spiralling violence while at least 10,000 policemen were also on patrol.
Thousands of pro-government protesters also staged a night-long candlelit rally at a key crossing in central Dhaka, demanding the death sentence for Molla.
Border guards were also deployed in Chittagong, the country's second largest city, where another person died of bullet wounds in a hospital to take Tuesday's death toll to four, the city's deputy police chief Bonoj Kumar told AFP.
The tribunal, which was created by the country's secular government in 2010, is also trying two senior officials of the main opposition Bangladesh Nationalist Party.