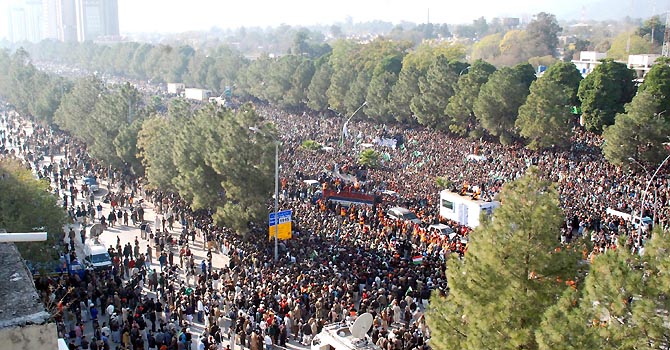 A large number of Tehreek-i-Minhaj-ul-Quran (TMQ) gathered at Jinnah Avenue during sit-in.— Photo by INP
As the street cleaners descended on Jinnah Avenue to clear up the final remnants of the three-and-a-half-day 'revolution', another enigma remains: How does a man who has lived in Canada for seven years get thousands of Pakistanis to spend four nights on cold and wet streets?
In aerial shots of Qadri's dharna, the protesters could come across as a grey and faceless mass, used by the Shaikh-ul-Islam to promote a dubious political agenda. But visits to the dharna site revealed a very different reality. Despite accusations that many were paid to turn up, this was no rent-a-crowd congregation.
Though the Blue Area masses might know that they have fallen far short of the revolution they were hoping for (or, perhaps, they had an un-revolutionary definition of revolution), this was a community of followers with legitimate frustrations.
Frustrations that were tapped, channelled and organised by a preacher whose solution was a removal of "corrupt politicians" on the basis of a distinct, Barelvi identity.
"Gas shortages, power outages, violence–this is all because of corrupt leaders. We need to remove them, and create a people's government," said Muhammad Ismail Gujjar from Mansehra. "He's going to bring a revolution, that will make it easier for the common man."
Gujjar is a retired government bureaucrat, and was a common sight in the sea of men and women who sat wrapped in thick shawls or blankets. Conversations with two dozen protesters only provides an initial insight into the crowd's demographics, but it is telling that all save one was without a job. Though unemployment, or the threat of it, is a real concern in this group, the jobs that they held or aspired to hold revealed much about their solidly lower-middle or middle class backgrounds. They worked as drivers, teachers, civil servants, or small business owners, and many hailed from up—and-coming, second-tier cities like Multan, Sheikhupura and Bahawalpur, or semi-urban towns with basic health and educational facilities like Mandi Bahauddin in northern Punjab.
This is not a group scraping the bottom of the barrel–their children go to public, Islamic or cheaper private schools. The connection to formal institutions, some of them a part of the state, instilled the sort of Pakistaniat that is quintessentially middle class–the God-fearing patriot, that enjoys and aspires to the benefits of modern living, but stays in touch with its Muslim roots.
The ijtema comes to Islamabad It does not look like anyone paid Amna Shehzadi to come to Islamabad. The 15-year-old schoolgirl takes after the preacher when she talks. "We are tired of the way things are, and we want a revolution. We are ready to sit here day and night until it comes," says Shehzadi.
Shehzadi is not a member of Minhaj-ul-Quran herself, but her mother is, and she goes to one of the organisation's schools. And from the looks of it, a lot of people shared Shehzadi's non-membership affiliation with Qadri's organisation.
While many were not directly members of Minhaj-ul-Quran, it was difficult to find someone who had not been organised in their buses, or had some interaction with the many schools, hospitals, Quran circles, colleges or clinics that the charity organisation had set up.
According to its website, Minhaj-ul-Quran has units at the tehsil and union council levels across all four provinces and Kashmir. The units hold 250 monthly Irfan-ul-Quran meetings with scholars from the organisation–an additional 150 are organised by the organisation's Women's League. The Minhaj Education Society has set up 572 schools and 72 colleges and IT centres educating 120,000 students with the help of 5000 teachers–alongside a chartered university in Lahore, the Minhaj University Lahore (MUL). It also has 3000 libraries, over 100 blood banks and free clinics, and a host of other initiatives across the country.
While the organisation only hints at Qadri's ability to mobilise thousands, his annual Ijtemaee Itikaf (collective Itikaf) proves it. "Over 40,000 men and women attend (…) in the sacred month of Ramazan at Township Lahore every year", according to the website. Around the same number attended the dharna in Islamabad, with reports of 20 buses leaving single districts to transport protesters to the capital.
"There are a lot of people who think that Qadri has been completely absent from the scene in Pakistan. In some ways, that is an incorrect statement. He has been a political non-entity, but if you paid attention to religious programmes, you would have seen Qadri appearing 2-3 times a week on different TV programs," says Aamir Mateen, a political analyst and journalist.
This made the move from spiritual organisation to political protest far smoother for Qadri. Mateen also believes that larger political parties have been failing to tap into Pakistan's majority Barelvi Muslims, who have felt leaderless ever since the likes of Abdul Sattar Niazi or Maulana Shah Mehmood Noorani of the Jamiat Ulema-e-Pakistan (JUP) passed away. The other Barelvi political organizations, like the Sunni Ittehad Council, "come across as too militant and too hardline for this group of supporters," says Mateen. "Qadri managed to fill a vacuum – and with much success."
Qadri equals Khan?: "Corruption is the root of all evils"
The leaders have not been replaced, and the gas shortages, power outages and violence have not stopped. There is a need to better understand how followers will evaluate their days in Islamabad once they go home, and settle back into their lives.
An early evaluation of their rhetoric reveals eerie similarities with Imran Khan's supporters. For both, the root of Pakistan's ills can be found in a handful of corrupt leaders who need to be replaced by a Quaid of a purer variety, or for that matter from the army, which during military coups speak of replacing political leaders with noble soldiers. It was tempting to ask the supporters what exactly the difference was between Imran Khan and Tahir ul Qadri. The answer seemed to lie in Khan's compromises with the powers that be. Qadri remains outside politics, able to remain untainted by the compromises necessary in realpolitik. Time will tell whether Qadri's new vetting responsibilities will taint him as much as the rest of them, but much indicates that his religious credentials – which means he plays more than a political role in his supporter's lives – might keep him safe from the criticism of his devotees for some time.