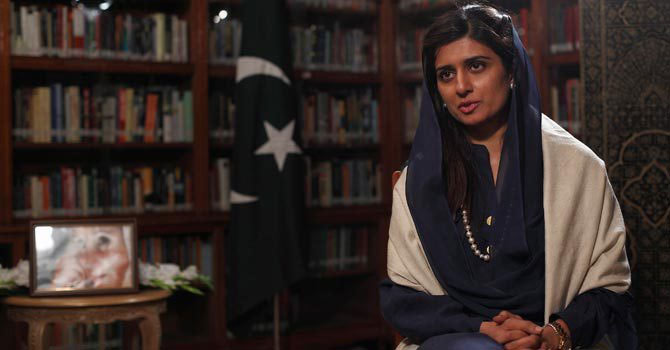 Pakistan's Foreign Minister Hina Rabbani Khar.—File Photo
NEW YORK: India is "war-mongering" over deadly clashes in the disputed Kashmir region, foreign minister said on Tuesday while calling for talks to end the new hostilities.
Foreign Minister Hina Rabbani Khar spoke out after Pakistan reported another of its troops had been killed in Kashmir while India's prime minister has warned there can be no "business as usual" between the neighbors.
"We see war-mongering," Khar said at the Asia Society in New York where she hit out statements by Indian politicians over the new tensions.
"It is deeply disturbing to hear statements which are upping the ante, where one politician is competing with the other to give a more hostile statement," Khar added.
India says two of its soldiers have been killed in Kashmir, one beheaded, since January 6.
Pakistan says three of its troops have been killed in that time, the latest on Tuesday.
Khar said the neighbors had to get over their "narrative of hostility" from the past six decades.
"The doors to dialogue are open," Khar said. "We need to meet at any level, I think we need to call each other, we need to become mature countries which know how to handle their truth."
The minister again denied Indian accusations that Pakistani forces had beheaded one of two soldiers that India says were killed in Kashmir on January 8. She said an inquiry had found "no evidence" of the deaths.
India's Prime Minister Manmohan Singh earlier called the beheading of an Indian soldier "unacceptable" and added there could be no "business as usual" with Pakistan.
"As I read statements coming in from the highest levels of government (in India) I can just say that we are deeply disappointed and I can say on behalf of my government that we feel that the dialogue process should be uninterrupted and uninterruptible," Khar said.
She added that there was "warmongering coming in from the other side of the border which is I thought the thing of yesteryears and thing that we had put behind us."
The Pakistan government "has invested deeply in the last four years to building a peaceful relationship with India," the foreign minister added.
"I represent a government which has taken political risks to reach out to the Indians and to give them a clear message when we say we mean business when we say we want a different type of relationship," Khar said.
"What you see in India is currently not living up to that and I hope that we will both show a deep abiding commitment to a normalised peace process, to a normalisation of relations," Khar said.