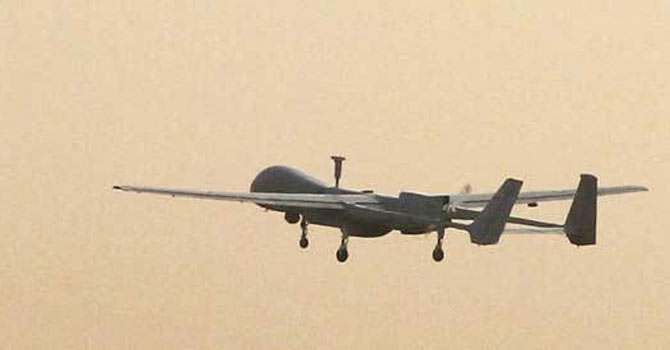 —File Photo
PESHAWAR: At least five people were killed Friday in a suspected US drone strike in North Waziristan tribal region, intelligence officials said.
According to the intelligence sources, the US predator targeted a compound in Gurbaz village of North Waziristan's Shawal district, close to the border of South Waziristan agency, firing two missiles and killing five suspected militants inside.
Shawal district of North Waziristan region is considered a bastion of Taliban and al Qaeda-linked militants.
North Waziristan, which is close to the Pakistan-Afghanistan border, is one of the seven regions in Pakistan's Federally Administered Tribal Areas (FATA), governed by tribal laws. An extremist insurgency led by the Pakistani Taliban plagues the region while the area is known to be infested with militants, including the al Qaeda, Taliban and other armed extremist organisations.
Attacks by unmanned US aircraft are deeply unpopular in Pakistan, which says they violate its sovereignty and fan anti-US sentiment, but US officials are said to believe the attacks are too important to give up.