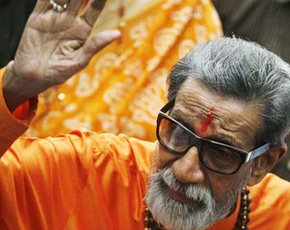 Amongst the many tributes following his death, Bal Thackeray's passion for all things cinematic was
best summed up by Vir Sanghvi
. The veteran scribe reminisces how Thackeray prominently displayed a photo of the ambulance that ferried a dying Amitabh Bachchan to the hospital in 1982. No one knew whatever happened to the ambulance but in the years that followed Bachchan, himself, would be present larger than life alongside Thackeray on every conceivable photo-op.
No other Indian politician has inspired Bollywood as much as Bal Keshav Thackeray. Described as shy and timid by his colleagues at The Free Press Journal, where he was a cartoonist on rolls, no one could have imagined that Thackeray would one day become a real life equivalent of Don Corleone.
Thackeray loved hanging out with stars and has shared many a channa and beer guzzling sessions with each reigning Hindi superstar of right from Dilip Kumar to Shah Rukh Khan. They hung out with him for he was a rising force in the 1960s and he loved them. He enjoyed seeing them at close quarters and like a fan, at times, couldn't hide his joy. The rise-and-catch-a-dream fabric of the then Bombay also helped spread the aura of Thackeray. Try telling a filmstar not to mingle with a rising socio-political force and see how they react. Here was a man who quit his job when his South Indian employers retained the fee given by an American newspaper for reproducing his work and then took out his ire on the entire tribe. He first attacked the south Indians, then the Gujaratis and later the Muslims for making life tough for the locals by not only taking up their jobs but also their space. Thackeray became an instant working class hero who was used by the likes of the Congress Party and the affluent Bombay cloth Mill owners to take on the trade unions. Bollywood was drawn to Thackeray like bees to fragrant pollen and had he not existed it would have pretty much created Balasaheb Thackeray.
Thackeray rose to prominence by fighting for whom he believed to be oppressed. He instilled a sense of fear in the minds of the all those around that simply refuses to wither with time. All these Godfathereque characteristics are what endeared his persona to Bollywood. The first time Bollywood immortalised Thackeray onscreen it strangely, made no bones about the uncanny physical resemblance. Narsimha's (1991) Baapji had Om Puri in a character who might have been based on the very personification of evil from an ancient Indian mythological tale but was unapologetically modeled on Bal Thackeray. Om Puri tried to make Baapji as plausible as an actor could but the script made no attempt to proffer a shade or two of gray for the villain even though that is something of a hallmark for characters derived from Hindu myths. Such was the guise of Thackeray when it came to real life that he didn't allow good friend Amitabh Bachchan to release Mani Ratnam's Bombay (1995) a film that Bachchan's company was distributing, till the director threw out the suggested remorse attached to a saffron and rudraksh sporting character based on him. Thackeray chastised Ratnam that as his film was inspired by the real life Bombay Riots of 1992 how could he falsely ascribe emotions like regret for inciting his followers in a certain direction during the riots when clearly it wasn't like that. Ram Gopal Varma attributes many of the lines from Sarkar (2005), his version of The Godfather (1972), to Thackeray including the 'Mujhe jo sahi lagta hai main wohi karta hoon!', which he simply made Bachchan mouth verbatim in the film.
For a man who always opted to shy away from his nation's secular fabric, Thackeray was a hero nonetheless to millions. It's eerily fascinating to see how people who actually witnessed much of Thackeray's parochial traits up close and had the sense to comprehend the malevolent, chose to do nothing about it. It was only in the late 1990s that one time close friend Dilip Kumar finally fell out with Thackeray. It wasn't Thackeray's hardline anti-Mulsim stance that irked Dilip Kumar to publically snap ties but Thackeray's demand that the thespian return Pakistan's highest civilian award, Nishan-e-Imtiaz, in the wake of the Kargil Attack that saw them part ways.
Strangely, it was someone like A.K. Hangal, Bollywood's frail old grandpa, who withstood the Shiv Sena Supremo's wrath unlike anyone else. Thackeray labeled Hangal a traitor when he attended Pakistan Day celebrations at the Mumbai Consulate after applying for a visa to visit his birthplace. His scenes were deleted from films and effigies burnt but Hangal stood his ground unlike many others. There might be two natures that beat within Thackeray and there might be instances from his life that could partially exonerate him of some of his ills but Bollywood isn't interested in them … you see this is something that even Balasaheb wouldn't approve.
Poll Question:
[polldaddy poll=6704789]
---
Born a cinephile and a close observer of society, the author is an award-winning documentary filmmaker/writer. He is a regular contributor to leading Indian publications and is currently working on his first book. Find out more about him here.
---
The views expressed by this blogger and in the following reader comments do not necessarily reflect the views and policies of the Dawn Media Group.