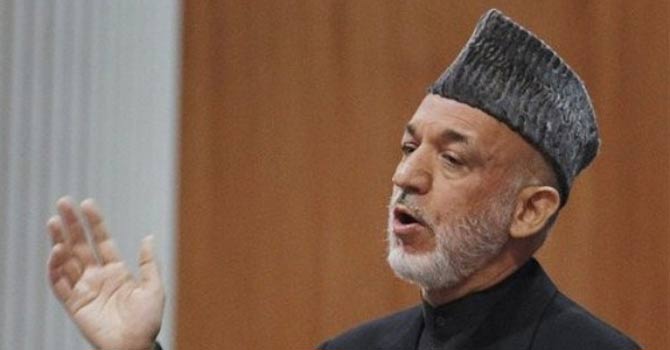 Afghan President Hamid Karzai — File Photo by AP
KABUL: The Afghan government Thursday welcomed Pakistan's agreement to release several Taliban prisoners, but a Taliban official dismissed the move as irrelevant to the country's peace process.
Details of the deal remained unclear a day after the agreement was reached at a meeting between the Pakistani government and Afghanistan's High Peace Council in Islamabad.
Kabul had pressed for the release of senior Taliban leaders held in Pakistan. It believed they could help bring the militants to the negotiating table to end 11 years of war before the withdrawal of US-led Nato troops in 2014.
But the seniority of those to be released and plans for their future have not been disclosed publicly by Pakistani or Afghan negotiators.
"We welcome this move as a positive step toward Afghanistan's peace process," presidential spokesman Aimal Faizi said, declining to comment further.
Support from Pakistan, which backed the Taliban regime that held power in Kabul from 1996 to 2001, is seen as crucial to peace in Afghanistan after the departure of Nato combat forces.
The Taliban official dismissed the deal as "just a symbolic gesture to show the world that something happened in this meeting".
"All those that are being freed are not members of Taliban any more, they have been dismissed and they're not important," the Taliban official told AFP in northwest Pakistan.
He said the Taliban were not in contact with the Afghan government-appointed High Peace Council and any negotiations should take place between the Taliban and the United States.
The militants have always publicly refused to negotiate directly with Kabul, calling the government of President Hamid Karzai a US puppet.
But preliminary contacts between the US and the Taliban in Doha were broken off in March when the militants failed to secure the release of five of their comrades held in Guantanamo Bay.
The prisoners freed by Pakistan could play a role if they were sent back to the Taliban ranks rather than brought to Kabul, said Waheed Mujda, an analyst and former foreign ministry official during the Taliban regime.
"If they are released and brought to Kabul it will be meaningless and have no effect on the peace process. They will be just like dozens of other Taliban officials who live in Kabul and have no links to the Taliban," Mujda, who lives in the Afghan capital, told AFP.