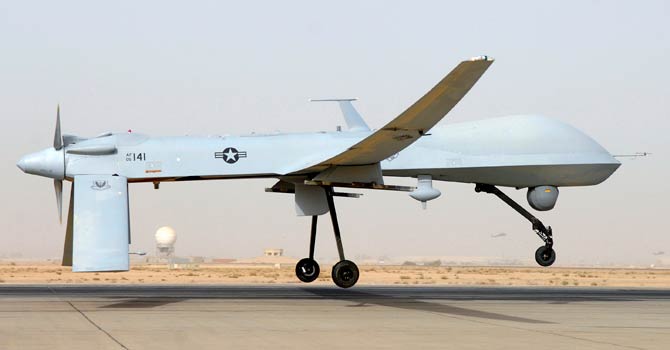 A drone plane —Reuters Photo
KALAYA: Eighteen militants were killed as US drones attacked a compound in upper Orakzai on Thursday morning.
Another eight people were killed and 22 injured when two bomb blasts hit a bus stand near a bazaar in the same agency.
A senior administration official said the US drone fired four missiles on the compound owned by Maulana Shakirullah, the commander of Taliban's Hafiz Gul Bahadur group, in the Bulandkhel area.
"Eighteen militants, all Afghans, were killed and 16 others were injured when missiles fired by the drone destroyed the compound, Khushal Khan, Political Agent of Orakzai agency, said. Four adjoining houses were partially damaged, local people said.
After the attack, sources said, Taliban cordoned off the area and started retrieving bodies and helping the injured.  Local people, who were not allowed to go near the compound, said that drones were flying at low altitude almost the whole day, forcing local people to stay away from the area.
The official speaking on condition of anonymity said the militants led by Maulana Shakirullah and his Hafiz Gul Bahadar group, have close ties to the Haqqani network.
The Hafiz Gul Bahadur group has been repeatedly accused by the US of being involved in cross-border attacks in Afghanistan.
It was the second drone attack in Orakzai agency, the first took place in 2009 in the Khadezai area of Mamozai along the border of Khyber agency. Thirteen militants, five of them of Arab and Chechen origin, were killed in the attack.
According to official figures, it was the 309th strike since US drone started attacking targets in Pakistan.
Orakzai does not share border with Afghanistan but its close proximity to North Waziristan has turned it into a militant stronghold, prompting the military to launch an offensive in July last year. But while the military claims to have regained most of the territory, fighting continues in parts of the mountainous upper Orakzai.  "It is a tough tertian but we are making gains," a security official said.
Blasts in bazaar
The bomb attacks at a bus stand in Hasanzai Bazaar area claimed eight lives. The attacks were carried out by suspected militants.
Local people said that a bomb strapped to a donkey was detonated with a remote control near a Ferozkhel-bound bus, killing three passengers on the spot and injuring eight others.
Another bomb ripped through the crowd which had gathered at the site of the first explosion to take part in rescue work. Five more people were killed and 14 others suffered injuries.
The deceased identified so far included Muhammad Rehman, Zaid Gul, Hayat Khan, Haji Rehman, Waheedullah, Hameed Khan and Fazal Malik Afridi.