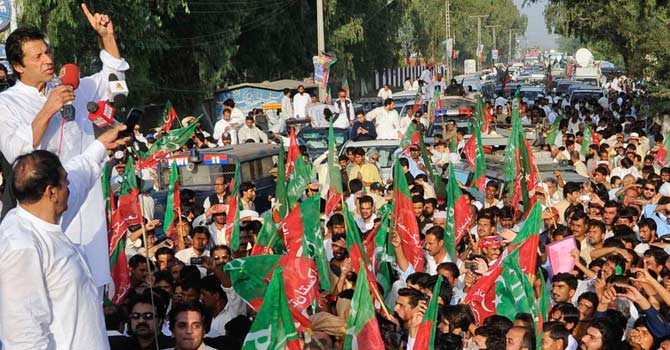 Imran Khan addresses the "Peace March" convoy on its stopover in Mianwali – Photo by Reuters
ISLAMABAD: A convoy of hundreds of vehicles carrying over 1,000 people who were participating in Pakistan Tehrik-i-Insaf's (PTI) "peace march" to South Waziristan departed from the Khyber-Pakhtunkhwa town of Dera Ismail Khan towards Tank early on Sunday, DawnNews reported.
Following an overnight stay in D. I. Khan, the marchers left for the tribal region Sunday morning.
Earlier on Saturday, when the convoy reached D.I. Khan, which lies on the border of the province with the tribal region of South Waziristan, several hundred locals gathered to cheer on the cricketer-turned-politician.
The convoy, which departed from Rawalpindi and Islamabad under Khan's leadership, stopped at Mianwali for under an hour, where the PTI chief held a small address.
"PTI is not scared of anyone. The government tried to make this march unsuccessful but we are determined to bring peace to the country," Khan said while addressing the convoy in Mianwali.
Khan reiterated his party's stance against drone attacks, saying that drones kill the innocent and that he stands with the people of Waziristan.
"The people of the tribal regions have been facing difficulties for the last eight years," he said.
Terming the march a "trailer for change," Khan vowed to bring peace to the country.
Crowds lined the road to greet Khan, and scrums of media and well-wishers thronged his 4X4 as the convoy of more than 100 vehicles embarked on the 440-kilometre drive from Islamabad to South Waziristan.
But as Saturday wore on, it appeared increasingly unlikely the protesters would be allowed to reach their destination, considered a Taliban and Al-Qaeda stronghold, and often called the most dangerous place on earth.
The government says the Taliban plan to attack the rally, authorities told AFP it was not safe for Khan to enter the semi-autonomous tribal belt and television broadcast footage of shipping containers closing the road into South Waziristan.
"I condemn the hypocrisy of the government, who tried their best to make this march fail," Khan told around 5,000 supporters at a brief halt.
"They are saying that Taliban have sent nine suicide attackers. If (President Asif Ali) Zardari sends even a 100 suicide attackers this march will not stop," added Khan.
Former foreign minister Shah Mehmood Qureshi, who defected from the main ruling party to PTI this year, insisted the march would not be a failure if the authorities stopped it from reaching Waziristan.
"The point is it's symbolic," he said.
"The government is saying we are against drones. The people are saying they are against drones. What are they afraid of? Why are they blocking us?"
Khan is accompanied by around 30 US campaigners from the group Code Pink and the British head of legal lobby organisation Reprieve, Clive Stafford Smith.
Dawn.com's Sajjad Haider adds: The convoy left Mianwali late evening for Dera Ismail Khan, which will be the destination for the overnight stay.
There has been an increase in the size of the convoy along the way, with people joining from towns between Talagang and Mianwali. A number of foreign journalists are also part of the convoy, as well as women, most of whom are PTI supporters and activists.
In D. I. Khan, there are arrangements for an event, where the PTI chief is expected to speak. The convoy will leave for Tank early Sunday.
The Khyber Pakhtunkhwa government, meanwhile, decided to provide security to the march until its stay in Tank.
Earlier in the day, the march had left Islamabad for the anti-drone march towards the northwestern tribal region.
Speaking to media representatives prior to departing for South Waziristan's Kotkai town, Khan said the people of South Waziristan would provide security to the peace rally.
The PTI chief said he was leading the march for peace against US drone strikes and that his party's rally should not be stopped from proceeding.
Moreover, at least 30 anti-drone campaigners from the United States were taking part in the march which began from Islamabad Saturday morning.
Khan said the government wanted to stop the peace rally but the people of South Waziristan were going to provide security to it.
He said the government's policy on US drone attacks was dubious and that Interior Minister Rehman Malik was trying to scare people away from participating in the rally.
The interior minister, meanwhile, issued a rebuttal to Khan's statement on social media website Twitter.
"I am in USA and I have neither imposed any restriction for PTI march nor I have any such intentions to do," Malik said in a post from Washington, DC.
Khan said attempts were being made to sabotage the march, adding that, the rally was only aiming for peace and he had no intention of initiating a fight with any group.
The PTI chief said the Taliban had no intention of attacking the rally.
While speaking to the protest march 25 kilometers away from Dera Ismail Khan, the PTI chief said: "Military operations is not the solution. We have chosen the path of peace and we will have to take all the tribal people along with us."
"This is a peace march and its purpose is for peace. This march will transform the state of Pakistani people," he said.
"We are going to tell the tribal people we have not forgotten them. We will continue to raise our opposition to drone attacks," Khan said.
Supporters cheer en route
At the Balkasar interchange near Chakwal, hundreds of supporters carrying green and red PTI banners gathered in hot sunshine to welcome Khan and the convoy of around 100 jeeps, buses and cars.
Party workers in "Cornered Tigers" T-shirts — a reference to Khan's inspirational talk to Pakistan before their 1992 World Cup victory — formed a human chain round his 4x4 to clear a path through a scrum of media and well-wishers.
Akhtar Syal, 63, from Sarghoda in Punjab, told AFP he had joined the protest because drones were destroying lives.
"It is a great thing that Imran Khan has raised his voice against it, so I am going to make his voice stronger and join him in this noble cause," he said.
The march plan
As per the plan, the march starting from Kashmir Highway would be joined by activists from Rawalpindi, Attock and Mansehra at the motorway toll plaza.
After making a brief stopover at Balkasar interchange, the marchers would be received in Talagang, Rikhi, Mianwali, Kundian and Paharpur before reaching Dera Ismail Khan for an overnight stay.
On Sunday morning, the march would start from Tank for Kotkai in South Waziristan via Jandola and Aspikai Raghzai.
Kotkai has gained notoriety in recent years as the home town of Qari Hussain, who was considered the main trainer of suicide bombers within the Pakistani Taliban but is said to have been killed in a drone strike in 2010.
Sources in the party said that in the event of authorities intervening and stopping the march at any place a gathering would be held there.
Moreover, unconfirmed reports on Saturday quoted sources as saying that attempts were being made to stop the rally at Jandola, Tank.
The reports moreover said that barbed wires were being laid at Jandola's entry points.
The PTI chief was expected to hold a press conference later on Saturday after the march reached D I Khan.
Khan was also expected to hold a meeting with citizens from the tribal regions in D I Khan.
KP govt to provide security till Tank
The Khyber Pakhtunkhwa government has decided to provide security to the march until Tank.
For this purpose, the KP government has posted an additional 400 police personnel and has also posted personnel from the Frontier Constabulary.
The Pakistan army has also been directed to remain on stand by for this purpose.
TTP declines to provide security
The Tehrik-i-Taliban Pakistan (TTP) on Friday declined to provide security to the peace march and declared that Khan was a westernised and secular man.
TTP spokesman Ihsanullah Ihsan said in a statement that the TTP was an ideological organisation based on fundamentals of Islam and performed all activities in accordance with the teachings of Islam.
"Imran Khan is a liberal and secular person and so is his party. Therefore, we deny all baseless statements that we have offered to provide security for his so-called peace rally," the spokesman said.
Earlier on Friday, local and foreign media had quoted unnamed sources as saying that Taliban had offered to provide security to the rally.
US drone strikes in Pakistan
Missiles fired by US drones routinely target militants in the Federally Administered Tribal Areas (Fata) in what US officials say is a key weapon in the 'war on terror'.
Peace campaigners condemn the strikes as a violation of international law, Pakistanis as a violation of sovereignty that breeds extremism, and politicians, including Khan, as a sign of a government complicit in killing its own people.
Khan, who has regularly condemned the US-led 'war on terror', says he wants to show the world the damage inflicted on innocent people by the drone campaign.
But critics accuse the PTI chief of blatant electioneering ahead of polls next year and of ignoring atrocities blamed on militants.
A report commissioned by Reprieve, Stanford Law School and the New York University School of Law last month gave a devastating account of the affect that drone strikes have on ordinary people.
Reliable casualty figures are difficult to obtain but the report estimated that 474 to 881 civilians were among 2,562 to 3,325 people killed by drones in Pakistan between June 2004 and Sept 2012.
Dawn.com's Sajjad Haider, who is travelling with the march, contributed to reporting