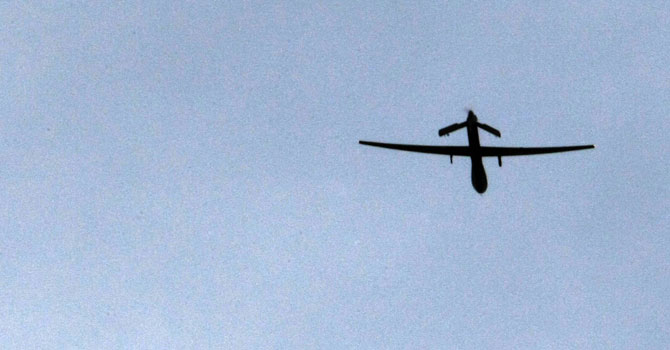 A US drone flying overhead at a forward operating base near Kandahar. — Photo by AFP/File
KARACHI: Senior American officials said there were "strong indications" that Badruddin Haqqani, the operational commander of the Haqqani network, was killed in a drone strike in Pakistan this week, the New York Times reported.
"There are indications that Haqqani has met his demise," the NYT quoted a senior US official as saying.
The official moreover said that officials were waiting to sift through evidence before they could be certain.
"Badruddin Haqqani has been at the centre of coalition attacks in Afghanistan as well as mischief in Pakistan," said the official who requested anonymity.
So far Pakistan's North Waziristan tribal region has seen five drone strikes in this month and two since Tuesday, the second day of Eid. Drones have struck three targets in Shawal and one attack was carried out in Shna Khwra near Miramshah, the main town in North Waziristan. A total of 38 people have been killed and 15 wounded in the five strikes.