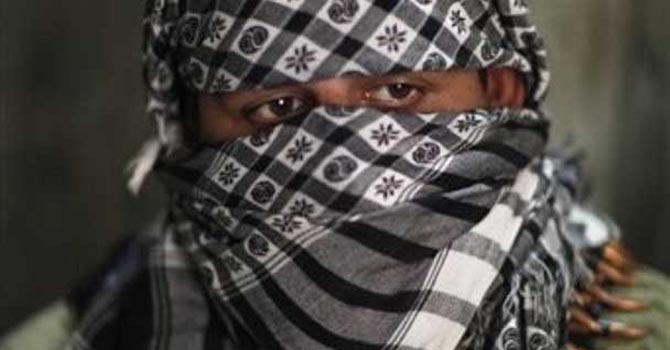 Taliban militant — File Photo
ISLAMABAD: A key member of the Taliban has called for an end to the 10-year war in Afghanistan and for peace talks, demanding prisoner releases and an end to sanctions on rebel leaders to quicken the process.
"All sides should stop fighting and solve all their differences through dialogue and negotiations," wrote Mullah Agha Jan Motasim, who until 2009 headed the political committee and is still influential in some Taliban circles, in a statement sent to AFP.
Motasim, who was finance minister in the 1996-2001 Taliban regime, welcomed "important preliminary steps" from all sides, such as the lifting of UN sanctions on former regime members, and said that as a result the Taliban were "inclined towards dialogue".
But he called on the United Nations and United States to remove remaining Taliban names from the blacklist and demanded the immediate release from Guantanamo Bay of Taliban leaders.
"We believe that such steps of international community would help in bringing peace and stability and would become a source of persuading leaders of Islamic Emirate," he wrote.
The United Nations removed Motasim's name from the sanctions list on July 19, at the time describing him as a Taliban fund-raiser who travels frequently in the Gulf and who is related to Taliban commander-in-chief Mullah Omar.
As with Mullah Abdul Ghani Baradar, once described as the Taliban second in command, Motasim is considered a moderate voice within an increasingly divided movement.
Both men were arrested in 2010 in Pakistan, but while Baradar is still in custody, Motasim was swiftly released. After he was nearly killed by gunmen in Karachi, he moved to Turkey where he was treated.
Earlier this year, Motasim accused members of a radical Taliban wing of having him removed from the leadership and organising the Karachi assassination attempt because they opposed his call for peace talks.
In a recent statement, a Taliban spokesman said Motasim no longer had any leadership role in the rebellion and that his remarks did not reflect their position.
But Motasim insists he is still part of Taliban and that only a direct decree from Mullah Omar can remove him.
Contacts in recent years between the Taliban and the West designed to avert civil war after the bulk of Nato combat troops leave Afghanistan at the end of 2014 have yet to yield a concrete agreement or an end to fighting in the country.